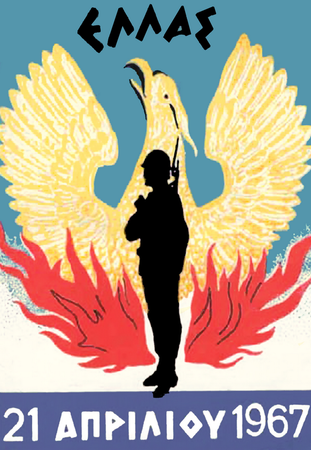 Greek military junta of 1967–1974
Summary: Microsoft may be organising a coup against Linux, especially inside some of its very top supporters, and evidence from the news concurs
"Nokia's MeeGo device chief quits," reports Engadget. This is the type of thing we have been expecting ever since a Microsoft president was made the CEO of Nokia, right after Nokia had become one of the top developers of Linux (the kernel) and told the press that its future crown jewel phones would run MeeGo. And now, just 2-3 weeks after Microsoft's Elop comes to Nokia:
Nokia's MeeGo device chief quits



[...]

In case you're keeping track, Jaaksi's departure follows the high-profile exits of Nokia's former CEO Olli-Pekka Kallasvuo (replaced by Stephen Elop) and the head of Nokia Mobile Solutions, Anssi Vanjoki. Notably, Nokia's MeeGo team picked up Palm's Peter Skillman as the head of MeeGo User Experience and Services during the same period.
Nokia can whitewash this all it wants, but in recent weeks we learned that Nokia had allegedly started playing with Vista Phone 7 [sic] and the commitment to MeeGo was weakened. Microsoft comes in as CEO, Linux comes out, eh? Sounds like potential entryism to us, unless the import from Microsoft only came after a strategic decision from 'old Nokia' (perhaps the board). Microsoft would not mind it so much if Nokia carried on with Symbian because Symbian development -- unlike Linux development -- does not help hundreds of Microsoft competitor at the same time. It is "the Linux phenomenon" -- not Symbian -- which Steve Ballmer called "threat number one" 9 years ago.
A key partner and co-developer of MeeGo, Intel, appears to be
procrastinating as a result of all that news from Nokia
. "Intel Says No MeeGo Handsets Until 2011," reports a
Forbes
blogger and David Wood, known for his old role in Symbian,
says
"(sounds like Q2?)". That's a whole year from now. From the informal article:
MeeGo, the open-source mobile operating system that Intel and Nokia are jointly creating, recently took a hit with the departure of its Vice President of Devices, Ari Jaaksi. In the wake of that announcement, an Intel executive who oversees MeeGo development insists the project is on track, but concedes that MeeGo-powered smartphones–and tablets, for the most part–won't debut until next year.

The news could disappoint gadget fans that have been anticipating the release of a portable MeeGo device since Intel and Nokia joined forces in February. It could also have implications for Nokia. Though the Finnish mobile technology giant is still the world's largest handset maker, it is struggling to reinvent itself under a new Chief Executive and has been looking to MeeGo to rekindle interest in its high-end smartphones.
MeeGo is very important because of relative LSB compliance which Android, for example, does not have.
Having expressed some concerns after the "pee in the pants to get warm" remark from Nokia (about Android), Glyn Moody told me that "Eric [Schmidt] is not stupid: that just makes his poker hand stronger" when he
contacts Nokia
:
As MeeGo VP Quits, Nokia CEO Taking Calls From Eric Schmidt



News broke this morning that Nokia's executive in charge of MeeGo devices, Ari Jaaksi, resigned last week. This continues a string of high-profile people leaving the world's largest mobile phone company as it attempts to establish an identity in the quickly-evolving mobile space. The internal turmoil and the recent hiring of former Microsoft executive Stephen Elop to be Nokia's new CEO has led to quite a bit of speculation that Nokia may turn away from its own operating systems and go with the new Windows Phone OS — or at least fork its products to have this OS as an option on top of the upcoming MeeGo. But don't rule out Google's Android OS just yet either.

We've heard from a good source that Google CEO Eric Schmidt has called Elop to discuss the possibility of Android running on Nokia phones. We actually heard this information about a week ago, but today's news makes it potentially more interesting. Around the time Jaaksi was resigning, Elop and Schmidt were talking.
Why would a CEO who came from Microsoft embrace the same platform which Microsoft is zealously suing? This whole affair is somewhat depressing and worth keeping track of. We previous covered it in:
Nokia is not the only company which seems like a victim of Microsoft entryism. "HP-SAP merger talk considered far-fetched,"
opines a writer from IDG
, but the
Microsoft boosters
now report that HP "Windows 7 slates [come] 'this Christmas,' touch optimizations in 2011" (as a reminder, HP sort of abandoned
Vista 7
when it comes to slate, but then top appointments were made from SAP and Microsoft [
1
,
2
]). Are we seeing Nokia and HP going through a phase similar to the one
Yahoo!
and
VMB_ware
went through (they became occupied by Microsoft executives who brought more Microsoft executives, over time)?
Never underestimate Microsoft's willingness and ability to compete against Linux using dirty tactics like FUD, lawsuits, and entryism. HP and Intel (of MeeGo) were both distinctly named in Microsoft's SEC filing as threats, specifically because they were promoting Linux. Gary Clow, a famous victim of Microsoft, once said that "[a] lot of people make that analogy that competing with Bill Gates is like playing hardball. I'd say it's more like a knife fight."
⬆
"Where are we on this Jihad?"
--Bill Gates (about removing Linux support at Intel)