Summary: In light of disturbing developments involving a tax on Android- and iOS-powered devices, France's relationship with Microsoft is compared to that of Microsoft and the United States government
François Fillon, the Prime Minister of France, has just said something outrageous that helps confirm Microsoft is pervasive in the French government. An automated translation of this article says that "[a]ccording to François Fillon, Microsoft is the future of the global economy" (headline) and:
Not only Microsoft "Represents the future of the global economy" but also Microsoft "Symbolizes many of the priorities of the Government's economic policy" !
Let us remember
Sarko's role in the OOXML scandal (and others)
and more recently the
Android tax
which leaves Windows in the clear. Is Nicolas Sarkozy taking some instructions from Bill Gates? In general, patenting and patent taxing (or in this case copyright taxing) suits Microsoft very well and given all that
Gates Foundation
and
Gates|Abramoff
lobbying (Gates is also funding the world's biggest patent troll), this is the type of environment created and preserved by those to whom the system is for sale. The Gates Foundation is also paying millions to NPR now, in order to better serve its agenda. As Dr. Gene Nelson put it yesterday in an E-mail sent to yours truly, "since Gates became a major NPR donor, they do not cover the H-1B Visa story any more. I was interviewed twice in items that appeared on NPR critical of H-1B before Gates took over."
Microsoft is also one of the major patent lobbyists, along with the Gates Foundation which funds those patents and makes taxpayers pay for patents that do not serve the public. The US President too -- having
spent too much time with the nation's wealth (ultra-rich people)
-- is
echoing their talking points about patent monopolies
. Critics make a
suggestion to Obama regarding patents
, but will he listen?
Matt Yglesias does a neat skewering of Obama's State of the Union self-congratulatory allusion to our patents: "No country has more successful companies, or grants more patents to inventors and entrepreneurs."
Here is a
new example
where patents may be costing lives. It is cartels like
RPX
that help defend just rich families and big companies while small ones are mostly unable to catch up and here is a
patent lawyer's defence of it
:
Last week, we learned that RPX Corporation (which stands for "Rational Patent Exchange) will soon have an IPO, offering up to $100 M worth of stock to the public. A lot has been written by bloggers and journalists, referring to RPX as Defensive Patent Acquirer, Defensive Aggregator, and Patent Risk Manager. Others explain that RPX is going to profit by "fixing the patent mess." No description is more puzzling than the description "Patent Troll Insurer." Maureen O'Gara writes that RPX is "apparently making a killing selling patent troll insurance." Techrights takes a different view, describing the organization as a cartel.
The nature of it is akin to that. To quote
a definition of "cartel"
, it is "a formal (explicit) agreement among competing firms." The agreement is made such that only those with a lot of patents and a lot of cash are permitted into the club so that they -- unlike others -- are permitted to compete in the market. RPX is just part of a broader problem in this case. The root of the problem is the patent system, which is designed to reinforce monopoly rather than reward innovation. Barnier promises to globalise this problem [
1
,
2
,
3
,
4
].
⬆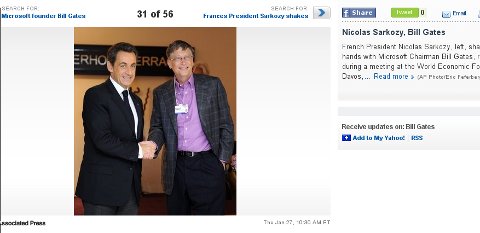 Screenshot of last week's news (Nicolas
Sarkozy and Bill Gates shake hands)