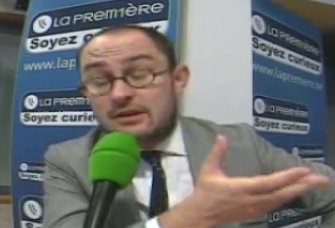 Summary: A fresher look at who is pushing for software patents in Europe and who is antagonising them this week
EUROPE'S policy is under attack. Companies from across the Atlantic want to increase their foothold and all they need is a bunch of corruptible politicians, who will happily carry water for foreign interests that directly harm science and technology everywhere in the world. One of the latest dunces for bad patent policies is Vincent Van Quickenborne [1, 2, 3, 4, 5, 6, 7, 8, 9, 10, 11, 12, 13]. He still fuels the EPO's propaganda for more patents (business) and litigation too. To quote:
Vincent van Quickenborne says unitary patent wil provide cheaper, easier and full protection for European inventors
European software developers -- myself included -- should be very concerned about this. A plague that causes great harm to American developers is being exported to Europe with foresight that probably encompasses the rest of Asia, too. The monopolies never rest and they can never get enough laws that legitimise their infinite sense of entitlement, like some sort of a corporate welfare plan. There is ongoing discussion in FFII mailing lists (the relevant list seems to be private, so we won't quote anything from it here) and it sure seems like many European developers worry about recent developments, primarily a report from the UK and the unitary patent lobby. The FFII's president
notes
: "Swpats in the UK, more burden for software developers: http://ur1.ca/47lsk" (an article titled "UK report calls for reforms to intellectual property law" is
providing some context/background
). He links to
this government report
,
noting
:
Super High priority for the UK IPreview: unified EU patent court and EU patent system to validate swpats: http://ur1.ca/47y85
There is also
this from the UK-IPO
, on which he
remarks
by writing: "IPreview uses the term "non-technical computer programs", but what is non-technical? http://ur1.ca/47y7m"
"European Commission tries to put patent law outside of Europe," he
concludes
. We wrote about this before. Europe gives away its sovereignty and lets mega-corporations get their way at the public's expense. Very discouraging indeed. Similarly he
writes
regarding
this article
that the Commission non-paper for hacking the ECJ decision, goal is to validate EU software patents with a central court" (see the
FFII Web site for reference
).
Dr. Glyn Moody, a British mathematician-turned journalist, is meanwhile
criticising the "World Copyright Summit"
, which oddly enough excluded the most important stakeholder:


The organisers really seem to have included everyone, just as they say: "All stakeholders involved in creative industries – creation, licensing, usage, collective management, legislation and dissemination of intellectual property and creative content."

Well, everyone except one: The Public.

The public is the elephant in the room at this conference - or, rather, the seven billion elephants in the room.

Not only is the public not participating here, it is not even mentioned, as if the very word were some kind of defilement in these hallowed halls celebrating the great intellectual monopoly of copyright, and ways of extracting the maximum "value" from it.
It is the same when it comes to patents. Quoting
The Register
(from a notorious author who
hates freedom
),
it sure seems like software patents are not there yet, at least not in Europe
.
For software patents, the report is skeptical about the benefits, and highlights confusion in interpretation under the European Patent Convention (EPC).
Worth paying attention to is Google's stance there. Google has been suffering a lot from software patents. In Europe it need not change/fix any laws, it merely needs to preserve an exclusion of software patents. Despite the apparent exceptions (such as
Microsoft's FAT patent
and Siemens [
1
,
2
]), German courts are able to return to their senses and
bread crumbs navigation is deemed not patentable
by the German Federal Court:
In a judgment of 24 February 2011, the reasons for which only became available recently, the German Federal Court (BGH) upheld a decision of the Federal Patent Court which invalidated Siemens' German patent DE 101 15 895 C1, which I take the liberty of referring to as the "bread crumbs patent".
Another loss for software patents.
"Siemens is most probably a patent applicant world "leader"," claimed Marcio B. Jr. a few days ago [
1
,
2
]. Siemens also advocates/lobbies for software patents. Might we see affirmation that
software patents in Europe
are disregarded by the legal system?
The claim about Siemens is being contested by the president of the FFII, who says that Philips -- not Siemens -- is
the worse among the European companies
.
Philips pushing for a central patent court in the EU, number one pusher for software patents http://ur1.ca/47wn8
Another pusher for it appears to be
Bill Gates and his sidekick
(as
noted earlier today
), not just Microsoft and its lobbyists.
This is a subject of international scope. Not only Europeans should keep an eye on it; if Europe ever surrenders to
the peanut gallery
, the rest of the world will possibly follow.
⬆