How the EPO Helped Prop Up -- With 'European Inventor Award 2015' -- a Fraud That Killed a Lot of People
Dr. Roy Schestowitz

2016-06-03 09:24:21 UTC
Modified: 2016-06-03 09:24:21 UTC
What next on the agenda? Fake polio vaccination CIA style?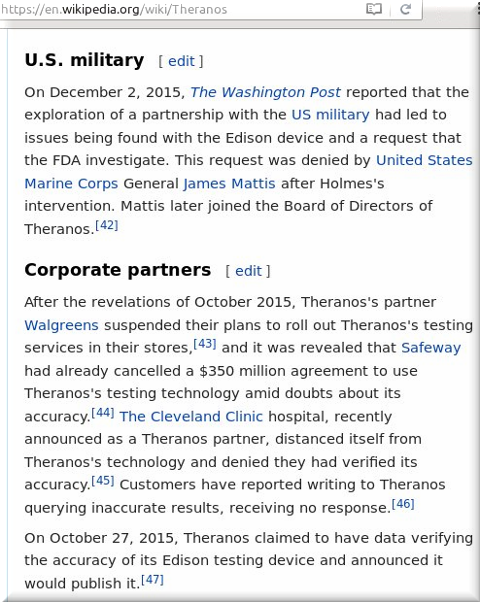 Reference: Wikipedia
Summary: "Theranos may have put as many as 890,000 lives per year in jeopardy with its fake technology," to quote one source, but the EPO's Inventor of the Year propped up this dangerous scam or, in the words of another, this is "how you get to be worth $9 billion on a "technology" that was nothing but fraud."
THERE is not much sense of employment pride among examiners (i.e. scientists) working for Battistelli. The EPO is so full of abuses at so many levels (usually behind a cloak of secrecy as there's no true transparency) that it has become an abundant gold mine for disappointing if not outrageous news where people are routinely incentivised to cheat and defraud, including last year's 'Inventor of the Year' award finalist Elizabeth Holmes.
Elizabeth Holmes, as we noted here before, turns out to have allegedly run a dangerous scam and for the EPO to affiliate with her proved to be an expensive
political
exercise (
costing several millions of euros
and
corrupting the media in the process
, just as Holmes had done).
Below are some quotes summarising the story and recent events concerning last year's 'Inventor of the Year' star Elizabeth Holmes. These have been circulating among EPO staff (the first article is from Wednesday), so they help demonstrate just how negatively EPO staff views this 'Inventor of the Year' charade:




From $4.5 billion to $0: Forbes revalues Elizabeth Holmes' worth



"Theranos founder: From billionaire to 'nothing'" [ http://money.cnn.com/2016/06/01/technology/elizabeth-holmes-theranos-forbes/index.html ]

From Billion Dollar Baby [ http://www.dailymail.co.uk/news/article-2783675/Meet-college-dropout-self-billionaire-fear-needles-inspired-invent-new-way-test-blood.html ]

To nothing [ http://www.zerohedge.com/news/2016-05-18/elizabeth-holmes-admits-theranos-technolgy-fraud-restates-voids-years-test-results ]

"Elizabeth Holmes Admits Theranos' "Technology" Is A Fraud: Restates, Voids Years Of Test Results"

"In the process of commiting fraud and building up her valuation, Holmes repeatedly gambled with people's lives, sending them clearly wrong results. As a result some patients have received erroneous results that might have thrown off health decisions made with their doctors, the WSJ reports. All this is needed is one death and there is a criminal case."



---



BACKGROUND

http://fortune.com/2014/06/12/theranos-blood-holmes/

This story is from the June 30, 2014 issue of Fortune:

"Elizabeth Holmes founded her revolutionary blood diagnostics company, Theranos, when she was 19. It's now worth more than $9 billion, and poised to change health care."

"In the fall of 2003, Elizabeth Holmes, a 19-year-old sophomore at Stanford, plopped herself down in the office of her chemical engineering professor, Channing Robertson, and said, "Let's start a company.""

""When I finally connected with what Elizabeth fundamentally is," he [Channing Robertson] says, "I realized that I could have just as well been looking into the eyes of a Steve Jobs or a Bill Gates.""

"The company has performed as many as 70 different tests from a single draw of 25 to 50 microliters collected in a tiny vial the size of an electric fuse, which Holmes has dubbed a "nanotainer." Such a volley of tests with conventional techniques would require numerous tubes of blood, each containing 3,000- to 5,000-microliter samples."

"Precisely how Theranos accomplishes all these amazing feats is a trade secret. Holmes will only say–and this is more than she has ever said before–that her company uses "the same fundamental chemical methods" as existing labs do. Its advances relate to "optimizing the chemistry" and "leveraging software" to permit those conventional methods to work with tiny sample volumes."

""The first time I heard about this, I thought it was snake oil and mirrors [https://en.wikipedia.org/wiki/Snake_oil]," says David Helfet, the chief of orthopedic trauma at the Hospital for Special Surgery in Manhattan. But after reviewing voluminous validation studies supplied to him by the company, he has become a believer and is urging his hospital to consider adoption."

""It takes at least 10 times–and maybe 100 times–less space for doing the same thing," says Laret of UCSF Medical Center."

"What do incumbent players in the blood-diagnostic space think about all of this? The most frequent criticism is that Theranos is using purportedly breakthrough technology to perform tests that are relied on for life-and-death decisions without having first published any validation studies in peer-review journals. "I don't know what they're measuring, how they're measuring it, and why they think they're measuring it," says Richard Bender, an oncologist who is also a medical affairs consultant for Quest Diagnostics, the largest independent diagnostic lab.

Holmes counters that because, as noted, her tests employ "the same fundamental chemical methods" as existing tests, peer-review publication of validation studies is both unnecessary and inappropriate."

"Theranos, which does not buy any analyzers from third parties, is therefore in a unique position. While it would need FDA approval to sell its own analyzers to other labs, it doesn't do that. It uses its analyzers only in its own CMS-certified lab. All its tests are therefore LDTs, effectively exempt from FDA oversight."

"Beyond the validation disputes, skeptics also question Theranos's business model."

"Critics are likewise puzzled by the cosmic vastness of Holmes's end-to-end business model. If Theranos is making breakthrough analyzers, they wonder, why doesn't it just sell them to existing labs?"

"Early investors included venture capitalists Draper Fisher Jurvetson (which has funded Tesla and SpaceX), ATA Ventures, Silicon Valley legend Don Lucas Sr. (Oracle, National Semiconductor, Macromedia), and Oracle's Larry Ellison."

"Today Holmes is a co-inventor on 82 U.S. and 189 foreign patent applications, of which 18 in the U.S. and 66 abroad have been granted."
Patents on a scam granted.
Long story short, Holmes begrudgingly admits she ran a fraudulent operation and a lot of people died because of her, whereas Battistelli and his goons groomed her. Nice publicity stunt right there, owing to the unscientific and extravagant leadership of Team Battistelli (Battistelli and his buddies/confidants who lack scientific education/background/experience). Maybe Holmes and Željko Topić will have a topic for discussion if both end up behind bars (there are ongoing criminal cases).
⬆