Hoping for a post-Alice software patents rebound/resurgence, obviously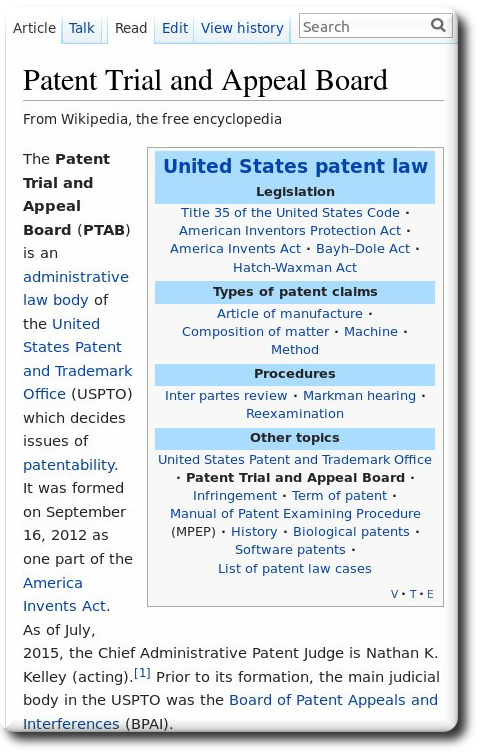 Summary: Now that the actions of the Patent Trial and Appeal Board (PTAB), which have been consistently upheld by the CAFC in precedential decisions, are suddenly being questioned the patent microcosm gets all giddy and tries to undermine PTAB (again)
SEVERAL decades ago the Court of Appeals for the Federal Circuit (CAFC) officially brought software patents to the USPTO. Things have been getting a great deal worse since then, as lots of very fundamental programming ideas turned into a monopoly, potentially enforceable against anybody with a computer and low-cost keyboard (and some rudimentary coding skills or access to the Internet, e.g. BBS for source code).
Well, as we noted the other day, based on early birds like
Patently-O
(typically ahead of the curve), PTAB (
which is hostile towards software patents
) is
now being challenged by CAFC
.
WIPR
has
just published an article about it
:
The US Court of Appeals for the Federal Circuit has agreed to hear a dispute surrounding the rules for amending patents in Patent Trial and Appeal Board (PTAB) reviews before its full panel of judges.

In a decision handed down on Friday, August 12, the Federal Circuit decided to hear en banc a case involving a pool-cleaning product owned by Aqua Products, vacating its previous opinion.
This was then mentioned also by
MIP
and
bigger Web sites for and by patent lawyers
. "In a rare grant of a petition for rehearing en banc," one author said, "the court decided that an appeal "warrants en banc consideration" of who bears what burden when amending in an IPR. In re: Aqua Products, No. 15-1177, slip op. at 2 (Fed. Cir. August 12, 2016). From the very beginning of IPRs, the Patent Trial and Appeal Board has required the patent owner to bear the burden on a motion to amend."
This is an important case for defenders of the
de facto
ban on most software patents, especially in light of
Alice
. As another new article from MIP
put it this morning
, "The Federal Circuit has issued a rare reversal of the Patent Trial and Appeal Board" (PTAB's use of common sense reversed in
Arendi v Apple
). The legitimate concern here is that CAFC, which is not exactly known for integrity (contrariwise, it's known for mischief and abuse in recent years), will interfere in the operation of PTAB, dominated by scientists rather than lawyers or judges with a law degree and not the faintest clue about programming. Here is another lawyers' site stating that the
"Federal Circuit [is] Going En Banc on IPR Standards for Amending"
. Given that many patent lawyers now equate PTAB with "death squads" (what will they call it next? Stalin? Hitler?), we're not terribly surprised to see this kind of bias or patent jingoism. A lot of patents news sites are hard for people to comprehend, probably by design/intention (jargon and reference to sections/cases rather than explicit concepts). This way the patent microcosm can 'monopolise' analysis and coverage, eventually misleading the readers and making it seem as though everything is rosy for software patents.
"A lot of people who promote software patents also wrongly equate patents with innovation."In my personal view, the patent systems per se are not the problem; the problem is patent maximalism and limitless scope, as advocated by those who profit from that (notably patent law firms). They have cheapened/diluted patents/innovation to the point where many patents, once scrutinised in a court of law, simply get discarded. Increasingly, with PTAB around, some or these are discarded before they even reach the court (only after USPTO 'examiners' rubberstamp these). Notably, unassertible patents (because these patents are crap and their assignee/owner knows it) are not safe anymore.

A lot of people who promote software patents also wrongly equate patents with innovation. They have never implemented a single computer program in their entire life; they're just armchair marketing people (shameless self-promotion) harping about "protection" or "innovation", as if patents are not a two-edged sword that impedes and discourages development, usually impacting the smallest developers most profoundly because these developers cannot afford going to court. ⬆