"Look! Dead dolphins!" (how the patent microcosm tries to frame the demise of bad patents)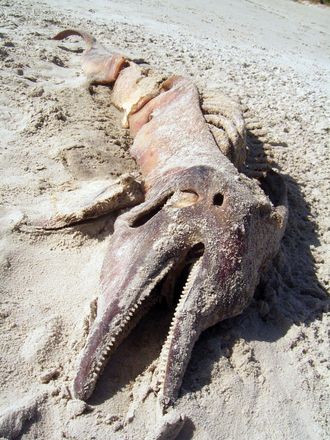 Summary: With the Patent Trial and Appeal Board (PTAB, part of AIA), the International Trade Commission (ITC), the Court of Appeals for the Federal Circuit (CAFC) and even the Supreme Court (SCOTUS) showing disdain for software patents time is running out for patent examiners and lower courts that still pretend such patents sometimes have merit
THE USPTO's examiners now face the challenge of PTAB. It's professionally embarrassing to be proven to have granted patents in error, so the examiners cannot simply ignore Alice, not any longer. "On USPTO Oversight," Patently-O wrote yesterday: "I am generally in favor of additional Congressional oversight of the U.S. Patent & Trademark Office – this is especially true because members of the House and Senate Judiciary Committees tend to be smart, well informed, and act with intention to improve the patent system.* Although partisan politics do come into play, much of the focus tends to be on real issues and real solutions. The oversight process forces additional USPTO transparency and is the standard mechanism for getting information from Executive Agencies. On this point, I will note that the information exchange is often done in the background lead-up to the actual hearing — thus, although a hearing might not be too exciting or informative, the associated deadlines force the new communications."
We are overwhelmingly in favour of having oversight affecting examiners at every patent office, as otherwise the profit motive takes over and quality control is virtually abolished (until the late and expensive stage which is a lawsuit in the court/s). Management of every patent office too needs to be subjected to scrutiny. The USPTO's former Director, for example,
has become somewhat of a lobbying giant
, disgracing not only the Office but the entire system (he is now lobbying on behalf of large corporations in favour of software patents and against
Alice
, i.e. against a
Supreme Court
's ruling).
"Management of every patent office too needs to be subjected to scrutiny."According to Mr. Loney from New York, "143 PTAB petitions [were] filed in August, down from 157 in July and 2016 high of 176 in June. Monthly average for year now 140.8 petitions." Here is his full analysis (partly behind paywall), showing that PTAB activity has been increasing over the years, throwing out a lot of software patents (which courts would throw out anyway). As time goes on it ought to become apparent also to holders of such patents (not just their rivals) that these patents are worthless piles of paper and not even PTAB will be needed to prove it, let alone the courts. "The number of Patent Trial and Appeal Board petitions filed in August was slightly above 2016 average," Loney wrote. "The month also saw notable Federal Circuit decisions on common sense, motions to amend and claim construction [...] The 143 Patent Trial and Appeal Board petitions (PTAB) filed in August was down from 157 in July and the 2016 high of 176 in June. The monthly average for the year is now 140.8 petitions."

Up-to-date statistics regarding software patent invalidations in the courts of the United States (mostly lower ones, i.e. friendlier to plaintiffs than CAFC) got published last night. "June, July and August showed an uptick in the number Section 101 decisions from April and May, the majority of these being motions to dismiss and judgments on the pleadings," the expert notes (he has been tracking this closely for years). "The rates of invalidity holdings continue to be steady: 70% overall, and 66.3% in the district courts. Success on motions on the pleadings is up to 68.1%. We've recently started tracking ITC proceedings as well, as shown above in the last row. Three of the five holdings of invalidity recorded above involved direct competitors and counterparties, Fitbit and Jawbone. In March 2016, Fitbit invalidated Jawbone's fitness tracking patents in an ITC proceeding brought by Jawbone (ITC 337-TA-963). In July, Jawbone returned the favor and successfully invalidated Fitbit's patents (ITC 337-TA-973); the ITC judge in the latter decision even relied upon Fitbit's arguments that it made in its own motion against Jawbone."


"That seems like wonderful news, but sites of patent law firms portray that as terrible news (to them it is)."We previously covered these rulings from the ITC, which certainly seems to be software patents-hostile. According to this new article, "above 90 percent" of patents on payment technologies (such patents are a subset of software patents) are dead/dying. Thanks to Alice! "Since Alice," says the article, "the reject rate for patents for payment technologies is above 90 percent. This is a development that many contend has been crippling the innovation in this space. However, one company CardinalCommerce has secured one, and according to many lawyers, if someone can manage to get an e-commerce patent in this environment, it is worth a lot."

That seems like wonderful news, but sites of patent law firms portray that as terrible news (to them it is).

Here is a new paid-for article, published in MIP by the patent industry last night. Having seen MIP becoming somewhat of a Battistelli/EPO platform, we worry they're going to do more of those "Sponsored posts" (at least this time there's disclosure). This one particular article speaks of telematics patents post-Alice and says "the patentability of such inventions could be impacted by the Supreme Court's 2014 decision in Alice Corp Pty v CLS Bank Int'l, because inventions that arguably can be performed by humans are not patent-eligible subject matter under 35 USC ۤ 101 (134 S Ct 2347, 2354-55 (2014))."

Well, so be it. These patents should never have been granted in the first place. If patents (applications) never get granted, then they cannot be used for litigation or even for shakedowns, where the accused fears having to go to court not because of the outcome but because of the legal fees, obviously prohibitive unless one works for a large company. ⬆