Brexit Means No UPC (Unified Patent Court)
Dr. Roy Schestowitz

2017-01-13 01:33:34 UTC
Modified: 2017-01-13 01:33:34 UTC
Unitary Patent may already be dead, but Team UPC and the EPO won't tell us that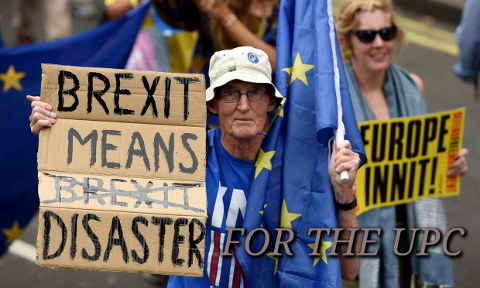 Summary: Now that Jo Johnson, Boris Johnson's brother, is officially declared the new minister for intellectual property in the UK everything that Lucy Neville-Rolfe wrote is as solid as paper bag on a rainy London day
PUTTING aside the patent microcosm (including scholarly sites like Patently-O), Team UPC, and the EPO, rational and objective people seem to know that Brexit is the death knell to the UPC as we know it. We wrote about it when/after Lucy had joined Battistelli, only to be sacked (or leave) weeks later, under still-unknown circumstances.
Confirmed by UK-IPO
on Wednesday afternoon
, just before
we published what we knew about it
,
"Jo Johnson [is] chosen as new UK IP minister"
:
Jo Johnson chosen as new UK IP minister



The UK government has chosen Jo Johnson, a member of parliament (MP) and the current innovation minister, as the new minister for intellectual property.

Johnson, MP for Orpington, Bromley, takes over from Baroness Neville-Rolfe.

The UK Intellectual Property Office confirmed the news on its Twitter page.

Johnson is the brother of Boris Johnson, the UK's foreign secretary. Both are members of the Conservative party, led by Prime Minister Theresa May.

Jo Johnson will remain as minister of state for universities, science, research and innovation, a position he was appointed to in July 2016. He was elected as an MP in May 2010 and was re-elected in 2015.
Jo's brother was a big proponent of Brexit, even if he fooled a lot of people into voting that way (like empty promises about the NHS).
Well, no word about the UPC has been said by Johnson, the above report from
WIPR
or UK-IPO, so one can only guess what will happen next.
There is a new UPC paper (
English version
[PDF]
) composed by Dr. Ingve Björn Stjerna from Düsseldorf (Germany has the most to gain from the UPC). Here is
the outline
:
Allegedly for an independent assessment of "Brexit" vote implications for a potential ratification of the Agreement on a Unified Patent Court ("UPCA") by the UK, three associations interested in this ratification commissioned the barristers Gordon and Pascoe to prepare a legal opinion on several related questions. The Opinion, which widely appears to develop legally far-fetched results in support of desired results, assumes almost self-evidently that the Unified Patent Court is not a court common to the Contracting Member States of the UPCA. Since the political approach for ensuring the UPCA's compatibility with Union law after Opinion 1/09 was always based on the opposite understanding, it supports the voices arguing that the Agreement violates Union law and demanding it to be submitted to CJEU scrutiny as to create legal certainty for the users. Such scrutiny could be initiated in the German ratification proceedings.
Judging by recent events, especially the removal of Lucy (in favour of Jo Johnson), the UPC's future looks anything but bright; it looks virtually non-existent and bleak. That's just what many patent practitioners from London expected all along, even if some were in convenient denial over it,
especially
after the nonsense from Lucy.
⬆