But not to self-serving zealots like Mr. Quinn...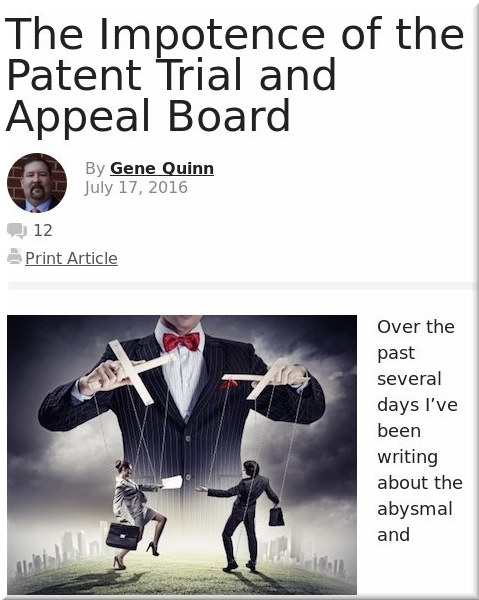 Summary: A new survey from Bloomberg BNA and AIPLA reveals that the Patent Trial and Appeal Board (PTAB), which still grows in prominence, is supported by people who have themselves gotten patents (not those who are in the bureaucracy of patents and self-serving politics)
Who hates PTAB? Who hates IPRs? Sites such as Watchtroll and IAM, which are the megaphone of patent trolls, patent maximalists, patent prosecutors and so on. Not actual developers... these sites are the equivalent of pro-UPC sites in Europe (always connected to legal firms looking to exploit the UPC to foster more litigation, injunctions, and damages).
We couldn't help but notice last night's
blog post
from Matt Levy (
CCIA
). It's about patent proponents (but not patent
maximalists
like prosecutors, profiteers etc.) wanting PTAB, a cornerstone of patent reform from 2011. To quote:
Bloomberg BNA and AIPLA just released a nationwide survey of patent attorneys and agents asking about their experiences with inter partes review at the Patent Trial and Appeals Board. Bloomberg BNA and AIPLA did a survey of attitudes towards inter partes review (IPR). Among attorneys representing patent owners, 48% said that they thought that over all, inter partes review has been very beneficial. This includes in-house counsel. 45% of in-house counsel whose patents had been subject to IPR said that IPRs are very beneficial.

Personally, I find that result pleasantly surprising. I would have expected the numbers to be much lower.

I do note that the survey's finding is actually a little stronger than Bloomberg reports. The attorneys were asked to rank from 1 to 10 to describe how beneficial they feel that IPRs have been, with 10 being the most beneficial, 1 being the least. 48% of respondents who most recently represented patent owners in an IPR gave a rank between 7 and 10. But if you add in the respondents who ranked it as a 6 (which is still more beneficial than harmful), you get 65% of attorneys representing patent owners. If you only look at in-house counsel in that group, it's 70% who ranked IPRs as 6 or better.

That is, in a survey of patent attorneys with recent experience with IPRs, a solid majority of attorneys representing patent owners said that they think IPRs are more beneficial than harmful.

Is the survey biased? Bloomberg has no agenda, it's a news organization. And AIPLA is hardly biased against patent owners. I don't think it's fair to impute a bias to either organization.
This is something to bear in mind now that
as little as 0% (as low as it can get!) of EPO stakeholders support Battistelli, based on a new survey
. Battistelli has basically destroyed patent quality at the EPO and is
sending to exile the semi-equivalent of PTAB
. The only supposed 'quality' that is rising under Battistelli's regime is the burden associated with filing patents -- a thing that no stakeholders is likely to appreciate as it adds to cost/labour.
To quote
this month's short piece
from Jérôme Braquehais (REGIMBEAU):
As of 1st November 2016, the European Patent Office (EPO) Examination Directive that includes the acceptance conditions for recording an assignment underwent changes significantly altering the recordal procedure of an assignment at the EPO.

These amendments, which are in line with an increased formalization, primarily concern the obligation that the assignment contract is to be signed by all parties, and the introduction of a control of the signatories function.
As quality at the EPO continues to decline (
quality of patents
,
quality of service
,
quality of the workforce
and so on) we can expect applicants to turn elsewhere. Battistelli killed the EPO and is only surviving by devouring the "stock" left on the shelf (backlog). With the existing EPs being vastly devalued by the gradual association with wrongly-granted, low-quality patents, price drops will become imperative, but it would already be too late. Battistelli
is making the EPO completely unsustainable
.
⬆