The arts of being a "good" lawyer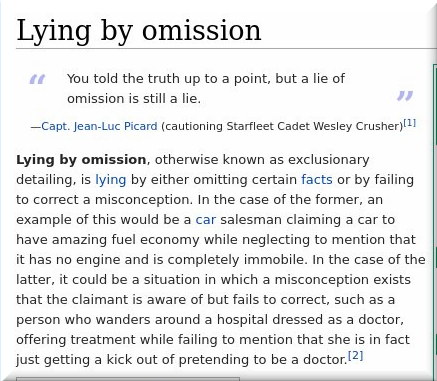 Reference: Lying by omission
Summary: The assertion that software patents are still worth pursuing in 2018 is based on carefully-constructed spin which mis-frames several court decisions and underplays/downplays/ignores pretty much everything that does not suit the narrative
Y
ESTERDAY morning
we wrote about how spin had evolved
to convince people to pursue software patents (which even the
USPTO
-- let alone courts -- makes harder to attain/obtain).
Facts and marketing blend like water and sand. So it's hardly surprising that little substance exists in these
falsehoods-ridden infomercials
.
We habitually cover cases that the patent microcosm prefers not to mention (or never to
elaborate
on). Such cases aren't good for 'business' (patenting and litigation) as they can discourage 'sales' of 'services'. The other day we took note/stock of several such cases.
Yesterday,
Immersion Corp. v Fitbit, Inc.
was brought up by a site of the patent microcosm, alluding to this
latest outcome
in a case initiated by Immersion, a notorious patent aggressor if not troll [
1
,
2
] (it's not exactly a troll, but it has no concrete products, just licensing).
Judge Koh is once again emerging as a somewhat technical judge who is hard to fool. Seeing what kind of patents Immersion is 'sporting',
she sided with the defendant, Fitbit
, whereupon the maximalists said that "it appears as though the lack of detailed physical components and detailed algorithms is what doomed the '301 patent."
Goodbye abstract patents.
Here's more from that post:
Last week, Judge Koh of the U.S. District Court for the Northern District of California deemed claims relating to transmission of haptic messages to be directed to an abstract idea and therefore invalid under 35 U.S.C. ۤ 101.

The Plaintiff, Immersion Corp., alleged that Fitbit's wearable health and fitness devices infringe three of Immersion's patents, each of which involve "haptic" feedback technology -- namely, technology that provides forces, vibrations, or other motion feedback that recreates a sense of touch for a user. Fitbit filed a motion to dismiss contending that the asserted claims of each patent are patent ineligible under ۤ 101. The District Court denied Fitbit's motion on two of the three patents, but granted the motion with respect to U.S. Patent No. 8,638,301 (the '301 patent).

[...]

The District Court then addressed the patent ineligibility of the '301 patent, whose claimed invention involves a mobile device transmitting a "haptic message" to another mobile device. The patent describes haptic messages as a useful form of non-linguistic communication that tie physical effects to a message, contrasting with more conventional messaging systems that may provide less or no contextual information associated with received and sent messages. For example, the patent describes a scenario in which one user appends a haptic signal simulating a heartbeat to a message, sends the message to the other user along with the haptic signal, which causes the other user's phone to vibrate in a manner that simulates the heartbeat pattern.

[...]

Given the state of the asserted claims -- especially that of claim 27, compared with the other two patents -- the District Court's finding here is relatively unsurprising. Again, it appears as though the lack of detailed physical components and detailed algorithms is what doomed the '301 patent.
This is a classic example of abstract things that do not merit a patent.
The maximalists have since then
turned to other cases
, such as
this one
in which "Zmodo moved to dismiss for failure to state a claim under 35 U.S.C. ۤ 101."
ۤ 101 is a recurring theme, but the patent microcosm only really cares when a ۤ 101 challenge is denied (even if it was unsuitably invoked, in cases where the claims are not abstract).
We saw two new examples of that yesterday. Nutter McClennen & Fish LLP came up
with that familiar spin pattern
that's intended to help them sell worthless services:
Since the Supreme Court's decision in Alice Corp. v. CLS Bank in 2014, there has been an increasing trend in district courts granting pretrial dispositive motions to effect early dismissal of patent infringement cases under 35 U.S.C. ۤ 101. Last month, however, the Federal Circuit issued two patent-friendly decisions that preclude such early dismissal when there are factual disputes that underlie the ultimate legal conclusion of patent eligibility under 35 U.S.C. ۤ 101.
We already wrote about a dozen rebuttals to that; but it doesn't matter, the patent microcosm knows that prospective clients won't fact-check and might even get the false impression that something substantial has happened and changed. Knobbe Martens was next to exploit these widely-distorted (by the patent microcosm) decisions in order to help itself sell worthless services. It
wrote this
yesterday:
In two recent cases, the Federal Circuit addressed the role of factual questions in resolving patent eligibility under 35 U.S.C. ۤ 101. The first case was Berkheimer v. HP Inc. and the second was Aatrix Software v. Green Shades Software.[1] These cases possibly undercut the holdings of previous cases in which the Federal Circuit routinely affirmed judgments invalidating patent claims under ۤ 101 in the early stages of litigation, when factual questions are typically unresolved.[2]
They keep mentioning
Aatrix
and
Berkheimer
(which we read), but we doubt they even understand these. They just live in a little echo chamber where name-dropping
Aatrix
and
Berkheimer
is like showering pixie dust.
Yesterday
Watchtroll wrote
: "While the value of patents has been under attack (e.g., with the Supreme Court Alice and Mayo decisions limiting what can be patented and the establishment of IPRs), trade secrets have become a bigger risk with the current rapid changing of jobs by engineers and programmers."
Those patents are not "under attack", they should never have been granted in the first place and courts belatedly rectify their ways, especially after Judge Rader left the Federal Circuit (he was pretty much forced to leave after he had been caught doing corrupt things).
⬆