Corporations Love Shareholders, Not Software Freedom or Users' Needs
Dr. Roy Schestowitz

2020-12-10 11:11:40 UTC
Modified: 2020-12-10 11:11:40 UTC
Who's left to (really) love GNU/Linux if not its users, who actually depend on it unlike these IBM executives and Linux Foundation executives?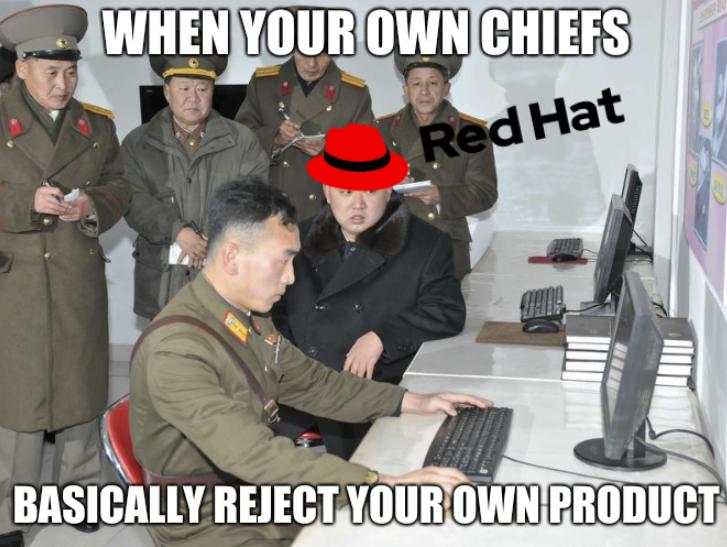 Summary: IBM loves profits made through Red Hat (and RHEL), but it does not love GNU/Linux and cannot understand why so many people do in fact love GNU/Linux
THE IBM-owned and IBM-controlled Red Hat isn't crushing CentOS because there's no demand for it but because there is demand for it; minimal compliance and conformance with licences seems "fair enough" for IBM. After all, the new CEO "Hopes to Double Sales at Red Hat in Next Three Years"; what better way than leaving users stranded, compelling at least some of them to become customers?
IBMers who loved GNU/Linux have already retired (Red Hat's founders, who love this company the most, are also gone). In recent years IBM worked closely with Apple, not with Free software. The CEO of Red Hat (and now IBM President) isn't even eating his own dogfood (he claimed he had messed around with Fedora, but there's no strong evidence of it and Red Hat didn't do much for the Fedora project, which keeps languishing). Red Hat was the first distribution that I used (years before Fedora Core existed) and the latest disappointment from IBM is certainly not the last. We can envision several other things happening next (particular projects on the chopping block), but we'd rather not name them and give any ideas... Our article about Red Hat layoffs was read by about 100,000 people; people know that this is happening, but many are still in denial about it. Recently, as noted in the news some weeks ago (it's in our Daily Links), IBM fired a huge number of workers across Europe.


"GNU/Linux development (or whatever replaces "Linux") ought to get back to its grassroots community..."Last month Tom (Thomas Grzybowski) reported for us that according to a friend of his, who had been attending one of the OLF Conferences, Bob Young of Red Hat "was telling a story about how a few years ago he had explained to Richard Stallman that he himself was more committed to Free Software than Stallman was. In his view, Stallman was only ideologically supporting Free Software, while Red Hat's entire business model depended upon on it. And through Red Hat's commercialization of GNU/Linux, Young had brought open-source/free software into wide-spread corporate acceptance and into the marketplace such that many more people could benefit."

This is typical; it's conflating market share (or "penetration" as executives like to call it) with other things, such as the freedom Stallman (RMS) strives to give users and hackers (he means developers when he uses that word). Judging by the history of IBM, the company doesn't care about freedom. It never did. Linux and GNU were just zero-cost tools for IBM to build systems upon. IBM's executives in the 1990s understood that it was better to work with GNU/Linux than without it (and sure, they groomed "Open Source" and "Linux" rather than Free software and GNU; IBM's employees still try to oust RMS from his own project, GNU).

Let's be realistic about it; IBM may have the most important GNU/Linux distribution, but that does not make it the most important advocate or 'flag bearer'. GNU/Linux development (or whatever replaces "Linux") ought to get back to its grassroots community; shareholders of IBM do not share the same goals as ours and they're not diverse either (it's a bunch of highly privileged people, rarely geeks). ⬆