Series parts
:
Holding Criminals Accountable — Part I — Sirius Crimes Reported to British Authorities, Formally Registered With References (Many Victims), Here's What It Means and What Happens Next
YOU ARE HERE ☞ Still No Action From Action Fraud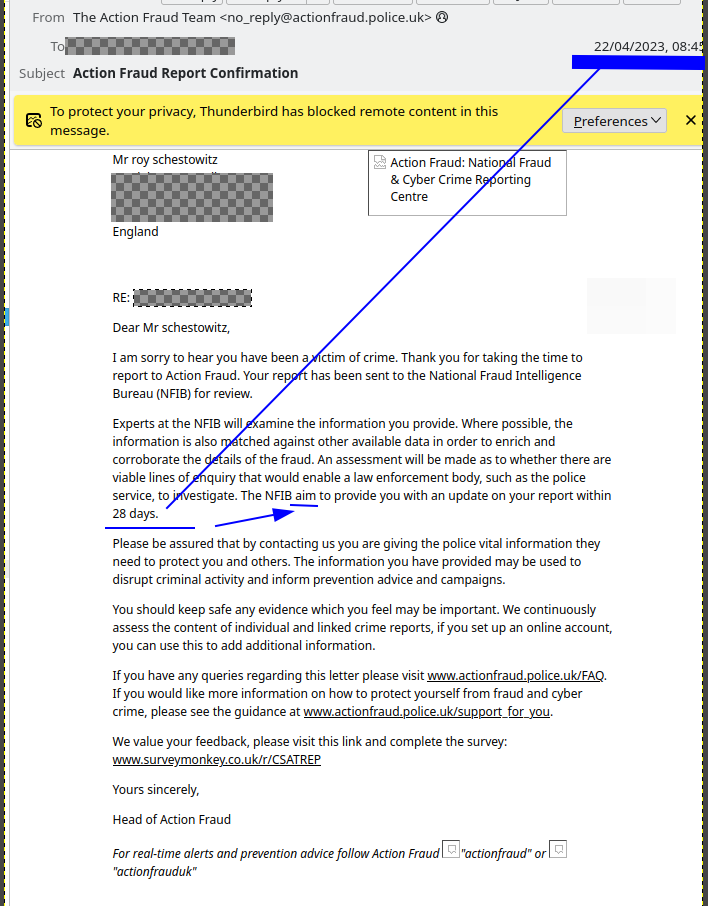 We know it's a case of fraud. Fraud took place and action is now needed. Many people affected. Will police get its resources assigned to tackle fraud?
Summary: The crimes of Sirius 'Open Source' were reported to the authorities; as expected, the authorities are in no rush to investigate and prosecute, which is why so many people out there (in most countries) have become cynical about police and cops
P
UBLIC officials in the US are once again bailing out (instead of punishing) rogue banks, so now is a good time to catch up with this series.
Victims of serious and expensive crime are involved in the above (not just yours truly). It's a crime that went on for years. We wait for law enforcement to flex some muscles, but with
slow response times like these
much patience is needed. Here's the full text from the screenshot above:
Dear Mr schestowitz,

I am sorry to hear you have been a victim of crime. Thank you for taking the time to report to Action Fraud. Your report has been sent to the National Fraud Intelligence Bureau (NFIB) for review.

Experts at the NFIB will examine the information you provide. Where possible, the information is also matched against other available data in order to enrich and corroborate the details of the fraud. An assessment will be made as to whether there are viable lines of enquiry that would enable a law enforcement body, such as the police service, to investigate. The NFIB aim to provide you with an update on your report within 28 days.

Please be assured that by contacting us you are giving the police vital information they need to protect you and others. The information you have provided may be used to disrupt criminal activity and inform prevention advice and campaigns.

You should keep safe any evidence which you feel may be important. We continuously assess the content of individual and linked crime reports, if you set up an online account, you can use this to add additional information.

If you have any queries regarding this letter please visit www.actionfraud.police.uk/FAQ. If you would like more information on how to protect yourself from fraud and cyber crime, please see the guidance at www.actionfraud.police.uk/support_for_you.

We value your feedback, please visit this link and complete the survey: www.surveymonkey.co.uk/r/CSATREP

Yours sincerely,

Head of Action Fraud

For real-time alerts and prevention advice follow Action Fraud https://www.facebook.com/actionfraud/"actionfraud" or https://twitter.com/actionfrauduk "actionfrauduk"


Notice their use of HTML (with images embedded) and how they've managed to outsource themselves Surveymonkey, Twitter, and Facebook. Maybe they should look into Elon Musk and Mark Zuckerberg, not give them
more
business.
"I think it might not be too expensive to take them to court," a colleague told me, as "the problem maybe enforcement of any judgement."
We need action.
Sirius is broke, its UK CEO left weeks ago (actively hiding past association with the company right now), and enforcement against someone who is "in hiding" would be hard. We spoke about this with a lawyer last year. He agreed that it would be rather futile suing a company that can barely even present anything in a British court.
Either way, unless the authorities show they're willing to tackle fraud, public perception may grow that authorities are apathetic, complicit, or passively sympathetic towards crime.
If the company that claims (or claimed) to be a "leader" in Open Source in the UK is behaving like this, readers of
Techrights
deserve to know.
⬆