06.12.10
Gemini version available ♊︎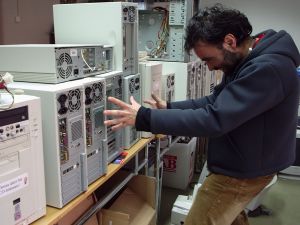 "Computerclub Ubuntuparty" by Oman
Summary: Canonical makes a statement about "Ubuntu Advantage" — a statement which ought to be revised because it emphasises a bogus advantage that takes the slippery patents slope and puts rival distributions at a position of disadvantage
OpenSUSE, the forgotten project which suffers from the Microsoft-Novell patent deal, "searches for its strategy" according to this lengthy new article from LWN. It says:
While Ubuntu is clearly focused on user-friendliness and Fedora has a "bleeding edge" approach (although it has sometimes struggled with its identity), openSUSE lacks a similar message. Who is the target user? What are the long-term goals of the distribution? What is its unique selling point? For the past few months, the openSUSE Board worked together with some community members on a more focused strategy. The question they want to answer to themselves and to the rest of the world is "Why choose openSUSE?".

To answer this question, the Board looked at data from various sources, including market share figures and the openSUSE 2010 Survey that the project ran in February, which produced some useful results [PDF]. They also held a series of strategy sessions on IRC with many discussions about the role and the future of openSUSE.
Canonical is actually having a similar problem because it doesn't know how to make enough money from Ubuntu. One way of raising money is through support contracts (Red Hat does that) and Canonical did well by offering business support to users of Ubuntu. It is compliant with Free software ideals. As we noted a few days ago, Canonical turned Microsoft away when Microsoft tried signing a patent deal, so the following allegation contains baffling new evidence:
Ubuntu apes Novell in IP scare campaign

In its hurry to embark on ventures that would result in making its GNU/Linux distribution a profitable one, it looks like Canonical, the makers of the popular Ubuntu GNU/Linux, has gone a step too far.

Canonical has launched an initiative called Ubuntu Advantage which attempts to sell its product based on many factors, one of them unfortunately being the hoary old chestnut about the possibility of Linux having IP problems.

The wording says it all: "Ubuntu Advantage gives you peace of mind with comprehensive legal cover. Ubuntu Assurance helps customers to deploy Ubuntu without complicated legal concerns. We take care of intellectual property (IP) infringement legal claims brought against customers in their use of Ubuntu."
Red Hat has indemnification and so does IBM, but it's not the same thing. If Canonical sells "indemnification", then it needs to be phrased differently (not the way it's phrased above). It ought to be clarified that there are no legal issues and if any issues arise, Canonical can indemnify (which is not ideal, either). This is very different from what Novell has been doing, so we don't agree with the conclusions reached by the article above. █
Permalink
Send this to a friend