06.26.10
Gemini version available ♊︎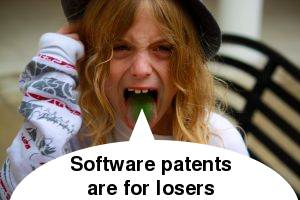 Summary: As Google claims to be spreading over 1 million Linux-based phones per week, Apple which is a self-admitted 'thief' is suing again and Frontier Communications does too — using a patent whose description Frontier distorts
YESTERDAY we wrote about the latest patent lawsuit against software that makes the headlines. It's the Frontier lawsuit against Google (coverage by Reuters), where the patent involved is described as follows:
Oh, and if you want to see how continuation patents are abused, you can check out the original patent application, which focuses on something quite different than the eventual patent. It's much more about switching calls from one line to another. It's only in the later patent (not filed until well after Google Voice was widely established in the market), that Frontier made the patent sound a lot more like what Google Voice actually does.
That's not a concrete patent. It's software-implemented and it's inspired by real-world equivalents.
Apple is also suing Android/Linux (via HTC) because about 160,000 Android phones are sold daily while hypePhone 4 encounters a disaster, not just the Gizmodo PR disaster which we covered in:
Against Monopoly writes about Monday's Bilski decision, noting that it may impact software patents as we last argued yesterday.
Even the most ardent defenders of the current patent regime expect the Court to strike down "business method" patents. The big question will be if the Court goes even farther and delivers a broader decision affecting software patents and other controversial forms of patent monopolies.
Last night we explained why it looks favourable to those wishing to abolish software patents. These patents are not about ingenuity, they are about mixing or extending existing ideas. Apple is not original at all and it admits this publicly (video in the link, with another newer one below). █
Permalink
Send this to a friend