07.23.10
Gemini version available ♊︎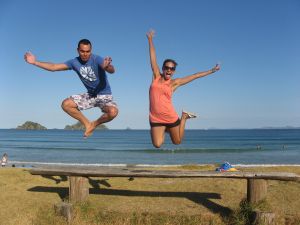 Summary: News links about Free/libre software
I do not understand the concept of Free Software being evil in any way. We do not view family or community as evil. How could Free Software be evil? Families raise children and set them free. It would be frowned upon to raise children as slaves. Family, neighbours, communities and nations donate their labour and resources to help individuals and groups. That's not evil. It is because we are social beings that we help one another.

Have you looked at the new Microsoft (MSFT) Office 2010 yet? How many of its few, new features does your company really need? And are these features worth the investment? Here are five reasons your company doesn't need to purchase Office 2010.

Facebook connects its 500 million users using an array of open source software to enable social networking as well as data intelligence. Facebook's open source Web serving infrastructure has a lot more than just the traditional LAMP (Linux/Apache/MySQL/PHP) stack behind it.

These days I am receiving quite a number of mails that ask the same question: If a FOSS project is sponsored by only one company or entity, do you think it's a healthy project?

Community. This little nine-letter word is the lifeblood of open source. Barely a day goes by without some aspect of it impacting our lives, be that via Linux, a local book club, your closest group of friends or any one of a million other places. In an age when anyone over 45 seems to have stories about the end of local communities, the open source community is thriving.

ForgeRock/SUN

ForgeRock today announced general availability of OpenAM 9.5 software, the latest release of the OpenAM access management product, part of the I3 Platform. This represents the first full release of OpenAM since ForgeRock commenced sponsorship of the open source OpenAM project and provides a smooth migration option for Sun OpenSSO Enterprise 8 users.

It's significant for open source because it signals that the OpenAM community – especially the part on ForgeRock's own team – is up to speed maintaining and evolving the code and that the transition from its former home is going well.

I get that Oracle runs on open-source software. I know that Oracle is a major Linux supporter. But, please, please dont mistake Oracle as an open-source, open-core, or any other kind of "open" business at heart. Larry Ellison, Oracle's CEO, is all about making billions of dollars. There's nothing wrong with that. That's what all businesses are about. But, to Ellison open source is just the means to that end and nothing else. If a program doesn't fit into his plan, it's not going to get supported.

So, while Oracle recently put up a page listing its native open-source projects and the ones that it inherited from Sun, don't think for a minute that all those programs are actually going to be supported. They're not.

Events

Linux.conf.au announced a Call for Papers for its 12th annual open source Linux conference for developers, to be held in Brisbane, Australia, on Jan 24-29. Linux.conf.au 2011 (lca2011) starts off with two days of mini-conferences, and is followed by three days of main sessions and an "Open Day" of events and presentations that is open to the general public.

Mozilla

SaaS

In February 2008 Amazon S3 crashed and the whole of Amazon S3 stopped for a few hours. In March 2009 a bug inside Google Docs had allowed unintended access to some private documents. Some people with cloud concerns ask, "What if my documents, stored by the provider of the web office (eg Google Docs) are lost?" Different question: what if your laptop is stolen or your hard disk crashes? If you are using cloud services or not, it's always a good advice to have a backup of your data.

[...]

These hints can be used exactly the same when not using cloud services and they prove that it's not very dangerous to use cloud. Or do you install non-open source software from sources you can't trust? And you keep your credit card numbers secure all the time? And you do backups of your local data, don't you?

VMware is preparing to attack Microsoft Exchange across the IT channel. The strategy calls for VMware's channel partners to begin selling Zimbra — an open source email system — starting on Aug. 1, 2010. Here are the details, which The VAR Guy confirmed at HostingCon.

[...]

Pflaum also pointed out that VMware and Zimbra have no plans to build a VMware cloud and/or to host Zimbra directly for partners. Instead, Zimbra plans to leverage existing relationships with roughly 500 hosting companies that offer Zimbra.

CMS

In the past few days, WordPress has become entangled in a debate about WordPress theme licensing. It was specifically centered around Thesis, one of the last notable proprietary theme holdouts. Chris Pearson, who develops and sells Thesis, refuses to license Thesis under the GNU General Public License that applies to WordPress and all WordPress-derived code.

If you're not familiar with the background, however, the Cliff's Notes version comes down to Thesis Theme using a license other than GPL, which created a conflict between Thesis Theme creator Chis Pearson and Matt Mullenweg, of Automattic (the parent of WordPress.com).

For more in depth coverage, please take a look at our original post about the subject, and then the follow-up as well.

Suffice it to say, we're happy to see that Pearson will be working under GPL. It is worthy to note, however, that Thesis is now licensed under a GPL split.

If I were really vested in this issue and had money (and my last name was Mullenweg) this is what I would do: I'd just buy a copy of Thesis and then start distributing it. From the front page of WordPress. Hell, I'd make it the default theme, push it out as a "critical update", and announce it all on video in a leotard with my face painted up like The Ultimate Warrior. (Don't miss the "Warrior Fine Art Gallery"!)

Education

So the NHS has decided not to renew a large Microsoft licensing deal. Basically it had agreed a while ago to spend £500 million on Microsoft software in return for a £300 million discount.

What a bargain!

No more though, in this time of cuts, just when we needed the money the most, the deal has been ditched and the NHS faces a massive licence bill. But it gets better; according to sources on the ground 'the only option would be to move to free open source software'…but wait for this… 'the staff would not move to an unfamiliar system'.

So that's it then.

Literally they will pay for MS products with money they would otherwise use for the good. That's how hard it is to introduce FOSS onto the desktops, even when those desktops are running crummy old DOS screens within MS XP home!

Semi-Open Source

Open core is usually built by a set of internal open source components held together by a dual-licensed wrapper, plus proprietary modules on the outside. One of the best examples of this is Zimbra (an excellent product on its own) but MySQL in recent editions can be included in the same group. As discussed in previous posts, dual licensing hampers contributions because it requires an explicit agreement on ceding rights to the company that employs it, in order to be able to relicense it for the proprietary edition. This means that Open Core companies, in itself, will have an easier time in monetizing their software, but will receive much less contributions in exchange. As I wrote before, it is simply not possible to get something like Linux or Apache with Open Core.

FSF/FSFE/GNU/SFLC

New York, NY, July 21, 2010//Software vulnerabilities in life-sustaining medical devices such as pacemakers and infusion pumps pose a growing threat to public health, warns a new report published by the Software Freedom Law Center (SFLC).

Killed by Code: Software Transparency in Implantable Medical Devices will be presented at OSCON 2010 on July 23. It addresses the potentially fatal risk of source code defects in implantable medical devices and explores why patients, doctors and the public should insist that free and open source software be the standard approach.

"The findings of the paper are important to anyone who has a friend or loved one with a pacemaker or insulin pump," said the paper's author and SFLC General Counsel, Karen Sandler. "Clearly, we need mandatory, public, and broad safety review of code that runs these devices. At the very least, the U.S. Food and Drug Administration must require device manufacturers to submit software to the agency for review and safe keeping."

Project Releases

The Inverse Team is pleased to announce the immediate availability of SOGo 1.3.0. This is a major release of SOGo which focuses on new features and improved stability over previous versions.

Government

Kroes mentions Munich which has implemented FLOSS and open document flows but is still dragging its feet on GNU/Linux. They plan to be finished in 2013… If they run FLOSS apps, it is a puzzle to me why it is taking so long to move the OS. Maybe there is less urgency because the price of PCs dropped and they are running XP now… I just don't know. Things like moving accounts and issuing memos on a few basic operations could be done on a weekend per department.

Open Access/Content

As a start and a workspace, I've posted the timeline I pulled together for the MIT OpenCourseWare Milestone Celebration in 2007 on the Consortium wiki. I invite the community to log onto the wiki and add additional events and items (I obviously have to cover 2008-2011 still as well), or if you are note comfortable editing the wiki, simply send me an e-mail (scarson at ocwconsortium dot org) with your items and I will add them in.

Open Hardware

Members of the open source hardware community publicly issued a list of standards that define a specific piece of hardware as open source. Among the signatures on the document were MIT Media Lab and Arduino lead software developer David Mellis, Adafruit founder Limor Fried, Creative Commons VP of Science John Wilbanks, and Wired editor and DIY Drones founder Chris Anderson.

There are eleven tenets to the open source hardware definition.

Programming

Linus Torvalds, the creator of Linux, has a famous quote, "Given enough eyeballs, all bugs are shallow." In the open source world, it is taken for granted that you want to open your work to the world quickly for the very simple reason that if you do, you make it possible for others to help you make it better faster (and you find the bugs).

Standards/Consortia

lpOD — languages & platforms OpenDocument. Definition of a Free Software API implementing the ISO/IEC 26300 standard. Development, for higher level use cases, in Python, Perl and Ruby languages. of a top-down oriented API.
Permalink
Send this to a friend