08.09.10
Gemini version available ♊︎
Steve Ballmer might be the best thing that ever happened to Linux (and worst for Microsoft)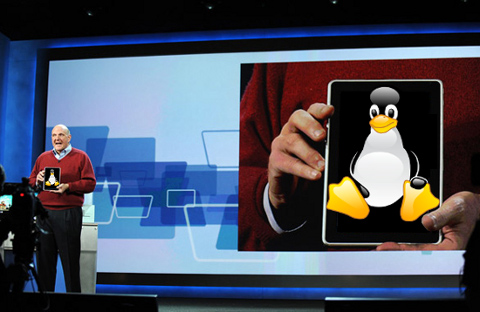 Original photo here, fair use for humour purposes
Summary: As Linux grows in portables/mobiles, pressure on Microsoft grows; Microsoft-oriented people begin to ask whether Microsoft should fire Steve Ballmer
THE PREVIOUS post talked about Microsoft's failure in mobile phones. It was only last month that John Dvorak published the article "Whither Microsoft and the Kin," which he summarised as follows:
Software giant is doomed in mobile market
The "mobile market" extends to devices that are somewhere between desktops and mobiles. Sub-notebooks and tablets are key areas and they are growth areas, too. Dvorak's colleague has just been referring to his article (which we missed at the time) and it connects Microsoft's failure in mobile to pressure for Steve Ballmer to leave (or be fired).
A firestorm is raging through the media and the blogosphere these days over Microsoft Corp. Chief Executive Steve Ballmer and whether or not it's time for him to go.

[...]

It remains to be seen whether Microsoft can catch up in the newest growth engines, smart phones and tablets, both huge rocket ships for rival Apple. Its Windows Phone 7 software is due later this year, but many are already skeptical of its chances for success. See John Dvorak column.

So for now, investors might as well heed Egbert's advice and "stop expecting from Microsoft innovation a la Apple and start expecting low-cost mass market adaptations of popular technologies, a la China."
The industry is moving to mobile devices (even PC/server giants like Dell make phones) and all Ballmer has done do far is the making of promises [1, 2] because of pressure from Apple [1, 2] (Ballmer chooses to ignore or dismiss Linux/Android in tablets as he only names Apple). Well, actually, Android (Linux powered) is the one to catch up with for the same reason that Android phones are overtaking hypePhone. Over at ECT Richard Adhikari acknowledges this and he currently writes about "Microsoft's Mobile Morass":
Microsoft rekindled its on-again, off-again love affair with tablet PCs late last month, as CEO Steve Ballmer told financial analysts that it's giving top priority to its tablet project.

However, he was vague about the details. The tablet would run on Intel's (Nasdaq: INTC) forthcoming Oak Trail processors, he said — but these won't be available for about another year. At different times, he mentioned Windows 7 and Windows Phone, in a manner that hid more than it revealed about the operating system such a tablet would run.
Microsoft has already tried this with Slate and with Courier, but both are dead before arrival.
Business Insider says that "Steve Ballmer Has No Respect For An Android Tablet" (being blind at one's own peril) and the article begins with:
Steve Ballmer doesn't consider Google's Android a worthy competitor in the burgeoning tablet market.
Speaking with analysts on Thursday about tablets, Ballmer said, "If with the application base, with the tools that we have, with the user understanding and momentum and everything going on, we can't compete with…whatever the weird collection of Android machines is going to look like, shame on us."
The interesting thing is that a clear defeat in the mobile space is part of the reason shareholders want Ballmer out (since years ago when they thought Microsoft would buy RIM). Mac-oriented sites are poking fun at Ballmer right now and even Microsoft boosters like Jason Hiner are fed up [1, 2]. Hiner's colleague at TechRepublic (whitepapers pusher filled with Microsoft boosters) weighs in; Inspired by Hiner, Mark Kaelin decides to create a poll: "Should Microsoft fire Steve Ballmer?"
The results at the time of writing are as follows:
# Yes, but take time to find a good replacement (50%)
# Yes, ASAP (31%)
# Doesn't matter, it's too late (10%)
# No, he is doing a great job (9%)
So only less than 10% have confidence in Microsoft's CEO. This is a poll conducted in a Windows blog (it's called "Microsoft Windows"), i.e. it should be seen as tilted in Microsoft's favour. If this poll was conducted in a GNU/Linux-oriented blog, many would vote for Ballmer to stay because he is crushing Microsoft. Being a Linux-hostile bully has caused him great harm. █
Permalink
Send this to a friend