11.11.10
Gemini version available ♊︎
Summary: The patent troll "seems to be trying to do Microsoft a favor by painting Linux vendors as… well… thieves," argues Groklaw, which parsed the court proceedings of IP Innovation vs Red Hat and Novell
THE PATENT troll known as Acacia operates under an even larger umbrella ("IP Innovation") and it is operated by some former Microsoft staff, having been paid by Microsoft in recent years (on several occasions in fact). In some ways, Acacia is like another SCO and we've just found an interesting observation from Groklaw, which went through a lot of filings:
The plaintiffs' opening statement, by Arthur A. Gasey of the firm Niro Scavone Haller & Niro, offended me, as he made remarks that were pejorative about Linux, seeming to imply that Open Source software is pirated. And I was puzzled why he would mention Windows, when there is no established connection between Microsoft and these plaintiffs. But he does. For example, here's a brief whiff…

[...]

The jury ruled otherwise, but did you get the feeling that this guy misunderstands Linux? And that he seems to be trying to do Microsoft a favor by painting Linux vendors as… well… thieves? He is stressing how significant it is to have 4 desktops, because they get more money if the feature they claim is infringed is the reason you want the product. Of course, that is the last thing you need in a server, and most of Red Hat and Novell's money comes from servers, so it sort of makes no sense, his little speech.
A lot more interesting stuff is in there. Thanks to Pamela Jones for all the good work she has done on this post. Acacia helps show the distortion of the patent system, where non-practicing entities and monopolies (along with their lawyers) take all the money and power, thus leaving the market with a lot less value. █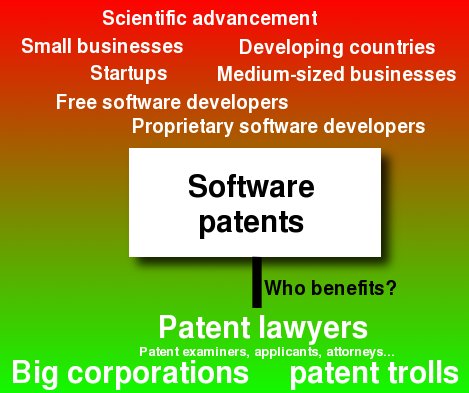 Permalink
Send this to a friend