02.06.12
Gemini version available ♊︎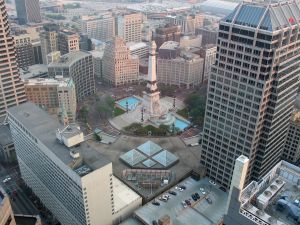 Summary: Challenging the old misconception that patents are beneficial to anything but few multinationals and their patent lawyers
PATENT monopolies form the basis of business of some ruthless multinationals — companies with so many patents that nobody is able to enter their field without fear of litigation. Patents are a form of territory-marking and they are an obstacle or a barrier to the number of people working in a particular field. Surely this cannot result in more innovation. I understand this as a researcher and programmer in the field of computer vision, where people habitually get US patents on matrix operations. That's mathematics.
According to this news article, an award goes to a company that helps groom the portfolio of patent monopolisers:
On Friday afternoon, Indianapolis Mayor Greg Ballard announced the winner of a Super Bowl XLVI contest for Indianapolis-area startups presented jointly by Develop Indy and Startup America Partnership. The competition sought to recognize a high-potential startup in the Indianapolis area while raising awareness of Indianapolis as a great place to launch a business.

The winner was Indianapolis-based legal technology startup PatentStatus, a cloud-based software-as-a-service that enables organizations with large patent portfolios to implement a virtual patent marking strategy on their corporate web sites.
Now, let's think about it for a second. Here we have proprietary and remote software which targets what is essentially a company with many monopolies. By helping such entities mark their territory, so to speak, this Indianapolis-based company essentially does more to scare potential competition. In essence, this depresses innovation and provides yet more examples of how patents stifle progress. In some places, in order to stride forward, employees are actively encouraged not to look at patents — as means of avoiding wilful infringement.
According to a reader of ours, there is the White House response which says "overly broad patents on software-based inventions may stifle the very innovative and creative open source software development community.."
"Like so many others," notes the reader, "it intentionally or accidentally mistakes the problem as being one for developers, when the issue of patents is really about users. It's 2012 and it's tiring to see that canard still being used."
Here is the Glyn Moody piece that he cites. Moody concludes with the following words:
What's interesting here is that open source was nowhere mentioned in the original petition. So it shows a commendable savviness on the part of the person who actually wrote the reply – Quentin Palfrey, Senior Advisor to CTO for Jobs and Competitiveness at the White House Office of Science & Technology Policy – that much of the concern about software patents is the deletorious effect they have on free software.

So even if the e-petition failed to get President Obama to agree to abolish software patents (admittedly a bit of a long shot), it did have the beneficial effect of eliciting this strong vote in favour of open source from a very high-profile site.
When will US policy-makers realise that patents — and software patents in particular — are a sham that benefit nobody but a tiny proportion (maybe under 0.001%) of the population? There are high costs associated with externalities. █
Permalink
Send this to a friend