06.08.12
Gemini version available ♊︎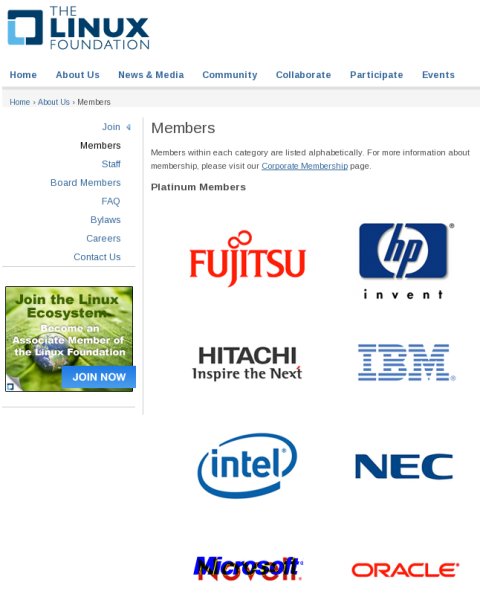 Summary: Microsoft's partner, Samsung, gets more influence inside the #1 Linux backer
THE INFLUENCE of Novell inside the Linux Foundation is a subject that we've covered here for years. Groklaw highlighted this problem as well. The foundation was financially dependent on this puppet of Microsoft and now with Samsung in a position of power there is more Microsoft partner-based influence inside the foundation (Samsung is an ally of Microsoft in many areas). One article says that Samsung takes a seat on the board and another speaks of the financial terms. Now that a company which pays Microsoft for Linux and Android can call some shots under the "member" banner (and more) we ought not to expect much resistance to whatever extortion Microsoft engages in. On the contrary, Samsung continues to fight Apple's embargo attempts:
Apple is desperately trying to get the Samsung Galaxy Tab 10.1 banned from the United States. But before that can happen, Apple must wait for some judicial procedures to be completed.
"We've always been shameless about stealing great ideas," said Steve Jobs, but now he pretends to have stuff "stolen" from him. The Microsoft lobbyist add some Android-hostile spin. That's what he's paid for. Apple in the mean time extends the embargo attempts. This is Apple's main "innovation" these days. It's an ill organisation.
Nokia in the mean time is also ill; it is a Microsoft-led entity which has power inside the Linux Foundation. It is feeding patent trolls who attack Linux, but do not expect Torvalds or Zemlin to publicly complain. Nokia helps pay their wage.
Jim Zemlin welcomes Samsung with the following message:
Today is a big day for Linux and a big day for Samsung. The last several months represent an amazing set of developments in Samsung's use of Linux…
Do not expect Zemlin to talk about the disturbing fact that Samsung helps Microsoft normalise "Linux tax", just as SUSE (or even SUSE Studio which is still alive) helps Microsoft control Linux and its distribution. As for Android, watch Microsoft piggybacking it for self-promotion, adding insult to injury:
The world just got stranger: not only is Microsoft trying to write cool software again, it's decided that Android is the ideal beta platform, in spite of its bitter worldwide spat with Google over patents.
This is not the first time Microsoft piggybacks Android for promotion of Android's competition whilst also attacking Android in the courtroom. There is seemingly no end to the humiliation. When you deal with a sociopath like Microsoft, repelling it and pushing it away is the only solution, adding to this an antitrust complaint, not the extension of olive branches. A sociopath thrives in forgiveness and the presumption of goodwill. █
Permalink
Send this to a friend