08.17.12
Gemini version available ♊︎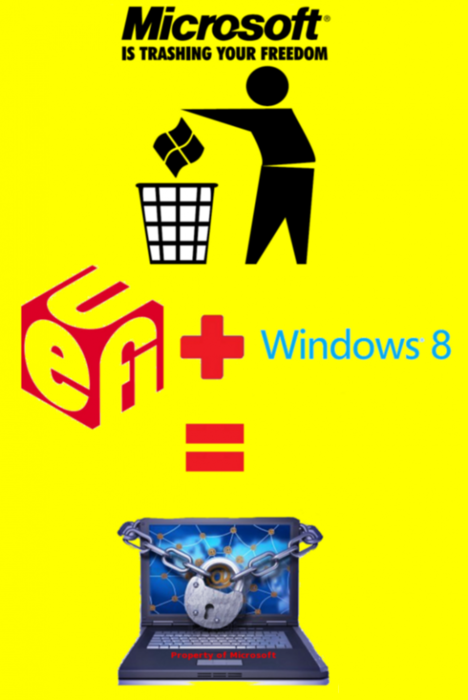 Summary: Criticism of the latest antifeatures found in Windows, notably UEFI
THE Microsoft booster from The Register is promoting Vista 8, which is somewhat of a "disaster" or "catastrophe" according to Valve and others.
Some days ago we saw this article which asks if Vista 8 can make Linux "the new gaming OS" and the observation made therein is: "Rather than just complain about Microsoft's plans, as most firms in its situation might do, Valve has made the decision to embrace Linux and make a large portion of the 2,500 games currently available on Steam, compatible with Ubuntu. A move it describes succinctly as a "hedging strategy"."
"Vista 8 is bad enough in the sense that it already renders many old PCs obsolete."There are other things, such as UEFI, which show Microsoft's fear of competition from GNU/Linux. SUSE will help Microsoft as expected and Matthew Garrett continues to downplay the issue by saying that "Secure Boot is almost certainly not causing you problems yet" and regarding the observation that "[t]he biggest objection that most people have to UEFI Secure Boot as embodied in the Windows 8 certification requirements is the position of Microsoft as the root of trust" he concludes: "There's still some work to be done in order to permit users to verify the entire stack, but Secure Boot does make it possible for the user to have much greater control over what their system runs. The freedom to make decisions about not only what your computer will run but also what it won't is an important one, and we're doing what we can to make sure that users have that freedom."
Well, he misses the point about UEFI being an antifeature that excludes competition and not only impedes computer freedom. How convenient for Fedora. Moreover, it makes those PCs obsolete in the future, for they can only run a limited set of binaries. Vista 8 is bad enough in the sense that it already renders many old PCs obsolete. As SJVN put it: "I do run Windows 8 on older PCs. But, testing operating systems is part of what I do for a living. Unless that's also part of your job description running Windows 8 on an older PC is just a waste of time.
"Oh sure, Windows 8 does boot faster and it has a few new features, but generally speaking Windows 8 with its "not Metro" interface is junk. I've been working with Windows 8 in one version or another for months now and there is simply nothing about it that would make me recommend it over Windows 7 or XP for that matter.
"Metro, no matter what Microsoft wants to call it, remains a usability nightmare on a conventional PC. It may or may not be as awful on a touch tablet—I haven't tried that so I don't know—but I do know it's annoying as heck on my non-touch enabled PCs. The desktop, no matter what Microsoft may want, still works best with a Windows, Icons, Menu, Pointer (WIMP) interface, not Metro's big, klutzy tiles."
SUSE has been helping Microsoft limit the number of OSes (other than Windows) that can run on future hardware. The negative impact should be evident. This is not a minor issue, and Techrights will continue to focus on this subject. It affects not only Free software but technology at large. People have the right to run whatever they want on hardware they paid for. █
Permalink
Send this to a friend