11.14.12
Gemini version available ♊︎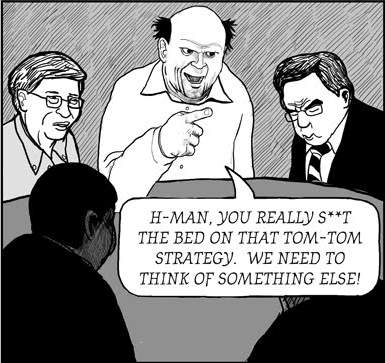 Summary: While gagging critics with some money and covering up exodus Microsoft puts forth a patent agenda with its patent lawsuits against Google (Android)
THE Linux Foundation recently accepted money from Microsoft, inducing self-censorship (inability to criticise Microsoft), so
Katherine Noyes gathered comments critical of the move, including:
"It's a trap!" began Robin Lim, a lawyer and blogger on Mobile Raptor.

"Seriously, Microsoft knows that Linux is not going away in servers and embedded devices," Lim offered. "It's an odd co-existence of competition and co-existence that almost everyone actually lives happily enough with."

In fact, "it makes sense for Microsoft to ensure that its clients, Windows 8, Windows RT and Windows Phone maintain a good degree of compatibility with companies with a Linux backend," he suggested.

"For Microsoft, software is not about ideology, but about the bottom line," he concluded. "It's just good business to support Linux. Ultimately, the real enemy of Microsoft and Linux is Apple, since the ultimate goal of the latter is a completely closed hardware and software ecosystem."
There is some merit to this claim, but we'll come to that later. There's a couple of new articles that help show just how desperate Microsoft is getting:
They had set up a table and an Xbox demo in the hallway and were giving away "Microsoft Surface"-branded disposable rain ponchos (this entire mall is indoors, including the parking, and it didn't rain today) and muffin fragments (much like when you order a soda on a plane, they pour a third of it into a little plastic cup full of hollow ice cylinders, and they don't let you keep the rest of the can). An employee with a microphone in front of the Xbox kiosk was talking to the audience of nobody as if it were a dance party.

The store is creepy: so many elements are embarrassingly similar to the Apple Store on the next floor. Microsoft even ripped off trivial elements that easily could have been different, such as the employee uniform. There's a huge elephant in the room, and we can all see it, but Microsoft still implicitly denies it.

[...]

But I don't think many Surface buyers are going to comparison-shop with the iPad, or vice versa. It's very clear who the Surface is for, and it's not us.

The Surface is partially for Microsoft's world of denial: the world in which this store contains no elephants and Microsoft invented the silver store with the glass front and the glowing logo and blue shirts and white lanyards and these table layouts and the modern tablet and its magnetic power cable. In that world, this is a groundbreaking new tablet that you can finally use at work and leave your big creaky plastic Dell laptop behind when you go to the conference room to have a conference call on the starfish phone with all of the wires and dysfunctional communication…

Despite the fact that I've been using Windows 8 for the past three weeks, I somehow managed to overlook a rather stark feature in the OS: ads. No, we're not talking about ads cluttering up the desktop or login screen (thankfully), but rather ads that can be found inside of some Modern UI apps that Windows ships with. That includes Finance, Weather, Travel, News and so forth. Is it a problem? Let's tackle this from a couple of different angles.
A hardware store would not work for Microsoft because hardware these days mostly ships with Android. Microsoft's hardware products are failing and Sinofsky leaves the door with them. Savitz is the latest example of a shocked pro-Microsoft writer. We mentioned the many boosters who covered it and this one conforms to the PR and diversion from Mary Jo Foley et al. They try to brush it all off and focus on other people, no matter if Sinofsky is quitting so shortly after Vista 8 was launched, leaving a PR person in his place (damage control indeed). Windows sales have been poor recently and Steven J. Vaughan-Nichols thinks he was fired:
When Microsoft fired… excuse me, announced that Windows and Windows Live President Steven Sinofsky is leaving the company, many Microsoft experts opined that he left because of internal politics. Sorry. I don't buy that argument for a New York minute. If Windows 8 took off at the same rate Windows 7 did–with developers anxiously looking forward to publishing software for it–and had Sinofsky's strategic moves worked, such as Microsoft deciding to make its own Windows 8 hardware, we'd be talking about Sinofsky as Steve Ballmer's successor, not left wondering what the heck just happened.
Steven's colleague concurs in a sense. Sinofsky is out, but he could be dangerous if he ends up occupying a company like Elop and others. They currently try to kill Android using patents. The Microsoft booster points at the wrong direction, trying to make Android look like the aggressor, but remember that it was Microsoft which started the patent attack around five years ago or more, depending on the landmark event one chooses. Let the boosters distract while those who know better stay on target (Groklaw responds with its own analysis today). But it's not just Microsoft anymore, as it colluded with Apple, conspiring to destroy Android using patents. We will cover this in a separate post. Microsoft uses other companies to fight its battles. █
"On the same day that CA blasted SCO, Open Source evangelist Eric Raymond revealed a leaked email from SCO's strategic consultant Mike Anderer to their management. The email details how, surprise surprise, Microsoft has arranged virtually all of SCO's financing, hiding behind intermediaries like Baystar Capital."
Permalink
Send this to a friend