03.18.13
Gemini version available ♊︎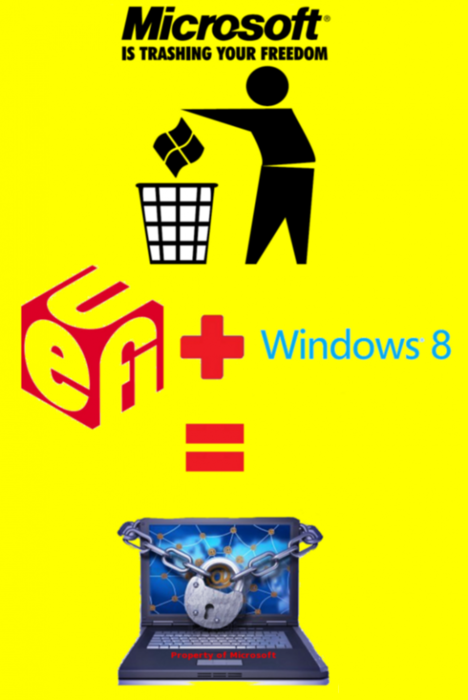 Summary: Hardware lock-in and penalties of getting around it
The UEFI fiasco continues as Michael Larabel reports that:
disabling #SecureBoot from UEFI on this #ASUS #Ultrabook causes the CPU fan to run at full-speed constantly… weird.
In other news, tells us Will Hill, hardware is being tied to Vista 8:
GNU/Linux laptop maker closing down. Says they can't find hardware without an OS since Windows 8.
Here is the original:
We have to announce that we, the team of Hettes, can no longer deliver laptops with Ubuntu Linux or another Linux distribution. This is not because we want to or because of time or resources, but it's because we can't buy computers (anymore) without operating system.

We started our webshop a few years ago with a lot of ambition and fun, continued developing it, and helped lots of customers with satisfaction. Since the beginning of our passion and ambition for the webshop with laptops and desktops with pre-installed Ubuntu Linux we've had problems with buying systems without operating system, or simply said without Windows.

We have tried to continue our work in different ways and we have had small successes. However with Windows 8 all doors are being closed permanently and we see no way to open these.
Considering the fact that OEMs and companies like Samsung complain about Vista 8, saying that this is what the market wants would not work.
Notice that there is an ongoing attempt to bash Samsung with the "women's rights" stick; this is done as means of suppressing Galaxy S4 launch publicity that's positive. We saw this distraction strategy before. █
Permalink
Send this to a friend