07.07.13
Gemini version available ♊︎
Monsanto does to seeds what Microsoft did to computers (taxing them all)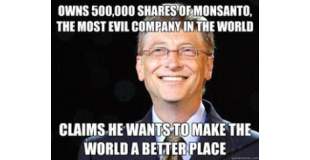 Summary: The man who turned almost all computers into Microsoft (and NSA) property is trying to turn the world's food supplies into property of American companies he invests in while lobbying politicians to legislate for his personal gain
The poor Gates Foundation just can't catch a break these days. All these 'pesky' journalists — those whom Bill Gates has not bribed yet — are increasingly aware of what his profitable-but-tax-exempt foundation is up to. Here is an article criticising Gates for his Monsanto agenda. To quote some parts of the analysis:
Gates Foundation's support of Monsanto reveals it has put ending hunger on the back burner

Last month, more than 2,000 people in Seattle joined protestors in more than 400 cities and 50 countries to collectively speak out against Monsanto, one of the world's biggest agricultural biotechnology corporations, which specializes in genetically engineered (GE) seeds. But in a sense, those people were also protesting the Bill & Melinda Gates Foundation, since the world's wealthiest nonprofit supports the biotech giant.

This is an unfortunate connection that perpetuates hunger around the globe.

From its beginning, Monsanto has been responsible for manufacturing and distributing highly toxic and carcinogenic products such as polychlorinated biphenyls, known as PCBs, and Agent Orange. In the 1940s Monsanto was one of 15 companies that produced the insecticide DDT, the use of which was criticized in Rachel Carson's landmark environmental book "Silent Spring." In 1972, U.S. officials banned the agricultural use of DDT.

Now, the company claims it has left chemical manufacturing behind and is exclusively focused on sustainable solutions to food production promoting the use of GE corn, soy, cotton and other crops. And this is where the Gates Foundation comes in: A financial donor to Monsanto, the Gates Foundation advocates for the use of GE foods to solve hunger in developing countries. However, history has shown that instead of eradicating hunger, GE seeds perpetuate food insecurity.

[...]

Industrial agriculture continues to fall short of feeding the world but provides tremendous financial gains to Monsanto's shareholders. It's a shame the Gates Foundation, which many consider a local leading light, can't see this. Until Monsanto and the Gates Foundation realize that sustainable agriculture, not GE seeds, is the solution to feed the world, many people around the globe will remain hungry.
That's correct, mainly because the goal of Gates is to control and to profit. It is not a charity and there are many strings attached. Bill Gates is appointing people in politics and running nations in Africa (by proxy), pretending to fight polio while in fact causing it with some of his investments [1, 2]. The goal is to control policy, with which Gates can profit as he already does (he gets richer over time, despite the fact that the corporate media paints him as a giver).
"When Gates spends an average of $1,000,000 day (or more) just buying the media, then it's easy to be bamboozled."Watch Gates playing politics not just in his home country, He keeps playing the game of politics while trying to get politicians to hand over taxpayers' money to investments of the Gates Foundation.
Some gullible — but not necessarily foolish — people really believe Gates has changed, even though he is still working for the abusive monopolist Microsoft and publicly lobbying for Microsoft. "Microsoft chairman Bill Gates will deliver the keynote address at a Microsoft research event later this month, the first time he has done so in eight years, Microsoft said." That's from IDG. People who think that the main shareholder of Microsoft and the man behind the company's crimes is somehow a saint now should simply consider themselves easily bamboozled. When Gates spends an average of $1,000,000 day (or more) just buying the media, then it's easy to be bamboozled. █
Permalink
Send this to a friend