07.28.13
Gemini version available ♊︎
Privatising everything!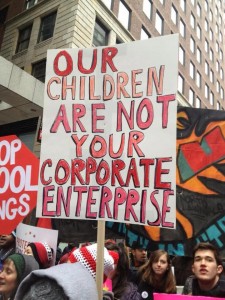 Chicago protest which took place this month
Summary: Economic warfare by plutocrats led by Bill Gates, which is taking the public sector private
The Gates Foundation has been getting a lot of flak for bankrolling TFA [1, 2, 3], trying to turn schools into corporations run for private profits (of Gates et al. with their investments). The Fight Ahead is the title of a new post that speaks about TFA:
Unless you've been under a rock, you've no doubt noticed that the debate about Teach for America has ratcheted up considerably in recent weeks. Here's the quick and dirty version: urban districts are closing dozens of schools and laying off teachers, even as they're bringing in new Teach for America recruits. When news began to spread that a popular Chicago teacher had been laid off (the news delivered by his mother, no less), the back-and-forth reached a boiling point. How was it right for the Chicago Public Schools to axe a well-regarded teacher, one of 2000 let go, while expanding the number of TFA corps members, who'll be entering the city's schools this fall after just five weeks of training?
The other day we explained the role of Bill Gates in this. He would like to make a killing from a crisis he induces while bribing much of the press that covers the field. Speaking of press being conquered, Will Hill explains the role played by Bill Gates' business partner:
A New Round of Trust Your Masters Propaganda is Being Spread to foster yet more Austerity

To many people unemployed and homeless? Help them by eliminating minimum wage or getting rid of those pesky soup kitchens, the ultra rich are telling us. Some of the charm offensive is successfully delivered with a slightly different spin to people who would ordinarily reject it That message decries the inefficiency of oligarchy and the waste of mass production whilecalling for the power to decide what people will do,

It's time for a new operating system. Not a 2.0 or a 3.0, but something built from the ground up. New code. What we have is a crisis of imagination. Albert Einstein said that you cannot solve a problem with the same mind-set that created it. Foundation dollars should be the best "risk capital" out there

If the techno babble sounds like Microsoft, it's because the speaker is a Buffett and very much influenced by the Gates Foundation. Please see,

http://techrights.org/wiki/index.php/Gates_Foundation_Critique

If you want to get into the specifics of Peter's personality, or at least the story that's told about it, you can see that it's the product of the exact opposite of austerity,

http://www.cnbc.com/id/36840207

He was given the time and resources to get a decent education which he could use to start a decent and rewarding career. Real humanism would let everyone follow their dreams like that. The guy flipping burgers deserves as much education as he's willing to pursue, a decent place to live, a loving community, leisure, pomp, ceremony, and proper health care when sick. The only way to see that is by taxing away hoards of wealth and investing spending the proceeds on education, public works and other things a "free market" does not deliver.
The same people who brought us Microsoft are now bringing us austerity and confiscating taxpayers' money to enrich themselves. This is a societal issue and people should fight back. Remember who the prime candidate to become the budget chief of the United States currently is, consolidating government occupation by Bill Gates (even in other countries like India). █
"The alliance uses Microsoft technologies instead of challenging Gates in his own game. Wipro is just a servant of Microsoft facilitating Indian cyber slavery under the American corporate banners."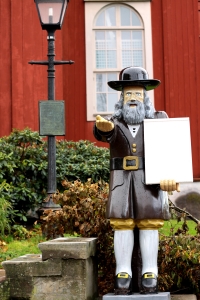 Permalink
Send this to a friend