04.09.14
Gemini version available ♊︎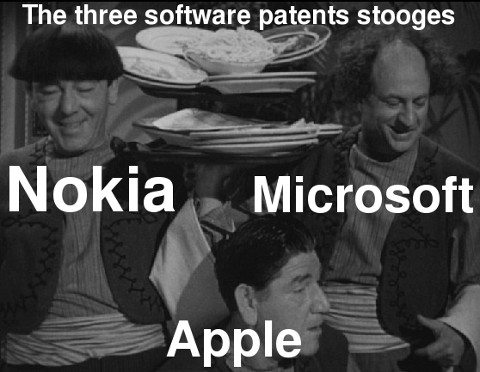 Summary: Reporting in corporate media generally lacks focus on patent abuse by large companies, but Topix has a long noteworthy article
PATENT coverage has been scarce here recently because corporations won. They warped the debate in such a way that almost no articles criticise software patents anymore; the focus has been shifted to small trolls and politicians are, accordingly, ignoring the big issue, instead pursuing fake 'reforms' that hardly address any concerns, other than the concerns of big corporations (it's like Obama's so-called 'reform' of the NSA). Here for a change is a good Topix article titled "How to Really Fix Patents – and Why Congress Is Unlikely to Do It" (via Glyn Moody).
The article says: "The total loss to the economy caused by junk patents far exceeds $29 billion per year when one takes into account that big companies act like patent trolls too, by obtaining junk patents to keep out their competitors."
It also states that: "The real costs of junk patents are easy to imagine when you consider some of the egregious patents that should never have existed to begin with. Patent No. 5,851,117 was granted in 1998 to a company for using an illustrated book to teach janitors how to clean a building. Clearly that is not such an original idea that it deserves to be patented. Luckily the economic impact of that patent was likely very minimal."
And finally: "Patent trolls should be dealt with, but if big companies are able to continue to obtain junk patents for things that are not inventions and then act like patent trolls, then they will be able to continue to corner markets and ensure that new emerging technologies can't compete with them."
We recently wrote about Apple's "holy war" against Linux/Android — a subject that was mentioned by a lot of media [1, 2, 3, 4]. Nokia's patent deal with Apple, which had already cross-licensed with Microsoft for quite a long time (we have written about this triangle for a number of years), helped show how this "holy war" was going on. This new article states that "Nokia makes up about 80% of them [...] the vast majority of licensing fees Microsoft collects — about $15 per device — comes from the Finnish company. Those fees are about to become an internal exchange once the acquisition deal closes between the two companies."
The ultimate victim will be Android. They are working on it.
To make matters worse, Microsoft and Nokia feed Android-hostile patent trolls like MOSAID, passing patents for no purpose other than harassment (patent-stacking).
This is trolling. The European authorities have already warned/reprimanded Nokia.
What needs to change right now is the debate. We need to reject the idea that there is this thing called "patent trolls" which basically means small companies with patents and that this alone is the issue with patents. There are much bigger issues. █
Permalink
Send this to a friend