01.24.15
Gemini version available ♊︎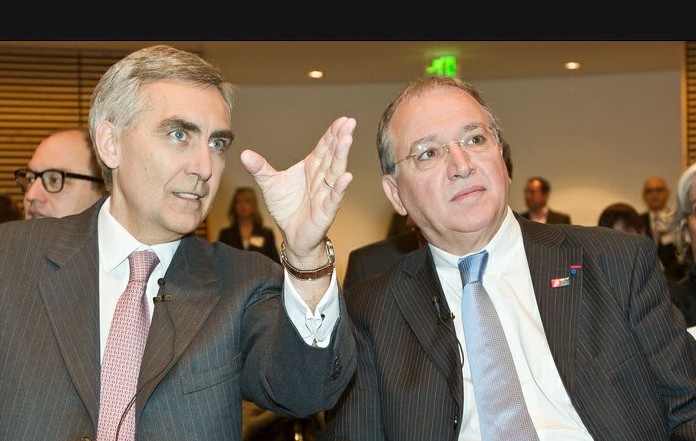 Benoît Battistelli meets Siemens
Summary: The neglected (by EPO) Article 4a of the European Patent Convention (EPC) and the European Parliament petition/complaint against the EPO's crooked management
Now that the internal communications person (i.e. PR) is out and things are heating up against the EPO Vice-President (never mind Benoît Battistelli, the EPO President), the corporate takeover of the patent system in Europe can be slowed down. We have just learned from this European patents maximalism blog that "Philips is among the top-10 Patent Cooperation Treaty (PCT) applicants and the top-3 European Patent Convention (EPC) applicants. Owning about 64,000 patents and filing approximately 1,500 patent applications each year (with a strong focus on the growth areas of health and well-being), much is at stake for the company with the introduction of a Unified Patent Court (UPC) and the Unitary Patent (UP). Philips' principal IP Counsel Leo Steenbeek told Kluwer IP Law in an interview he hopes financial demands of UP member states won´t lead to unrealistic high renewal fees. Philips won't opt-out patents when the UPC starts functioning."
This helps remind us who the EPO really serves. It has become a "protection" apparatus for large corporations, largely at the expense of citizens of Europe. The Unified Patent Court would enable huge corporations to sue a lot of rivals or intimidate them. It would also help patent trolls.
Several months ago a source sent us some information about the neglected Article 4a of the European Patent Convention (EPC), which might be of interest. Article 4a of the EPC deals with very fundamental rules. If any rule it is violated, then there is legal basis on which to file complaints.
As our source put it: "Another example of how the current EPO management (meaning Battistelli and the Administrative Council) has managed to avoid political oversight can be seen by consulting Article 4a of the European Patent Convention according to which: "A conference of ministers of the Contracting States responsible for patent matters shall meet at least every five years to discuss issues pertaining to the Organisation and to the European patent system."
"This Article," explained our source, "was introduced into the revised version of the EPC ("EPC 2000") which entered into force on December 13, 2007.
"However, despite the statutory requirement to hold a ministerial conference at least once every five years, no such conference has been convened since the entry into force of the revised EPC in 2007. The first five year period expired on in December 2012, i.e. on Battistelli's watch. (He was appointed EPO President in 2010.)"
This would not be the first time that Battistelli dodges or eliminates oversight, as we showed numerous times before. "If you can read French," said our source, "it may be worth having a look at an interview Battistelli gave to a French magazine in 2012.
"In this interview he boasts (in French) of the "independence" that he enjoys as EPO President." To quote the interview: «Je n'ai jamais été aussi libre, insiste-t-il. Je n'ai pas de ministère de tutelle, de Parlement, de gouvernement. C'est nous qui fixons les règles, les discutons, les négocions.»
In English: "I have never been so free, he insists. I have no supervisory Minister above me, nor any Parliament or government. It is we who discuss, negotiate and decide on the rules."
In other words, he has got himself a tyranny. He does not even need to obey rules. "The "we" referred to here seems to mean Battistelli himself and the AC," remarked our source. As we have demonstrated time after time, the Administrative Council is basically in cahoots rather than independent from Battistelli. It's a banana republic's status quo.
"However," he said, "as can be seen from Article 4a EPC, Battistelli's arrogant boast that he is not subject to any oversight by ministerial or governmental authority betrays a serious misunderstanding of the legal framework established by the revised EPC.
"Obviously, the intention behind article 4a is to provide for some measure of political oversight of the EPO at ministerial level. It is only by ignoring this provision, i.e. by not taking any measures to convene a ministerial conference despite the statutory requirement to do so, that the EPO President and the AC have been able to evade this kind of political oversight."
"We wish to revive the petition, preferably not just from Croatia."The rejected complaint (in the form of a petition) to the European Parliament is worth revisiting in this context, given that some European politicians continue to pursue action against the EPO. We wish to revive the petition, preferably not just from Croatia. There is a certain stereotype and a myth that Topić and his ilk exploit; it's the myth only Croats are upset at Topić, supposedly because of envy. We need more involvement from people outside Croatia and by providing information in English we hopefully make more people aware of the issues and thus more able to communicate them. Any such communication in support of the previous petition from members of the general public could be useful to encourage the Petitions Committee to investigate the abuse as it would indicate to the Committee that there is a public interest in the issues raised by the Petition outside of Croatia (from where the original petition originates).
We have already written several times about the first petition calling for an independent investigation of Topić's appointment. The petition was submitted to the European Parliament by a Croatian NGO called Juris Protecta. It stated that an independent (outside) investigation was needed, but none ever took place, even two years later. The petition goes back to 2013 and the reference number for the petition was (and still is) 2848/2013. The original petition contained a request for confidential treatment. This request for confidential treatment was subsequently withdrawn which means that the petition is now a public document. In the mean time, Vesna Stilin (another Croat) had submitted an application to join the Petition as a co-petitioner and she was taking other actions to address these matters, as mentioned in several older articles of ours. The previous meeting of the Petitions Committee of the European Parliament was scheduled for 11 November 2014 and the next one is at the end of this month, so there may be time to submit new petitions, something along the lines of the following words of ours (please don't just copy). Here is some draft text which could be used as a basis for communicating and conveying thoughts to the Petitions Committee:
Dear Sir/Madam,

I/we refer to Petition 2848/2013 [1] which has been filed with the Petitions Committee of the European Parliament and which calls for an independent investigation of the appointment of Mr. Željko Topić as a Vice-President of the European Patent Organisation. In December the petition was rejected not because it lacked merit but because it was claimed to be within the responsibility of other departments. This response is deeply problematic because the nature of the petitioner's concerns and the core complaint is that those other departments have been gagged, suppressed, or even abolished by those who are supposed to be overseen. That, as some may argue, is how Topić got into his position in the first place. It means that the European Parliament is the last resort and the only body able to engage in a potent investigation. The European Parliament should consider revisiting these issues, among more issues such as the violation of the European Patent Convention (EPC) [see/refer above].

I/we hereby wish to express my/our support for the 2013 Petition and suggest that a new, more extensive investigation into these matters in undertaken. I/we would be grateful if you could acknowledge in due course that my/our support for the Petition has been registered with the Petitions Committee.

Yours sincerely,

[name/org]

___
[1] Ref: Petition No. 2848/2013 filed by Juris Protecta (Croatia).
This is just a suggested draft for a letter to the Petitions Committee of the European Parliament to express support for Petition No. 2848/2013 calling for an independent investigation of the appointment of Mr. Željko Topić as a Vice-President of the European Patent Organisation. We urge for expansion of the original complaint/petition, either by citation or by filing of a new petition (clarifying that it is a followup), as a lot more is known now than was known back in 2013. The European Parliament should be able to find plenty of relevant information in French, German, and English. Benoît Battistelli is quickly moving to crush any kind of oversight and if the European Parliament continues to refuse to intervene, it too would lose legitimacy and potentially be seen/perceived as complicit. Members of the European Parliament need to understand that.
For the moment we don't know whether or not the petition 2848/2013 will ever be the agenda again. It might therefore be worth filing a fresh petition. We would like to point out here that, in principle, any EU citizen who is interested in this matter can write to the Petitions Committee to express support for petitions. Maybe some of our European readers would take leadership on this matter. Other readers would hopefully be interested in expressing their support for the petition or submitting a new one. Some contact details for the Petitions Committee are as follows:
Chairperson
Ms Cecilia WIKSTRÖM: cecilia.wikstrom@europarl.europa.eu
Vice-Chairpersons
Mr Pál CSÁKY: pal.csaky@europarl.europa.eu
Ms Rosa ESTARÀS FERRAGUT: rosa.estaras@europarl.europa.eu
Ms Roberta METSOLA: roberta.metsola@europarl.europa.eu
Ms Marlene MIZZI: marlene.mizzi@europarl.europa.eu
Secretariat of the Committee on Petitions
Mr David LOWE, Head of Unit: david.lowe@europarl.europa.eu
Postal Address
Petitions Committee
European Parliament
60 rue Wiertz / Wiertzstraat 60
B-1047 – Bruxelles/Brussels
BELGIUM
If you do choose to communicate with a petition, please consider sharing some information with us in the comments below, e.g. a reference number. Organising the action would make it more effective. █
Permalink
Send this to a friend