02.16.16
Gemini version available ♊︎
Patent maximalism under the Battistelli regime has become a cancer (and it negatively affects even cancer patients)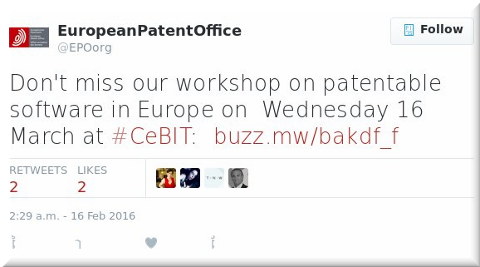 Summary: The EPO has reached a level of shamelessness so high that openly promoting monopolies on algorithms (software patents) is now generally regarded to be permissible and viewed as acceptable too
THE EPO is a hungry monster totally out of control. It serves large corporations and runs over anything which stands in its way. The EPO is probably the biggest embarrassment of the European Union, but the EPO is neither part of the European Union nor is it European. It often seems more like a conspiracy of large corporations and rich people, misleadingly disguised under the name "European" and a .org domain. The interests of European citizens just don't matter at all and European SMEs barely count.
"The sheer arrogance of EPO managers seemingly lets them be all shameless about ignoring the rules and expanding patent scope to just about anything, in mindless pursuit of more patents (where quantity matters more than quality or collective economic value)."The EPO is promoting software patents again (the tweet above is only hours old). It doesn't shock anyone among the campaigners against software patents because the EPO doesn't mind the law (it blatantly admits this) and it does not follow the rules of the EPC, either.
"Don't miss our workshop on patentable software in Europe on Wednesday 16 March at CeBIT," wrote the above person in an official account (thus official statement), alluding to something which we covered here earlier this month.
What a nerve they have…
Over in the US, contrary to Europe, software patents are dying. Right now patent lawyers try to "Save Software Patents," to use their own words (see today's article titled "How Structural Claim Limitations Can Save Software Patents" — albeit it's behind a paywall).
It's no secret that Techrights was all along against software patents, but it was never in principle against the EPO until becoming aware of human rights abuses. The sheer arrogance of EPO managers seemingly lets them be all shameless about ignoring the rules and expanding patent scope to just about anything, in mindless pursuit of more patents (where quantity matters more than quality or collective economic value). █
Permalink
Send this to a friend