12.01.16
Gemini version available ♊︎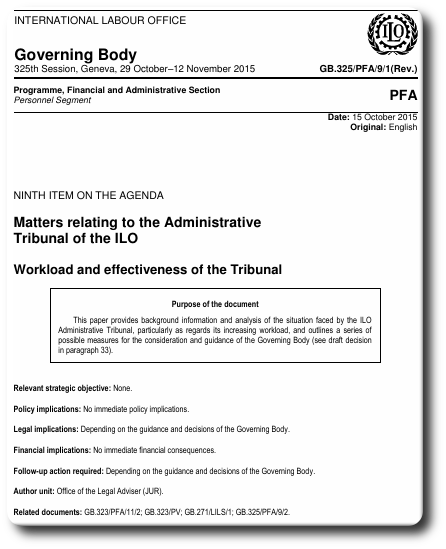 The famous report where ILO complained about EPO-induced workload
Summary: Years later (as justice is too slow, partly because of the EPO, being the principal culprit that clogs up the ILO's tribunal system) there is a couple of new judgments about EPO abuses against staff
THE DECISIONS we wrote about 2 days ago were released exactly 24 hours ago. For those who haven't been keeping track, here are the cases in question:
- Case No. 3785: Fritz No. 2 v. EPO
- Case No. 3796: Vermeulen v. EPO
"In many ways, the EPO will struggle in months to come because the 'Battistelli era' EPO cases are reaching to the front of the queue (or top of the pile)."Our initial reaction to the summaries was that it's just too disappointing to even write much about. But upon further inspection, that's not entirely the case. One reader told us, "you definitely misinterpreted the ILO-AT 3785 case outcome… [as the] 3785 judgememnt is very positive for the staff. [...] Regarding the 3796, it's too early to give an opinion. Be patient, and wait for the experts evaluating the judgement/s."
The initial interpretation was that the latest cases got sent back to the kangaroo court of Battistelli and his goons, following a rather disappointing pattern which we also wrote about 2 days ago (separate case and article). We welcome feedback from within the EPO or outside of it. As we noted earlier this week, we rely on people who are very familiar with these cases to explain their ramifications to us.
"The EPO reminds us of and has a lot in common with SCO."In many ways, the EPO will struggle in months to come because the 'Battistelli era' EPO cases are reaching to the front of the queue (or top of the pile). The EPO reminds us of and has a lot in common with SCO. Instead of dropping a failed strategy (acknowledging that becoming a "bad boy" is bad for business), the management takes itself and the entire organisation into the ground, leading to bankruptcy at the end (after spending all the time and resources in the courtroom, not actually producing anything or attracting any clients, who growingly boycott the organisation because of its tasteless actions). █
Permalink
Send this to a friend