03.29.17
Gemini version available ♊︎
LG is copying Microsoft (or Microsoft's method of attacking its competition)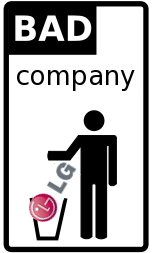 Summary: LG gives yet more reasons for a boycott, having just leveraged not just patents but also patent trolls in a battle against a competitor
TEN years ago we called for a boycott of LG, after it had agreed to pay Microsoft for Linux (over alleged patents). LG did not even put up a fight and later it adopted Android.
LG is now turning hostile even against Android (and by extension Linux), taking advantage of the US-centric ITC. It has has begun legal action. Korean companies going aggressive with patents is rather unusual (cultural reasons), but apparently not anymore. The trolls' voice, IAM, reveals that LG used to do this via trolls. To quote the relevant parts (below):
LG Electronics appears to have launched its first-ever patent enforcement actions in the United States with a Delaware district lawsuit and International Trade Commission (ITC) complaint targeting US phone maker Blu Products.

LG's complaint and exhibits as filed with the Delaware district court are currently under seal, while any documentation outlining the ITC filing is apparently yet to be published. As such, details are thin on the ground at the moment, though some particulars can be determined from an LG press release announcing the actions.

[...]

Indeed, these latest LG filings are not even the first time that Blu has been sued using LG patents. In January, Blu was named in litigation filed in the District of Colorado by an NPE named Sentegra LLC. One of two patents asserted by Sentegra against Blu had originally been owned by LG, and had been assigned to the NPE by the South Korean company in November 2015.
LG is doing this not in Texas but in Delaware, with the troll in Colorado. We're going to keep an eye on this because it represent a new kind of threat and this time it comes from Korea, for a change. █
Permalink
Send this to a friend