06.22.18
Gemini version available ♊︎
The person who was supposed to 'boss' Battistelli but did nothing at all, just like Jesper Kongstad before him (sources told us he had effectively been fired by the Danish government)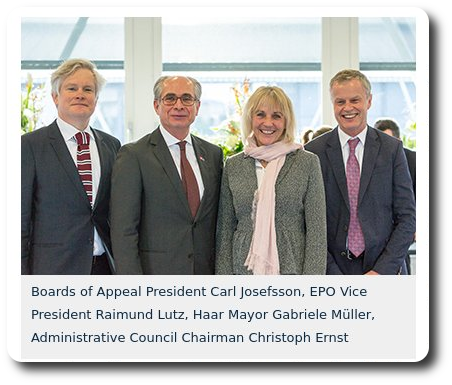 From left to right: Boards of Appeal President Carl Josefsson, EPO Vice President Raimund Lutz, Haar Mayor Gabriele Müller, Administrative Council Chairman Christoph Ernst
Summary: Further discussions about the horrible legacy of Battistelli and his protectors, who seem to be interested in a patent trolls-friendly patent system which devalues workers and consciously lowers the patent bar (at all costs, even violation of laws and constitutions)
THE EPO scandals will outlive Battistelli and continue under António Campinos. Don't expect "closure" within a week and a half; that same old jar of worms is still around and people occasionally open it. Battistelli is still bullying people, albeit mostly behind closed doors. Reader of ours, for example, keep telling us that Kluwer Patent Blog (which suffered many downtimes this week) has removed the PDF of the latest court decision. I've inquired/asked for an explanation, but have not received a response just yet (maybe they restored the whole blog from backup). Readers wonder if someone threatens to sue them like the EPO repeatedly threatened us. Why would the link suddenly break? Anyway, we'll leave further guessing aside until these matters are clarified. We previously received threats from a German broadcaster, forcing us to remove copies (even with subtitles) of a documentary/programme about the EPO's abuses. It's not impossible that a German court made a similar request. We're just guessing.
"In our humble assessment, someone (or many someones) should bring charges against this thug and attempt to prosecute him."Kluwer Patent Blog has meanwhile elaborated on the subject. "Kluwer Patent blogger" wrote about the "tarnished legacy of an EPO president," attributing in the corresponding tweet or at least mentioning Dr. Thorsten Bausch , who really looks forward to "brexistelli" at the end of this month. To quote:
Three weeks before the end of the presidency of Benoit Battistelli, the European Patent Office published the report 'Modernising the EPO for excellence and sustainability', a 'summary of achievements resulting from the extensive modernisation reforms put in place' during Battistelli's term in office from 2010 to 2018. Concerns about quality, the independence of the Boards of Appeal, pending cases at the German Federal Constitutional Court and the endless social conflicts that have tarnished his term in office are downplayed or ignored in the report.

'Unsubstantiated claims', was the reaction of an EPO spokesperson to the open letter in which four leading German patent law firms expressed 'great concern' last week about the 'overreaching desire for high productivity'. According to the firms, it will lead to a deterioration of the quality of the search and examination procedures and of patents granted by the EPO.

As World IP Review reported, the spokesperson said the EPO 'takes feedback from all its users seriously', but 'surveys carried out by the EPO and independently, as well as an annual quality report, show that the high-quality levels for which the office is known continue to increase further.' Moreover, 'the "most important" German IP user associations (…) are "in general very positive about the projects and results of the office', the spokesperson added.
Battistelli is about 70. Will he ever be held accountable? In our humble assessment, someone (or many someones) should bring charges against this thug and attempt to prosecute him. There are many victims, so maybe a collective/class action would be possible. We don't think that diplomatic immunity extends retroactively beyond one's term, but we may be wrong (lawyers would know this better). Battistelli has enough money to shell out, having just received another 600,000 euros from his so-called 'boss', Ernst.
There's meanwhile a new post from Märpel; the first comment has a correction (name mix-up again, like with Prunier), but here are Märpel's thoughts:
Märpel notes a little fact that was apparently forgotten in Mr. Bausch report. There was a good reason for the civil action: because a civil action was running, the Administrative Council could not reinstate Mr. Corcoran. As comments on the Kluwer patent blog point out: "The rotting fish stinks from the head."

Märpel also notes that AT-ILO made no mention of the facts listed by the Landgericht in their own decision. They didn't even mention that the EPO investigation unit themselves found that they could not assign the libel email found on the USB stick to Mr. Corcoran. Certainly, AT-ILO were informed of that report by the EPO investigation unit, yet they chose to do nothing. Mr. Petrović, your actions speak louder than words. AT-ILO prejudice is now clear.

But the court in Karlruhe is likely to notice Mr. Petrović actions. Are they going to be satisfied with a court which ignores the basic principles of justice, ignores the facts concerning Mr.Corcoran or is satisfied that President Battistelli can harass and dismiss staff representatives? The next public reading in Geneva is next week and will be just as scandalous. Quo usque tandem?
Corrupt officials bully a judge for 3.5 years. Guess who ends up in hospital… what has the EPO sunk to?
"Things would not improve if such a supine, feeble council remained fully in tact under Campinos."On Judge Corcoran, Dr. Bausch wrote: "He has been treated incredibly badly by the EPO President and the EPO's Administrative Council. Hope they will now turn around and repent. […] Time to restore the rule of law at the EPO and to do justice to an innocent man who was unlawfully removed from his Board of Appeal Position. Bitte sprechen Sie mit Dr. Ernst darüber!"
"Dr Ernst should be forced by national Politicians to step down with immediate effect," replied an EPO insider, "don't you think so? He is responsible and failed to act properly in case Corcoran."
"The EPO does not need a President swap as the President brought a "swamp"; the entire EPO needs to be rebooted, both the Office and the Organisation."What good is an Administrative Council which does not actually administer and actively lies for Battistelli about patent quality, in essence trying to save face for him? Things would not improve if such a supine, feeble council remained fully in tact under Campinos. Heck, one of the national representatives (Croatia) is said to have had a sexual affair with a Vice-President (based on court hearings).
The EPO does not need a President swap as the President brought a "swamp"; the entire EPO needs to be rebooted, both the Office and the Organisation. See the photo op at the top where the Battistelli-'approved' new boss of Corcoran (approved like Campinos) stands next to the architect of Battistelli's web of abuses (Lutz) along with Ernst. A suitable caption would say "Battistelli's protectors". █
Permalink
Send this to a friend