05.02.19
Gemini version available ♊︎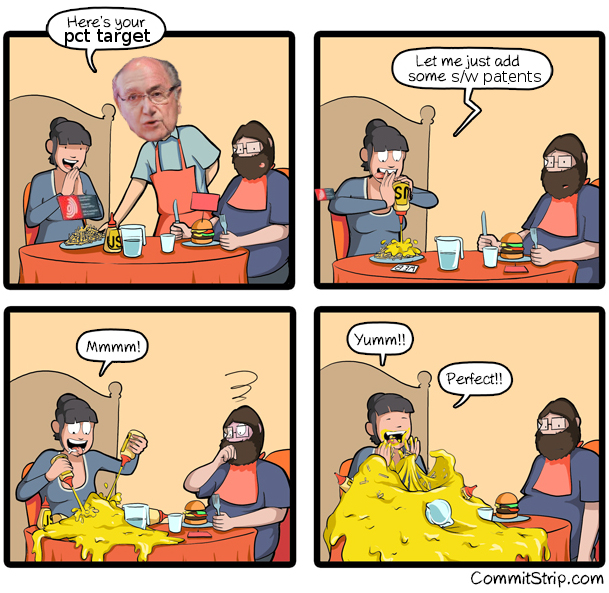 Summary: Europe is being flooded with loads of invalid (as per the EPC) patents that are enshrined as European Patents while judges are unable to stop that (there's a risk to their job if they dare try)
THE concept of justice ceased to exist at the European Patent Office (EPO), both inwards and outwards, i.e. towards employees and the public/stakeholders. Criminals who loot the Office are not being held accountable and innocent, law-abiding staff which insists on basic rights being respected gets punished — or worse — led to illness, sometimes suicide.
"If justice at the EPO wasn't already sufficiently destroyed, with annual reports from judges bemoaning (out in the open) their loss of independence, now comes another report."Remember what Battistelli has done even to judges. There was collective punishment (for all colleagues) and António Campinos has not brought them back to Munich after they were illegally sent to exile. This confirmed many people's fears that Campinos would cover up for his 'master', who had rigged the process to secure this job for him (a fellow Frenchman and old friend).
If justice at the EPO wasn't already sufficiently destroyed, with annual reports from judges bemoaning (out in the open) their loss of independence, now comes another report. "The 2018 Annual Report of the Boards of Appeal is out. Have a look here," the EPO wrote some hours ago, linking to an annual report page (warning: epo.org link). It has been mentioned by WIPR (and cited by us in passing as recently as this morning) before the EPO announced it, which makes one wonder if the EPO's PR people coordinated a puff piece with WIPR (whose staff told us there's a degree of coordination between the two). To quote the EPO:
The Annual report of the Boards of Appeal provides detailed statistics on proceedings before the Boards. It also describes general developments in the Boards during the preceding year.
These statistics don't tell the full story. It's not the full picture. They're quantitative rather than qualitative. They also overlook factors such as judges' fear of reprisal/retribution (if they rule the 'wrong' way, where wrong refers to the Office management's preferences). How many bogus software patents are being accepted?
The EPO has just used two meaningless buzzwords for illegal software patents being granted in Europe (two in one tweet even!). To quote today's tweet: "Experience the EPO first-hand by joining our next study visit. The focus will be on AI, the 4th industrial revolution and #patents …"
No more "CII"? How about "ICT"? "This one made my day," Benjamin Henrion wrote this morning. "When you don't like something, just rebrand it! Just like Trump proposed to rebrand the Boeing MAX737 with another name. Forbidden software patents being rebranded as AI, 4th industrial revolution, and others."
Can the Board throw out all this "AI" nonsense? It's the kind of rubbish SUEPO was alluding to some weeks back.
Regarding the above report, IPPro Magazine's Barney Dixon and Ben Wodecki (the former speaks with staff, the latter usually just repeats PR from EPO management) have just published this article with a positive headline (as usual, especially for Wodecki). But also as usual, the key bits are further down at the bottom (probably added by Mr. Dixon, based on his source/s). To quote:
The report states that a total of 3,032 technical appeals were received in 2018, an 8.4 percent increase on the previous year. In 2018 2,733 technical appeal cases were settled, a 19.7 percent increase compared with the same period in 2017.

[...]

Timings of examinations are of increasing concern to EPO users, with a majority of users requesting greater flexibility in the timing of examination.

The EPO has faced criticism in recent years over its approach to tackling its backlog. Some of these measures have been linked to an increase in production targets for staff and a drop in overall patent quality.

The EPO has faced both protests and petitions against the perceived quality drop.

[...]

The Boards of Appeal is also undertaking a "comprehensive" revision of its rules. The report states that the aims of these revisions are intended to increase efficiency by reducing the number of issues to be treated, predictability for the parties, and harmonisation.

The revised rules won't enter into force until 2020, but the report highlights that active case management by the boards will be a central element to the changes.

[...]

A source close to the Staff Union of the EPO said that the Boards of Appeal have already increased their productivity by 18 percent since 2017 and that production/productivity figures are now the "predominant criterion for evaluation" in the Boards of Appeal.
That says nothing about accuracy and quality. One could just assign decisions to a computer and reach decisions within milliseconds, based on so-called 'AI' (which doesn't guarantee anything).
When they're "increas[ing] their productivity by 18 percent" (read: cutting corners) it doesn't mean improved justice, only rushed 'justice'; the same issue that affects examination. You can never deliver a baby in 4.5 months by using two ladies in tandem. Proper work takes time and research, sometimes a lot of effort and contemplation.
Suffice to say, there's an effort by the EPO to introduce ludicrous courts where judges can be thrown out (limited tenures) and might not even speak the language of defendants! The EPO and the patent zealots thought of altogether replacing or deprecating these boards (even before they lost their independence) and earlier today UDL Intellectual [sic] Property's [sic] Garry Stuttard was trying to resurrect this zombie. The boards are under attack from many directions; that being the case, no justice can be assured in the EPO, only illusion thereof. It's a monarchic system of patents where patent maximalism is "God". God bless "productivity" and "efficiency" (i.e. the granting of as many patents as possible, as fast as possible!). █
Permalink
Send this to a friend