11.08.19
Gemini version available ♊︎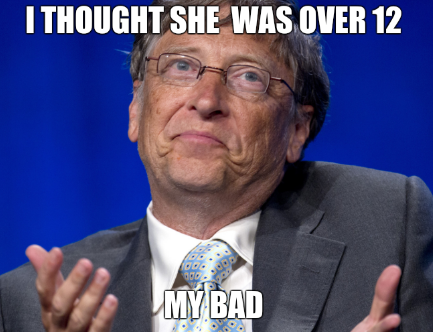 Summary: No matter how hard Bill Gates and his legion of lawyers/PR people try to divert the media's attention away from his Epstein scandal, it keeps coming back
HAVING researched the crimes of Bill Gates for a decade and a half, and having chronicled the scam which is his so-called 'charity', I feel somewhat vindicated this week. Gates has managed to buy some time (about 2 months now), but facts are catching up with him and people ask much-needed questions.
"One more for today," said a person who had sent us some pointers, "which shows the strategy Bill's team will now take, but it's from TheFail, so wait for other articles from more reputable (but no less obedient to Bill) on the same theme…"
Notice how, in this tabloid at least, Gates is described as escaping the subject and changing the subject very quickly. Just like those deposition tapes. He's stressed. He's afraid.
"Bill Gates can get many lies out of his mouth. He did so for decades (the deposition tapes are full of these). But he cannot force people to chew, he cannot force-feed or waterboard people, not even when he bribes the international media to the tune of $100 million per year under the guise of 'charity' (lobbying/bias/lies).""Not gonna lie," someone who had worked for Gates told us last night. "It's great to see Gates get thrashed in the news lately."
"No one believes him and it's hilarious."
Bill Gates can get many lies out of his mouth. He did so for decades (the deposition tapes are full of these). But he cannot force people to chew, he cannot force-feed or waterboard people, not even when he bribes the international media to the tune of $100 million per year under the guise of 'charity' (lobbying/bias/lies). That number isn't made up; that's how much he throws at the press every year (to keep it on his side, yielding endless praise and puff pieces).
We accumulate and will eventually use more material on this subject. We're patient. We're very picky in this fact-finding endeavour. I have not been tracking this subject so closely until recently (we used to write about it a lot about a decade ago). Some close affiliates of Gates and his sham 'charity' spoke to me as well; they had input.
More of them are growingly concerned — some quit — over the Epstein scandal. Look at the coverage from the New York Times last month. Gates' staff at the Foundation was evidently concerned. These people knew he had been up to no good. But who would listen to them at the time? Who would believe? "They're just jealous," media would sigh, and then Gates-funded media would leap to his rescue…
Techrights will continue to write about Bill Gates in relation to this. He bribed a lot of the world's media, but he's not off the hook for these pedophilia ties. Some facts gradually come out and distraction tactics serve as mere procrastination. This is even bigger than Gates because, according to the New York Times, others in Microsoft's management are also closely connected to Epstein (numerous people) and that goes back at least to the 1990s when Microsoft was a lot smaller. When the sex-trafficking ring too was a lot small. There's no disputing that Mr. Gates was a Lolita Express passenger (there were, according to victims' accounts, beds on the plane with kids in them). Neither Gates nor his spokespeople deny this. As for the press? Well, the press has a different agenda. There have been articles and tweets lately about suppression attempts by the British royal family (because of Andrew) and more partisan circles like to speak about Bill Clinton. Not as many have spoken about Gates. "Bombshell," says this new tweet, "ABC News anchor Amy Robach says her network spiked an explosive exposé about Jeffrey Epstein and the Clintons in the middle of the 2016 election."
How about media funded by Gates or his close friend defaming Stallman since September, shifting all the attention from Gates' MIT scandal to a totally phony one?
"Think of the children!"
"Someone, do something about Stallman!"
As if he even did anything to them. He doesn't even have children; he sacrificed his family life for GNU.
Recently I decided to speak to Richard Stallman about recent events and see if Richard can better explain what happened and what he thinks about it. He's usually open (or free) about those things if asked by someone not hostile/suspicious (the motivations)…
My first message to him:
Hi Richard,

Allow me to express solidarity and understanding; the past couple of months have been unfair to you. You were slandered by the media, which distorted your message to accomplish some outcome, and then this slandering media celebrated this outcome (a dedicated article), which relied on the slander.

I am not sure if you are aware of it, but the distortion was started by VICE, which is funded by a close friend of Bill Gates (this is a matter of public record). Rupert Murdoch funds it.

The way I see it (and have long seen it), your 'situation' helped shift attention away from Bill Gates' MIT scandal, which had hit the media just weeks if not days before the VICE article, followed by coverage from various other News Corp. publications (NYPost, Fox and so on).

A month or so later NY Times published an explosive piece about this relationship, reaffirming some people's suspicions that Bill Gates had likely engaged in underage sex. Back in 2015 I wrote about arrests in Bill Gates' own home for paedophilia (trading, online at least, photos of child rape). That's in the police records. The Microsoft-Epstein connections, according to NY Times, may go back to the 1990s.

Would you be interested in discussing the topic? A bunch of us at Techrights have been dissecting the chronology of news coverage to better understand if someone pulled strings and, if so, what for.

Divide and rule tactics are bad enough; but that may help distract from an even bigger story.
He responded to me, asking follow-up questions. It was then (a day later) that VICE resumed defamation of character, whereupon we published this article and I told Stallman that "the URL (the words in it) gives you the gist of it."
"A group of students is demanding that MIT fire Seth Lloyd, an undergraduate mechanical engineering professor who visited Jeffrey Epstein in prison," stated the opening part. But later it repeated the slander/defamation of Stallman's character, falsely claiming that he defended Epstein (the very opposite is true).
VICE continues to help distract from what Bill Gates did with Epstein — not just in prison but also in MIT. Many people have not paid enough attention, but Gates was hanging out with Epstein, visiting him in prison etc. even after he knew what he had done. Quotes/mail from inside the Gates Foundation show concern that Gates himself was engaging in the same acts as Epstein. NY Times investigated this and published about it last month.

"Stallman" is mentioned again in this article (above). This is from last night.

As you may recall, very early in the scandal I pointed out to you that the media was trying to shift all attention — directing the masses and the outage to you. You responded by saying that Gates has more leverage over the media than you (or something to that effect).

If you are willing, I wish to ask a set of questions pertaining to media-led witch hunts. It's clear that VICE led the way in distorting what you had said. It libelled you and later celebrated its libel ruining your career.

Will you be comfortable discussing these issues? If so, I will send a set of questions.
He has not responded since. It has been 3 days. But I cannot blame him. Right from the start I assumed he's be reluctant to open (again) this jar of worms, seeing how eager media would be to twist his words. █
Permalink
Send this to a friend