11.11.20
Gemini version available ♊︎
Leadership by example? On the left: EPO management. On the right: U.S. Patent and Trademark Office (USPTO).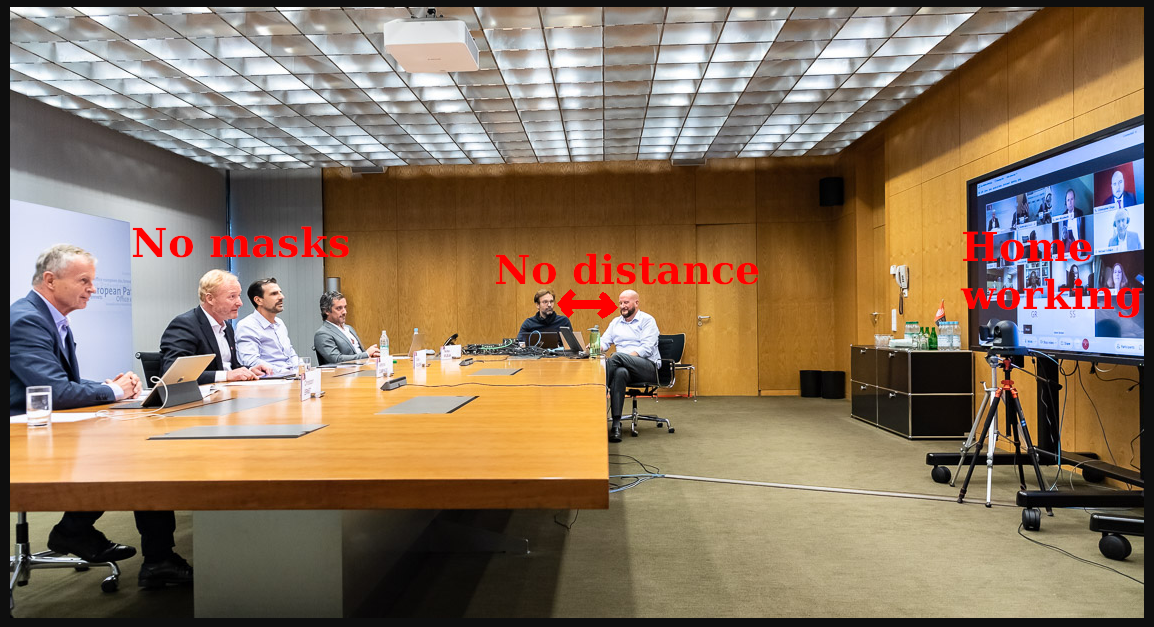 The EPO one month ago (that's António Campinos and his co-conspirators, snubbing government regulations while flaunting diplomatic immunity)
Summary: The regime of Campinos (the "gentle" and "attentive" dictator) is being asked to let workers in vulnerable (age) groups focus on isolation/recovery instead of crushing workloads, collectively imposed in the name of monopoly (which the Office likes to conflate with tackling the crisis)
THE death toll of the Benoît Battistelli regime includes almost 10 suicides, set aside the consequences on staff's health, which can lead to complications, death or premature death (stress shortens people's lives). This subject has been thoroughly documented over the years.
Imagine being an EPO examiner in 2020, only to receive mail like the following from the Office witch and cohorts:
That cannot be good for people's health, can it?
Back in late March the EPO's Central Staff Committee wrote the following, citing early figures from WHO:
The Central Staff Committee points the report of the WHO-China Joint Mission on Coronavirus Disease 2019 out to the President. This document identified that patients who reported no comorbid conditions had a crude fatality ration of 1.4%, offset against the much higher rates of patients with comorbid conditions.

In an open letter, the CSC requests inter alia that colleagues who are amongst such high-risk groups, or living with such vulnerable people in their home, should be discharged from any duty on Office premises. The CSC further addresses stress as an aggravating factor for many diseases and maintains that the Office should flatten the (production) curve. Furthermore, a deferral of special leave pursuant to Circular No. 22 and Article 59(3) ServRegs should be permitted if necessary.
Here's the open letter in full (it has been long enough since then and the EPO's response didn't "age well" — like an old/elderly person repeatedly infected by coronavirus).
Reference: sc20055cl – 0.3.1/4.3
Date: 30.03.2020

Mr António Campinos
President of the EPO

ISAR – Room 1081

OPEN LETTER

Health matters as a priority

Dear Mr President,

The outbreak of the relentless COVID-19 has triggered an unprecedented cascade of measures in our host countries and now constitutes one of the most disruptive health challenges ever. As an independent international organization, the Office faces responsibilities similar to those of a sovereign state in its care for staff.

So far the Office's visible measures were essentially focused on ensuring business continuity. There is little evidence of support for maintaining staff's physical and mental health. To live up to its duty of care, the Office must implement preventive health measures to take care of its most vulnerable staff and their dependents and to reduce casualties.

The report of the WHO-China Joint Mission on Coronavirus Disease 2019 (COVID-19) identified that patients who reported no comorbid conditions had a crude fatality ratio (CFR) of 1.4%, offset against the much higher rates of patients with comorbid conditions:

• 13.2% for those with cardiovascular disease,
• 9.2% for diabetes,
• 8.4% for hypertension,
• 8.0% for chronic respiratory disease, and
• 7.6% for cancer.

Your current proposal (GCC/DOC 04/2020 REV 2) to increase the level of reimbursement from 80% to 100% for COVID-19 related costs is a first small step into the right direction, to be supplemented by further
measures.

Colleagues who are amongst the high-risk groups as listed above, or living with such vulnerable people in their home, should be discharged from any duty on Office premises, or even, if teleworking is not possible, from all duties so that they can stay in containment and focus on their health to maximise their chances of survival.

The Office should also continue to provide the EPO health benefits to dependents who are suffering from these medical conditions, until after the crisis.

Colleagues now see the first infections with the virus and even cases of death among their relatives and friends, leading to worry and grief. Combined with containment this result in the need for extensive psychotherapy treatments. The Office should encourage distressed colleagues to seek support, and there should be no petty penny-pinching when it comes to reimbursing the cost for such support.

Stress is a recognised aggravating factor for many diseases and medical conditions. Therefore, we maintain that the Office should flatten the (production) curve in order to support staff in maintaining their health condition.

The prevailing travel restrictions make it impossible for colleagues to avail themselves of the special leave pursuant to Circular No. 22 and Article 59(3) ServRegs to attend the funerals of relatives they have lost. The Office should recognise the need for people to grieve together with their loved ones and therefore take the measure of deferring such special leave until after travel bans are lifted. This would take another worry of mind of colleagues faced with a sad loss in their family.

Thank you in advance for considering these requests to the benefit of our colleagues and their families in need.

Yours sincerely,

Michael Sampels
Acting Chairman of the Central Staff Committee
Did Mr. Campinos listen? Does he ever listen to staff? Stay tuned for later parts of this series to find out. The Office is run by merciless sharks, not human beings with emotions and empathy. Let that be somewhat of a series spoiler… we'll unmask António. █
Permalink
Send this to a friend