02.28.21
Gemini version available ♊︎
Summary: Techrights is currently working on tools or programs that help detect and respond to DDOS attacks (or abusive over-consumption of pages) over gemini://
THIS Web site is quite likely the biggest one in Gemini space, where it is known as a "capsule" rather than a site (terminology varies). Gemini is exciting for many reasons. It's not hype!
"More and more people install Gemini browsers and are thirsty for sites (or capsules) that they can access over gemini:// (not the Web, more like the Web redone the correct way)."The capsule or this site of ours was announced formally about a fortnight ago. It's still growing as we add and amend more pages. Various crawlers traverse and index the pages, adding them to search results, over time…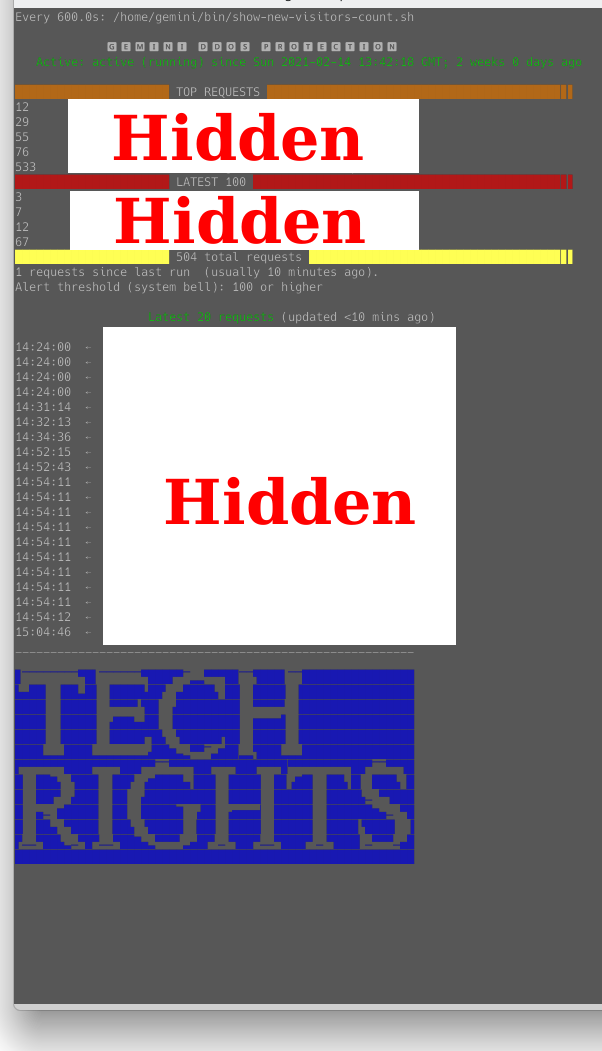 One thing that became a growing issue is out-of-control bots, which clearly index more than the capsule even has (like 500,000 pages in less than half a day, in a site that doesn't even have more than 37,000 pages). So we're left with no choice but to block some addresses. But how to quickly identify 'offending' addresses? How to know which ones and also find out quickly enough (that they are doing this)? When it comes to logging, by the nature of the protocol, Gemini isn't well developed. The server software we use for Gemini doesn't do any sort of logging (except Rust debugging), so we had to implement our own and then build some DDOS protection on top of that. Shown on the right (and explained in the video above) is work in progress. The code will be released soon (self-hosted Git) under the terms of AGPLv3. What it basically does is, it flags addresses that request too many pages, it suggests ways to block them, and it also issues alerts (system bell) when suspected abuse takes place. We're assuming that other Capsules might find such a tool useful as well. It just needs to be properly packaged first.
We're more than relieved to know that the articles about EPO abuses, for instance, are available over protocols not yet blocked (let alone comprehended) by clueless EPO management (all that Benoît Battistelli and António Campinos know about computers is "Hey Hi", which is a buzzword they use to open the door to European software patents).
Time will tell how far and wide Gemini as a whole will stretch (we keep hearing from readers of ours who cross over to Gemini) and how much of a presence Techrights will have in Gemini space. From what we can gather so far, Gemini can enjoy explosive growth over the coming months. More and more people install Gemini browsers and are thirsty for sites (or capsules) that they can access over gemini:// (not the Web, more like the Web redone the correct way). █
Permalink
Send this to a friend