Microsoft Windows Profits Decline Over the Years
Dr. Roy Schestowitz

2010-04-28 10:11:11 UTC
Modified: 2010-04-28 10:11:11 UTC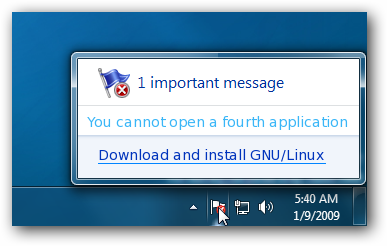 Microsoft cannot charge much for Windows
anymore, because of GNU/Linux
Summary: Looking back at years of Vista (2007 and 2008), Windows profits are actually declining significantly
MICROSOFT CARRIES SIGNIFICANT DEBT and many of its divisions/products -- Windows included -- actually decline this year [1, 2, 3, 4], despite it being a partial recovery for the economy as a whole. Microsoft loves to brag about Vista 7 by giving out fake numbers referring to "sales" (we have explained many times before why these numbers are fake just like Vista's, through choices/changes in definition). The reality is that Microsoft compared this quarter's profits with a year that is: (1) 2.5 years after the release of Vista, which nobody wanted anyway (no Vista 7 yet) and (2) recessionary/depression-afflicted.
Yesterday and the days before that we posted some analysis [
1
,
2
,
3
] which summarised Microsoft's performance in more objective terms (no PR) and
Roughly Drafted
did so too in
the following post
which says:
In reality, Microsoft's Q3 2010 profits from Windows were up 35% over its Q3 2009 figures only because Q3 2009 had plunged to $2,273 million, making this year's Q3 income of $3,061 million seem like growth when in reality, it was still lower than Microsoft had reported in Q3 2008 (when the company earned $3.1 billion) and significantly down from 2007 (when it earned $4.2 billion).

[...]

This isn't hidden information, it's in Microsoft's SEC filings and PR reports. Windows Enthusiasts know that the company's Windows licensing revenues and profits hit rock bottom as Vista's failed launch was exacerbated by a global meltdown in PC sales during the Great Recession. Things haven't recovered much (and simply can't) because Microsoft is now selling a much larger proportion of low cost Windows licenses to a huge influx of cheap netbooks rather than selling more expensive Vista/7 "Premium" and "Ultimate" licenses to high end PC users, as the company had hoped to do.
Microsoft is both ruthless and truthless. It has no second thoughts about spinning and lying regarding sales. In their eyes, as long as they manage to sell more Windows, the deception/lies on the path to it do not matter. Perhaps dishonesty is their commercial 'strength'.
⬆
"They are not implementing all parts of the OOXML standard, so he [technical director of Microsoft Denmark] is lying."
--Mogens Kühn Pedersen, chair of the Danish Standards Committee