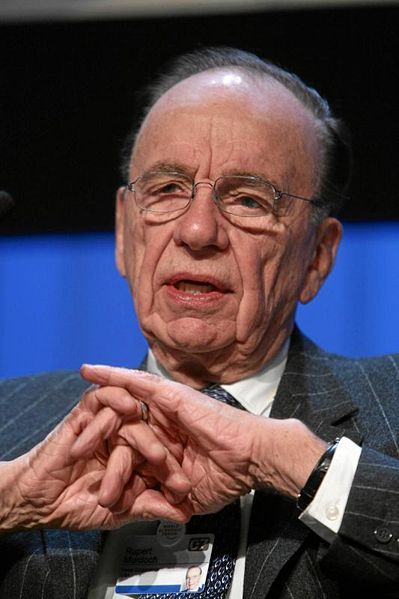 Image from Wikipedia
Summary: The similarities between known propaganda of Rupert Murdoch's Fox News and that which arrives from the many magazines and Web sites IDG distributes and publishes
MURDOCH'S IMAGE doesn't do him enough justice. To put this man in a clown's costume would be more appropriate a treatment. He knowingly deceives the public, but as long as he gets richer doing it (along with jesters like Glenn Beck), he just doesn't give a damn.
IDC is very similar to it. We have
a fairly new wiki page about it
. More recent posts about IDG are: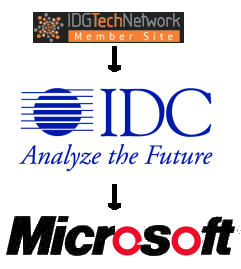 One reader requested and advised us to show the similarities between News Corporation and IDG (magnitudes aside). This is especially important now that we see a lot of anti-GNU/Linux material coming from IDG -- material which is obviously false. A few days ago we provided an example from Eric Knorr, whose anti-Linux rhetoric got debunked in one of the many copies of the article which IDG published in its many domains under different headlines. One of the latest headlines is, "Can virtual PCs save desktop Linux?" (the previous one, which they changed for SEO purposes, was: "Can desktop virtualization save desktop Linux?"). As one commenter states very briefly, "The only thing desktop Linux needs to be 'saved' from is FUD..."

Last week we saw IDG hosting some more GNU/Linux FUD from a Microsoft booster that it employs. This known Microsoft booster (his career is about selling products around Microsoft) even cited deceitful data from IDG/IDC. How pathetic it must be to cite oneself for data.

The sad thing is that IDG is a huge franchise which deceives a lot of people. It has too much power over information that people receive in the field of IT. To quote Wikiedia:


IDG publishes over 300 magazines in 85 countries and their five global publication product lines — Computerworld/InfoWorld, CIO, Macworld, Network World, and PC World — account for more than 175 of these titles. McGovern has made billions of dollars from the growth of IDG, which has remained a private company.
We previously
named some publications that are owned by IDG
, namely InfoWorld, CIO, ComputerWorld, CSO, Demo, GamePro, Games.net, IDG Connect,IDG World Expo, Industry Standard, IT World, JavaWorld, LinuxWorld, MacUser, Macworld, Network World, PC World, and Playlist. That's just the tip of the iceberg as Wikipedia claims over 175 titles and over 300 magazines. This is a multi-billion dollar operation.
"That's just the tip of the iceberg as Wikipedia claims over 175 titles and over 300 magazines."So, we previously posted this list of sites owned and run by IDG (very incomplete), in addition to many thousands of sites where IDG controls the advertising. A lot of Web sites are filled with IDG content even if those sites are not actually owned by IDG. We couldn't even begin to get an exhaustive list. Just a very partial list would do for illustrative purposes but more work is still needed (please help complete it by leaving a comment or coming to the IRC channels).

All this power IDG has gathered and abused makes a "chicken and egg" scenario for the covered entities and a matter of who's paying IDG's bills, so projects like KDE will hardly ever receive coverage from IDG (they don't buy advertisements or commission 'studies' from IDC). And actually, IDG does not cover "Free software" and instead covers "open source" in a way that's friendly to other clients of IDG, including Apple and Microsoft for example.

There is a lesson to be learned from Gartner about IDC/IDG. It is important not be to fooled by the posturing of so-called "official sources", which are very often wrong and never correct themselves (sometimes even repeating their lies later, as long as it pays the bills).

"Analysts sell out - that's their business model… But they are very concerned that they never look like they are selling out, so that makes them very prickly to work with."
--Microsoft, internal document [PDF]
In the case of ZDNet, we wrote many posts so far (e.g. [
1
,
2
]) -- some of them about their selection of writers, which is guaranteed to deliver the suitable bias (suitable to advertisers and other clients). To them, everyone else can receive labels like "contrarian" or "margin"/"fringe". When you are a network of a certain size, you get to determine who and what is "normal"/"mainstream" and who's/what's not. ZDNet hired Zack Whittaker, for example, despite him being a former Microsoft intern who
promotes Microsoft lock-in in there
(they are of course in a state of self denial or self censorship, blind to their own biases).
Let's go back to writers at IDG. The editors are not independent because they are paid by clients, whose products they in turn cover. They hire writers and sign site partnerships based on that; it's an Occam's razor thing.
"The editors are not independent because they are paid by clients, whose products they in turn cover. They hire writers and sign site partnerships based on that; it's an Occam's razor thing."There is no point separating the payments which come from companies through the subsidiary (IDC) and then claim that part of it is just advertising. There is also this excuse of separation (something along the lines of, "I am not writing in accordance with the ads"). It's a straw man argument.

At IDG they are being paid to cover particular issues. They can overlook and ignore the rest because they almost have a monopoly (or large segments) in technology journalism. It is often being said that when looking for information it is not easy to avoid conflicting view, but if you are IDC, then it's a merit, not an issue. Even their own employees are cynical about it and leaked E-mails helped reveal the corruption. Commercial publishing in general has this problem due to its nature of operation (source of income). Watch another seemingly corruptible (in the journalistic sense) publication which works with IDG as an advertiser; it's called SD Times and it gives honours not only to Mono but also to Black Duck, which is a proprietary software company and an occasional source of Free software FUD.

IDG's tentacles ought to be documented in the form of publications it affects. There are literally thousands of them and we decided to set up a Wiki to keep track. We have just created this page which anyone can edit. For the sake of comparison, here is what Wikipedia has for Rupert Murdoch's campaign against real journalism (and for global warming scepticism, unjust wars, fight against healthcare et cetera).


This is a list of assets owned by Rupert Murdoch's News Corporation...

[...]



Film

Television





Broadcast/Production assets




Fox Kids (1990-2002)



Sky 1
sky 1 HD
sky 2
sky 3
sky sports and sky sports HD
sky movies and sky movies HD




Cable Assets

Internet





Magazines and Inserts





Newspapers and Information Services





News Limited

Community Newspaper Group



Courier-Life Publications
TimesLedger Newspapers
Bronx Times Reporter Inc.

International





Consumer Media Group

The Wall Street Journal - the leading US financial newspaper.
Wall Street Journal Europe
Wall Street Journal Asia



Barron's - weekly financial markets magazine.
Marketwatch - Financial news and information website.





Enterprise Media Group

Dow Jones Newswires - global, real-time news and information provider.
Factiva - provides business news and information together with content delivery tools and services.
Dow Jones Indexes - stock market indexes and indicators, including the Dow Jones Industrial Average.



Dow Jones Financial Information Services — produces databases, electronic media, newsletters, conferences, directories, and other information services on specialised markets and industry sectors.
Betten Financial News — leading Dutch language financial and economic news service.

Local Media Group'

Strategic Alliances




STOXX (33%) - joint venture with Deutsche Boerse and SWG Group for the development and distribution of Dow Jones STOXX indices.
Vedomosti (33%) - Russia's leading financial newspaper (joint venture with Financial Times and Independent Media).
SmartMoney (50%)
FiLife.com (50%)




Books

Miscellaneous




He's even doing DRM.
⬆