A ruthless campaign to privatise what's public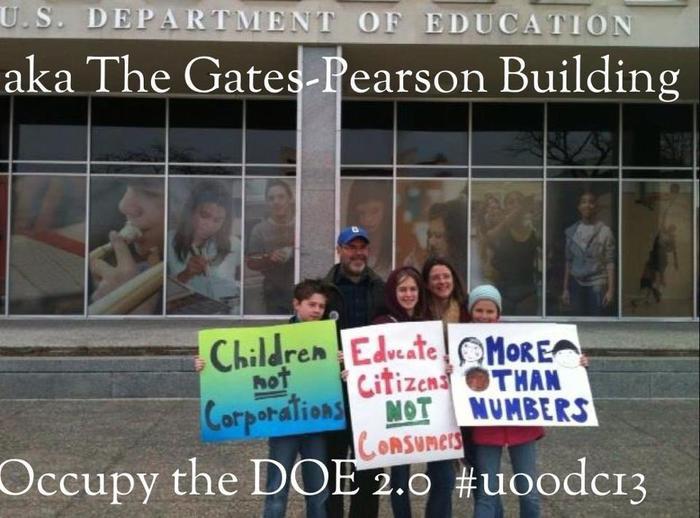 Summary: Gates-funded sites are trying to demonise protesters against Gates' corporate agenda at the Department of Education; complaints multiply as people become better informed, or properly educated
There is a massive campaign -- a "coup" one might call it -- waged by the world's richest people (i.e. people rich enough to avoid tax) against the system which indoctrinates future generations and has a state monopoly, tax subsidies, and compulsory culture built around it. The public is becoming increasingly aware of it. This is not a difficult thing to show and to explain, despite the occasional decoys and PR.
"Mark Naison refuses to call this building The #us #department of #education," says one person about the building "to be known from now on (until we reclaim it for the people) as The Gates-Pearson Building!"
Yes, there is another protest and Gates is under fire. Watch
this photo
(reproduced above).
As we showed before, a lot of the teachers' press is already bribed by Gates and therefore eager to push his propaganda. Some of it is demonising these protesters. Way to go, eh? 'Education'. By bribed press. Here is a
new puff piece for Gates
. Not all publications relating to education have been subverted by Gates. Michelle McNeil of
EdWeek
noted multiple Gates employees filling the Department of Education and there is occasional warning alarm there over Gates agenda [
1
,
2
].
The
Gates Foundation
,
a backer of groups like ALEC
(it
stopped after public backlash
), uses astroturf tactics and keeps buying of the press for consent, but blogs do complain that Gates is manufacturing "data" for consent from politicians and there is a
new complaint from EdWeek
, albeit only in a blog:
Bill Gates, who is more responsible than anyone for the absurd evaluations by which teachers are now being held accountable, had the gall to write this week in a tone of exasperation about the results of his own advocacy for these very practices.

Yesterday I asked when Mr. Gates, the great enthusiast for accountability for others, might hold himself accountable for his own handiwork.

As wealth has concentrated in the accounts of individuals such as the Gates, Walton and Broad families, they have used this to wield unprecedented power over the lives of those of us without access to such resources. They pay for research that creates the very "facts" upon which public debate is based. They pay for their own media outlets, and heavily subsidize others. Their money redirects existing grassroots groups, and underwrites new ones. They work with ALEC to write legislation, and funnel money through PACs to buy off politicians to move it forward across the country. They are utterly insulated from any sort of accountability. They do not face voters in any election. Nobody "evaluates" them. They cannot be fired. They may on occasion choose to engage in a dialogue, but they are not obliged to respond to the substance of the criticisms raised. As my question indicated, this accountability they demand from teachers is a street that goes one way only.

But let's imagine we could turn the tables on Mr. Gates and evaluate his performance as a philanthropist. Might we establish some goals to which we could hold our billionaires accountable? We do not have any measurable indicators such as test scores to use, but since I do not find these to be of great value in any case, I will offer a more qualitative metric, based on my knowledge of the subject's work. Since he has spoken glowingly of the salutary effect of feedback on teachers, surely he will welcome this feedback, even though it is unsolicited.
Having bribed some schools, people like Zuckerberg and Gates are trying to pass themselves off as "for education" (
Facebook
is partly owned by Microsoft) and the
PR
is
evident
, just like press complicity. The ultimate goal is to control US education and thus US youth. They are planning to
do the same thing here in the UK
and last year
a report was published
which drops some numbers:
"We're now the biggest recipient of Gates Foundation money in the UK by quite a margin," she said.
Gates has also established some institutional proxies in the UK to help him privatise (for profit) public education. We covered this several times before.
⬆