The criminal Microsoft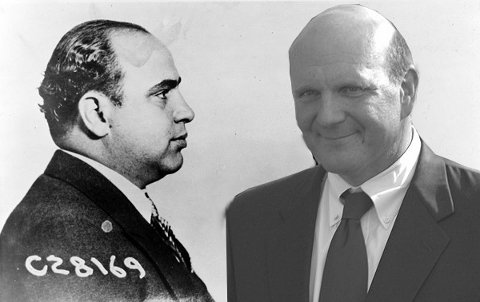 Summary: Microsoft's extremely dirty tricks against Android/Linux and who is being used as proxy so as to avoid retaliatory or regulatory action
Microsoft is not an ordinary company. Apparently it is trying to get special treatment from governments by colluding with the oppressive, increasingly-globalised police state (NSA) and selling people out. Recently, Microsoft used an occupied Nokia to attack Android not just with patents but also with antitrust complaints.
It seems evident that Nokia is no longer a productive company or even an ethical company. It is
rapidly collapsing as an entity
and
going bankrupt very rapidly too
, despite
attempts to mask that
(Nokia is pursuing loans despite its "junk" status). There are
more layoffs coming
(thanks to Pamela Jones for all those links about Nokia's state after Microsoft occupation).
The other day Jones published
this article about how Microsoft complains about Google by proxy
. The proxy
is old and largely unmasked
, but it is still being reused:
Aha! Microsoft. So, it's about *Microsoft's* business model, not any other FairSearch member? Well, maybe Microsoft's little partner, Nokia, but that is the same thing, having trouble competing against Android, and complaining to regulators that it's not fair to distribute Android for free when others have proprietary products that they claim they have to charge for to recoup their investment. That makes this complaint yet another anti-Linux, anti-Open Source, anti-GPL attack from Microsoft, which has a long history of such behavior. It's an attack against the Open Source development model itself. Free distribution is the norm for Open Source. It's also, I believe, part of a coordinated smear campaign against Google. And while FairSearch claims it's not dominated by Microsoft, this complaint demonstrates otherwise.
Microsoft also uses
AstroTurfing
against Google. It hired
Florian Müller
to blog against Google/Android/Linux and when it comes to
Microsoft's latest patent terrorism
this scummy man
continues to deceive and
mass-mail journalists to bamboozle the public
(we have strong suspicions that many of his analyses are actually sourced from other companies that use him as a proxy messenger). As
Patent Progress
put it:
Florian Mueller, Microsoft's paid consultant, weighed in on this last Friday. He seems to feel that Microsoft has suffered some kind of injustice.

Unlike Florian, I have litigated at the ITC; although I'm no expert, I do have some familiarity with the process. I can't agree with his take.

First, some background. At the ITC, Microsoft accused Motorola of infringing 7 patents based on the calendar syncing in some of its Android phones. Microsoft lost on all but one of the patents. But Motorola's smartphones were held to infringe one patent, U.S. Patent No. 6,370,566, which the Commission found was not invalid.
Meanwhile, reveals
this new leak
, Microsoft is using extreme business tactics:
A competitive strategist at Microsoft has told cloudy partners that competing with Google on price is proving to be commercial suicide, particularly in industries where firms are under financial constraint.

The confession was made at a breakout session at the Worldwide Partner Conference, which Microsoft plainly didn't intend to go any further judging by the "private and confidential" wording heading the webcast.
As
Will Hill put it
: "Translation: Lie and Bribe.
"Organizations are better off doing like Munich, where Steve Ballmer ordered the company "under no circumstances, lose to Linux."
"It's funny to see Microsoft unable to compete with Google employing the same failed strategy. They can't bribe the whole world forever."
There is a recent
eWEEK
quiz (link omitted intentionally) that paints Microsoft as a friend of GNU/Linux in at least one of the questions. This is revisionism. Microsoft is more corrupt than ever and it relies on gullible people like Christopher Tozzi
issuing silly claims
like these:
But while Linux in general may still lack some features available in modern versions of Windows, and vice versa, drawing comparisons between the two operating systems is much more difficult today than it was a decade or two ago. The relationship between Microsoft and Linux has shifted fundamentally since then. Redmond is no longer so deeply at odds with the open source community.
Really? Some people are either blind or dishonest. Microsoft's attacks on FOSS and Linux are everywhere to be seen, but those who latch onto systematic lying by Microsoft and those whom it pays to lie along (e.g. lobbyists whom deceivingly name themselves "FOSS" something) can easily miss that. Of course
Canonical is not helping
and neither is SUSE, which
was bribed by Microsoft
. They even
help Microsoft and the NSA spy on GNU/Linux users
. But the matter of fact is, Microsoft's war on GNU/Linux is more active than ever before. It's just the PR that's changing and the focus on Android.
⬆