Update
(19/3/2015): some allege that
Blue Coat is involved
.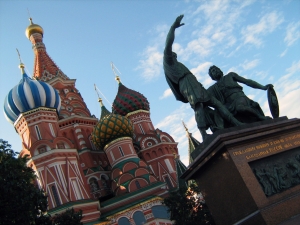 Summary: Sources indicate that all of the EPO's Internet traffic is now being routed through Moscow for surveillance purposes and new information about cyberattacks reaches us as well
HAVING CHECKED AND CAUGHT UP WITH THE LATEST events surrounding the EPO (during my absence) I was finally able to release some exclusive coverage about Željko Topić (there is a lot more coming this month), but what about the arrogant and Napoleonic Benoît Battistelli, who tried so hard to derail the protests against him last month, having engaged in censorship of staff that a Dutch court ruled illegal? The Dutch court's decision is to be covered with all the gory details another day, so today we intend to focus on another angle which nobody appears to have covered.
A source has told us that "[a]ll EPO Internet (in and out traffic) is routed through 80.81.193.61. This IP belongs to Moscow-based Moscow Telecom Corp or COMCOR. COMCOR like Commander of the Corp, old Russian army grade. This company presents itself as being specialized in data and traffic analysis."
We were unable to independently verify the accuracy of this claim, so we would appreciate it if readers could corroborate or investigate this further (we already have some associates looking into it).
Cyberattacks
, DDOS, etc. are another kind of allegation that -- although very reasonable with strong evidence -- we cannot yet attribute for sure to EPO management.
"Just for information," told us a source, in case someone is eager to investigate further, "the Croatian news portal dnevno.hr was subject to a "cyberattack" during late December 2014 / early January 2015. Contact details for dnevno are as follows:
"Director of portal "dnevno. hr": silvio.cizmak@dnevno.hr "Editor: drazen.boros@dnevno.hr
"These people might be able to provide technical details about the attacks on their server so that a comparison could be carried out to see if there were any similarities on a technical level."
There are now at least 3 sites critical of the EPO which claim to have come under attack, with evidence tying some of the attacks to what seem like (potentially) EPO involvement. Sources have repeatedly warned us that criticising Topić is risky business, not just because he tends to bully his critics (even in the courts -- more on that to come in another post).
A source of ours added: "The main reason we suspect that there
could be
a Topić connection to the attacks on dnevno.hr is the fact that around the time that the attacks started they had just published an interview with Rikard Frgacic in which Topić was mentioned (and referred to as a "Balkans gangster" with a call for his arrest by German police)."
Yesterday and the day before that when we published articles about Mr. Frgacic the site
Techrights
became inaccessible several times due to higher volume of cracking attempts. This is quite typical and it has become something we now expect (it has been like this for nearly half a year whenever a major article about the EPO got released).
Our source continues: "The interview also made reference to the links between Topic and the (former) Croatian President Josipovic. It was published in the middle of an election campaign which Josipovic subsequently lost.
"The dnevno site was offline for a couple of weeks during the Presidential campaign. This may have been an attempt to block public coverage of the Topic-Josipovic link. But we can only speculate about that.
"We are by no means certain that it's the same "crackers" who have been targeting dnevno.hr, techrights and SUEPO. The attacks may well be coming from different sources. It would be interesting to see if there was a common connection but it may be too difficult to get to the bottom of this due to the geographical distribution of the targets."
If it does turn out that EPO has been involved in DDOS attacks (indirectly of course), then there are grounds for a lawsuit.
⬆