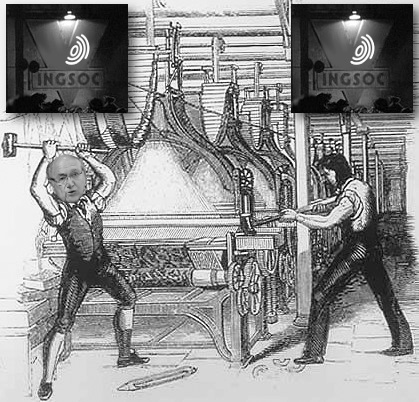 Summary: Too busy paying journalists, PR firms, so-called 'research' firms (funded by EPO budget to the tune of millions per year) and other actors that help distort the reality (a rapid EPO decline), Mr. Battistelli has now become a huge liability to the entire Organisation and EPO staff should fight to save the EPO
SOME big stories about the EPO are coming next week and they're nothing to do with the charade that's now known (at least internally) for promoting frauds, not just those which the EPO falls for (yesterday it laughably enough warned others about fraud). The EPO keeps promoting the charade which wastes millions of euros of EPO budget and does not want the public to know that it pays the media for puff pieces relating to this charade, amongst others. The latest 'survey' of the EPO's BFF, which the EPO now inevitably brags about, is one such example of paid media.
The EPO would like to make examiners at the EPO redundant (
replaced by algorithms
) and pretend there's still potent examination, not just patent filing/registration. That's the 'ENA way'. Yesterday the EPO
promoted a prelude to this
. We are already seeing a reduction in patent examination quality and Battistelli is
demolishing the Boards of Appeal
little by little (understaffing and now fee hikes). The EPO is collapsing and while this collapse is happening Battistelli spends millions of euros on
PR agencies and media companies
, as well as
commissioned 'studies'
which
attempt to distort this reality
(that's their job).
Looking at recent
IP Kat
comments, we come to realise that more and more people inside and outside the EPO (those who interact with examiners) come to grips with the above reality. It's pretty grim. As one person put it:
What is kind of shocking about the proposal to have a self-financed DG3 because of self-financed UPC-courts is that it shows an utter lack of understanding of the function of DG3 and the UPC-courts by BB [Battistelli] and his freaks. DG3 is a judicial instance, there to correct/review 1st instance decisions ... such a correction mustn't cost a lot of money for the appelant(in particular SMEs). DG3 should be regarded as a futher liability of the EPO(rg) ... similar to the AC - I do not think that they are self-financing.

... but well, what could one expect from BB ...
Battistelli's latest
puff piece and masterpiece
(
warning
:
epo.org
link) does not show him with violent tyrants, for a change. Why not
show him with the people whom he habitually hangs out with
rather than
pseudo-royalty from Britain
?
"An appeal fee of 7.350 Euro is insulting," one person noted. "I am surprised that nobody so far mentioned that such a fee is a clear disincentive to file with the EPO in the first place." Here is the full comment:
An appeal fee of 7.350 Euro is insulting. I am surprised that nobody so far mentioned that such a fee is a clear disincentive to file with the EPO in the first place.

For that amount of money, you can get your application translated into French/Dutch, file it as national application, and you get the search report together with an opinion from the EPO. After that, you pick just the two or three countries you are interested in and go there directly. Go for Germany - biggest market, no translation needed for filing and search, France/Netherlands - you already have the application, and Great Britain. That will secure two additional search reports (DE, GB). With some luck you will have a good overview of the relevant prior art. Infringement in Düsseldorf (DE), period. No hassle with EPO appeal fee, UPC, etc. All things considered, you are likely cheaper even without an appeal.

Sure, that strategy is not fit for everybody. As alternative, go EPO for the search, either with an EP or a PCT, and then proceed on national level, again completely sidestepping EPO examination and appeal. Going PCT will also avoid the nasty exchange of search results, making sure that the EPO does a proper search instead of considering mainly the national search report. The EPO did not lower the search fee when that exchange was introduced, although it is supposed to save time.

Poor guys who want 4 or more countries:)

reply to the above
The goal is to destroy/eliminate if not just marginalise the appeals process. Goodbye to EPO quality!
As another person put it:


Be careful with France. A direct French regional phase from a PCT filing isn't possible; the application will have to go through the EPO. So you will need a FR either a FR first or second filing. As a bonus, a first filing will give you an EPO Search and opinion. Mais pour ça, il faut rédiger la demande en français.

Let's not talk about the utter idiocy of the "PCTdirect" thing currently peddled by the EPO, where applicants are encouraged to amend their second filing in order to overcome objections of the authority who handled the first filing. If you like endangering your Paris priority and finding new reasons to go all the way to the EBoA, this one's for you...

My suspicion is that through impossibly high work quotas, the EPO examiner will have no other practical option but to rubber stamp whatever is filed, without looking at it too closely, unless he feels suicidal and/or wants to end up a homeless wino sleeping under the bridge. But everything is fine, since the EPO is ISO 9001 certified.
Here is a reference to neoliberalism in relation to this:


As Lord Darlington observed, more than a century ago, a cynic is a person who knows the price of everything but the value of nothing.

Do we have more cynics in the world today? I think so. Everywhere one looks (as a patent attorney) one sees Administrative Council members, business people, economists and politicians monetarizing everything, as fast as they can, putting a price on everything, with nary a thought about the value that they are destroying.

But there are a few straws in the wind (politicians take note). In particular, the economists heading up research at the IMF have started to put out Papers that argue that neoliberalism is routinely destroying more value than it creates. It is easy to price everything, very hard to quantify "value". Measuring what you can measure and dismissing any thought about anything else might be excusable in a professor of economics but not for a politician or business person.

So perhaps it's not too late for the AC, first to see the error of BB's Master of Business Administration ways, and second to do their F-ing job, namely exercise some control over their attack dog, and curb the beast. In 40 years since the creation of the European Patent Convention, it has come to be the world's premier (go to) corpus of rational patent law, thanks to DG3 at the EPO. Europe has precious little "soft power" in the world today, but here is a jewel in its soft power crown.

Meanwhile BB, in what seems to be a bizarre and ever-more emotional fit of pique, is bent on wiping it out, regardless of the cost. In my opinion, a disgrace, a tragedy, and deeply lamentable.
The following last comment on this subject is referring to the attack dog of Battistelli, who faces criminal charges in Croatia:


Just two quick points.

As far as I was aware, it's not BB who claims to be an MBA but the one who signed off on this. http://www.dziv.hr/files/File/go-izvjesca/godisnje_izvjesce_2010.pdf

Apropos exercising control over the attack dog, haven't you ever heard the old adage "Don't bite the hand that feeds you". The guys to exercise control are the ones in the ministeries. Refer to Article 4a EPC. Long overdue by now.
Our goal is not to destroy the EPO but to save it. The one destroying the EPO right now is Battistelli, along with his team which has blind loyalty to him. Battistelli
ought to be sacked this month in order to save the EPO
.
⬆