Nothing Whatsoever Has Improved at the European Patent Office, It's Just Summer's Recess (and Silence)
Dr. Roy Schestowitz

2016-08-29 17:41:05 UTC
Modified: 2016-08-29 17:41:05 UTC
Prepare for some EPO propaganda about staff being happy, even when the Organisation admits there is a crisis and the President has a 0% approval rate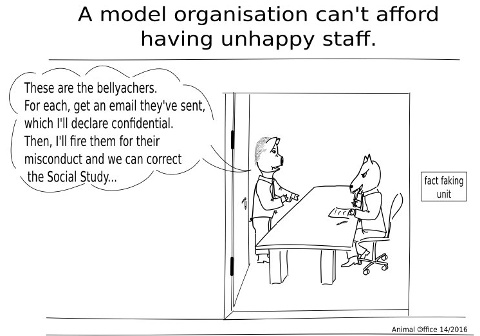 Summary: The European Patent Office (EPO) has done absolutely nothing to improve the work atmosphere, it just alters the marketing strategy somewhat
THIS week, while on retreat in Wales, I intend to dive into hundreds of EPO documents. There is a lot of 'dirty laundry' in there (plenty of documents), but now isn't the best time to write about them because not many people -- both staff and journalists -- will pay attention (many are still on holiday). Don't let the silence be mistaken for pacification. We expect that Battistelli will misinterpret this silence and predict it won't take long for the "Social Study" propaganda to come out (they have renamed it and expect to release it in several weeks, surely with journalists to be contacted to play along and spread/embed the EPO's lies).
"It may sound benign, but given the undisputed decline in EPO patent quality, is it worth bragging about?"There's a similar/analogous situation at WIPO. IP Watch is playing along with WIPO's PR/face-saving statements [1,2] (see below) today, whereas the EPO keeps rather quiet. In some promotional press releases, low quality control for EPO patents gets ignored and companies brag about intent to grant at the EPO. It may sound benign, but given the undisputed decline in EPO patent quality, is it worth bragging about? How long before the "Battistelli effect" is understood by all applicants?

For the first time in quite a while SUEPO published something today (not just a link). The workers are coming back (those who have not left or retired). "The London-based lawyers, Bretton Woods Law, specialise in the Rule of Law, International Human Rights law and International Administrative Law," SUEPO explained this morning, sporting two PDFs that we made public a few months ago (these got leaked to us). "At the request of SUEPO, Bretton Woods Law produced a legal opinion concerning the actions of the President of the EPO, and the responsibility of the Administrative Council as well as the Member States of the EPO with respect to staff," SUEPO continued. "In an Annex to the above document a number of the reforms are considered in the light of basic legal and democratic standards in Europe."


"Expect September to be a busy month for EPO coverage."One document is 22 pages long and the latter is 25 pages long. That's a lot to read. But these are both well written and structured.

The EPO has not had any announcements for a while (other than the earthquake -- Italy's, not Battistelli's -- getting exploited). Universities are still 'spammed' by the EPO (new examples in [1, 2], even repeatedly today) and sometimes this pushing truly works, as it comes not only from the EPO to all Twitter 'followers'. It's promotion of Battistelli's next lobbying event (if he survives this long at the EPO).

Expect September to be a busy month for EPO coverage. Nothing at all has improved (for many months). In fact, things got worse. Those who wish to send us information can do so securely using anonymity-preserving methods of choice. ⬆

Related/contextual items from the news:




Staff dissension? A thing of the past, according to WIPO. Staff are being included and are at the center of everything. And (after a major upheaval, including the firing of the oppositionist Staff Council president in 2014 followed by staff protests outside the building), the report states: "Finally, staff are at the front, left, right and center in organizing elections for a WIPO Staff Council through which, for the first time, all staff members will have the opportunity to exercise their right to vote."





The choice of hosting countries for new WIPO external offices and the Medium Term Strategic Plan 2016-2021 are among the hottest subjects of the week, according to several regional groups speaking at the opening today of the World Intellectual Property Organization Program and Budget Committee. Separately, the United States again called the attention to a 2015 treaty protecting geographical indications which they said should not be automatically administered by WIPO. And members called attention to audit and oversight issues at WIPO.