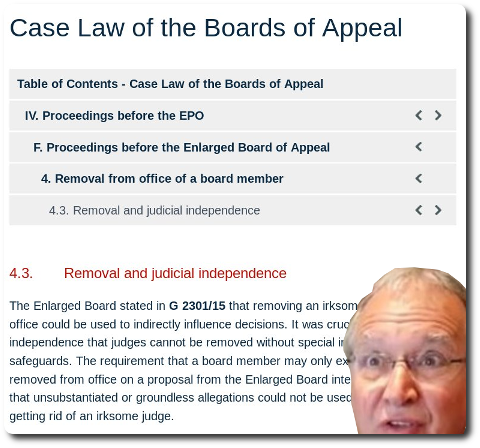 Summary: Under pressure and habitual intervention from a demoralising, overreaching, and out-of-control President (from an entirely different division), examiners and judges 'normalise' the practice of granting patents on genetics -- a very slippery slope in terms of patent scope
EARLIER today we wrote about patents on life being granted by the EPO, even though the USPTO -- owing largely to an excellent PTAB -- rejects these after Mayo and Alice. This served to show that the EPO had probably become more lenient than the US patent system and strict on nothing except 100% obedience to Battistelli with his 'production' obsession. A recent decision from BoA publicly complained about loss of independence, so it's not unthinkable that the Battistelli-led thugs exercise control over judges too, particularly ones who deny patents.


"So they're competing over who will 'own' genetics. Get it? Life."There is a lot of news today about the CRISPR decision/s that we mentioned in the morning. ERS Genomics, for example, issued a press release and copies of it all over the place. To them, it's great news, but at whose expense? US media explains today that "[w]ith such a radical new technology, there is extreme financial opportunity. Rights of ownership over the CRISPR technique have lingered since its initial discovery. Recently, the CRISPR patent disputes were partially settled between the Broad Institute of the Massachusetts Institute of Technology (MIT) and Harvard, and the University of California (UC) Berkeley. On Feb. 15, the U.S. Patent Trial and Appeal Board ruled in favour of the Broad Institute. As a result, the Broad Institute won the patent pertaining to editing eukaryotic genomes, a patent that UC Berkeley considers to be interfering with its claim."
So they're competing over who will 'own' genetics. Get it? Life.
"More importantly, why did examiners (and maybe BoA some day) allow this? Could it be pressure from the top-level management -- pressure that they have already complained about?"This afternoon we have found many new articles and briefs about it, e.g. "CRISPR Therapeutics Announces European Patent for CRISPR/Cas Gene Editing" (also here), "EPO to grant UC, Berkeley CRISPR patent", "Take that Editas: CRISPR Therapeutics and colleagues win a European round in the IP tug-of-war over gene editing tech", and "CRISPR Therapeutics announces European patent for CRISPR/Cas gene editing". So will the EPO now receive a lot of applications for similar patents on life? 'Production'! Is the EPO prepared to become the world's laughing stock? It was bad enough when pigs, plants and seeds got patented -- something which even the EPO eventually realised it cannot carry on allowing (only after many protests, including from the highest offices in Europe). Based on today's trading [1, 2, 3, 4, 5, 6, 7, 8, 9, 10, 11], some people expect to profit from this grab or monopolisation of genetics, but again, at whose expense? The externalities are vast!


"This will be another toxic legacy of Battistelli, which extends well beyond the Office and tarnishes the track record of the entire Organisation. It's therefore imperative that the tyranny is smashed as soon as possible."More importantly, why did examiners (and maybe BoA some day) allow this? Could it be pressure from the top-level management -- pressure that they have already complained about? In the mean time, based on another filing and press release, "Key BioTime Patents [are] Upheld by European Patent Office" and this one says that a "large pharmaceutical company and an anonymous filer challenged the EPO's previous grant of two European patents (EP2554661 and EP2147094), which cover the proprietary directed differentiation methods to produce pluripotent stem cell-derived cell replacement therapies being developed to treat retinal degenerative diseases such as age-related macular degeneration ("AMD")."

We are not trying to suggest that the BoA are corruptible but rather to suggest that their loss of independence -- something which Battistelli was very eager to ensure (with persistent punishments) -- will impact their decisions and set precedential laws (decisions) that are dangerous. This will be another toxic legacy of Battistelli, which extends well beyond the Office and tarnishes the track record of the entire Organisation. It's therefore imperative that the tyranny is smashed as soon as possible.

Europe is up for sale. Now it's the turn of living organisms to be 'sold' to US corporations that assert they 'own' genetics and can therefore tax reproduction, medical treatments, breeding, etc. Where does this madness end? ⬆