Thugs United: Francis Gurry Lecture, Courtesy of Benoît Battistelli
Dr. Roy Schestowitz

2017-10-08 11:08:52 UTC
Modified: 2017-10-08 11:08:52 UTC
Law school featuring talks from (and in honour of) people who break the national law and then claim immunity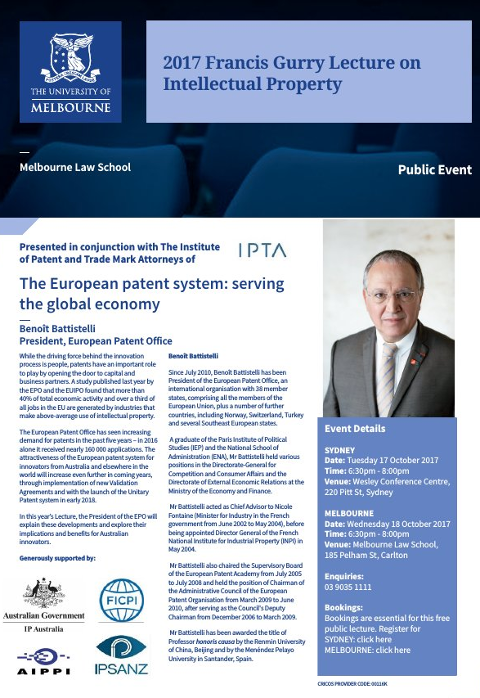 Summary: On the black comedy which is a lecture in a law school delivered by one who shows flagrant disregard for the law (and named after another)
What does it say about a law school when it invites and honours people who break the law? That certainly brings back memories of last month's Harvard debacle.
The University of Melbourne Law School
says
that "Mr Benoît Battistelli will be presenting the Francis Gurry Lecture on Intellectual Property on Wednesday 18 October 2017 on the topic "The European Patent System: Serving the Global Economy"."
"Do they know much about Battistelli? Have they researched his background before inviting him to a law school?""In this year's Lecture," says another page, "the President of the EPO will explain these developments and explore their implications and benefits for Australian innovators."

Do they know much about Battistelli? Have they researched his background before inviting him to a law school?

Both Battistelli and Gurry are governing like dictators who boast their utter disregard for the law and/or their immunity. For a law school to invite a person with such a terrible record when it comes to obeying the law is an utter disgrace. And to honour or name the lecture after another? Just because he's Australian? ⬆