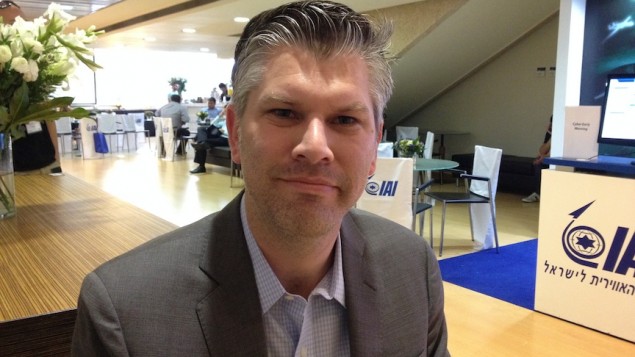 Phil Hartstein, CEO of Finjan (Photo credit: Courtesy), via Times of Israel
Summary: Finjan, a patent troll which pretends to be a legitimate company, continues to shake down legitimate companies for their cash and TC Heartland is currently the best available legal instrument for curtailing patent trolls (litigious tourism)
THERE IS a profound issue when the USPTO grants software patents (it doesn't happen so much anymore) or allows mass reassignment of patents. One particular patent troll, Finjan which is Microsoft-connected and buys patents of other companies in order to bolster the trolling (Microsoft does plenty of that these days), successfully blackmails a real company right after Christmas and then it falsely frames it as "cross-licensing" (whilst hiding the sum paid as 'protection' money by the company, FireEye). It's partly a publicity stunt we suppose; there are many ongoing cases which this troll initiated against similar companies and it wants those companies too to 'settle' (pay 'protection' money). From its press release:
Finjan Holdings, Inc. (Nasdaq:FNJN) and FireEye, Inc. (NASDAQ:FEYE) today announced they entered into Confidential Patent License Agreements on December 29, 2017, whereby the companies resolved all pending litigation matters and granted each other cross-licenses going forward.
Finjan is such a disgusting troll that even former staff/advisers link to
Techrights
and publicly berate Finjan (which previously paid them a salary). The press (as in mainstream media) barely covers this and the press release is so misleading that we suppose FireEye was forced to go along with it...
Microsoft does the same thing; it blackmails companies and then, as part of the settlement, it's agreed that they will paint the whole thing as amicable. What a load of nonsense. Classic trolling!
What can be done to stop trolling? Well, it may be some time before they're altogether eliminated. Some trolls are so large that they are publicly-traded. One such troll is InterDigital, which was
mentioned here last year
and most past years, e.g. [
1
,
2
]. Andy Nguyen wrote
a fiscal analysis of it
, soon to be cited by another troll (
Dominion Harbor
). It happened just the other day (one troll bragging about another patent troll, InterDigital). Nguyen said:
I've put together a small checklist, which I believe provides a ballpark estimate of their financial health status.
Not a single word is said about what InterDigital actually
does
. It doesn't really do anything. It's a troll. It's a litigation and patent aggression entity.
Anyway, help may be on the way.
TC Heartland
already limits the operating space of trolls. It restricts their movement. The Federal Circuit Bar Association (FCBA), according to
this
, already spins this trolls 'killer'. As we noted on the last day of last year,
the case 'kills' many trolls
and they expect to discuss that a week from now:
The Federal Circuit Bar Association (FCBA) will be offering a program on "The Ramifications of TC Heartland and Recent Decisions About Venue in Patent Cases" on January 10, 2018 from 1:00 pm to 2:15 pm (EST) at the FCBA office in Washington, DC. Andew R. Sommer of Winston & Strawn LLP will moderate a panel consisting of Gregory A. Castanias of Jones Day, Douglas A. Cawley of McKool Smith, Tara D. Elliot of WilmerHale, Richard Rainey of Covington, and Jen Yokoyama, Senior Counsel, Apple Inc. The panel will explore the Supreme Court's decision in TC Heartland LLC v. Kraft Foods Group Brands and the Federal Circuit's decisions in In re Cray and In re Micron and how these decisions are shifting the patent litigation landscape. The panel will also discuss the shift of cases out of Texas and the increase in filings in Delaware, and explore how practice before the district courts has changed in light of TC Heartland.
Notice how many of these represent trolls (e.g. McKool Smith). Expect this to be an echo chamber of trolls/troll apologists and foes of
TC Heartland
. Quite frankly as usual...
Then there are judges like Gilstrap, which is an utter disgrace to his occupation, not just because he's pro-patent trolls and a patents maximalist but because he's against justice itself (he famously disregards the law and even rulings from the Supreme Court because, according to him, what matters is that he just brings money for his district, which currently depends on attracting trolls). Suffice to say, Gilstrap ignores
TC Heartland
too and it got pretty serious last year. Politicians are berating Gilstrap and even scolding (calling him "reprehensible").
According to
this first post of the year from Patently-O
, there are still attempts to identify and exploit ambiguity in
TC Heartland
:
I previously wrote about Judge Gilstrap's decision in BigCommerce and the somewhat complex issue of venue in multi-district states. Even though BigCommerce is a Texas corporation, it argues that venue is improper in E.D.Tex. because the company HQ is in Austin (S.D.Tex.). Judge Gilstrap disagreed and now Mark Lemley and his team have filed a petition for writ of mandamus to the Federal Circuit.

[...]

The law of Stonite: In Stonite the Supreme Court was interpreting a prior version of 1400(b), but confirmed that "an inhabitant of the Eastern District of Pennsylvania" could not be sued for patent infringement in the "in the Western District of that State" without a "regular and established place of business" in that Western District. As I previously wrote, a major "problem with Stonite is its cryptic language and that the prior statute used the word 'inhabitant' instead of 'resident.'"
We are still wishing and hoping that the patent system will have patents enforced only in districts that are relevant and only by entities which actually make something (other than litigation). Patents, after all, were justified as facilitators of innovation by information sharing, not as a tool of extortion used by opportunists who never invented anything (other than methods for squeezing patents for money, usually by threatening the most vulnerable).
⬆