New Series: Inside the Free Software Foundation (FSF)
Dr. Roy Schestowitz

2020-02-24 09:35:37 UTC
Modified: 2020-02-24 09:35:37 UTC
When you attack Free Speech to supposedly protect Free software (or FSF) you are protecting neither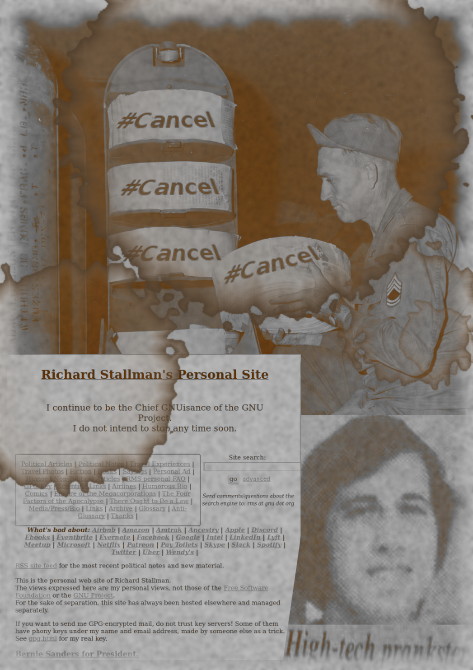 Free Speech, Free software
Summary: In the interest and motivation of exposing the true nature of things, Techrights will turn its attention to internal affairs at the higher echelons of the FSF, founded more than three and a half decades ago in MIT (where Stallman launched the GNU Project, developed the GNU Compiler Collection and a lot more foundational Free software)
THIS past weekend we highlighted the importance of intervention of some kind. Based on a bunch of recent blog posts from their Board -- something that I noticed over at Diaspora -- things had gone sour and there's an effort to silence people to maintain the impression that everything is rosy. They might think that it's for the better good of Free software, but it is bad for free speech (or Free Speech) and the same thing is happening in Debian right now.
Many people will refuse to talk about this; they want to avoid becoming the next target or persecution, smears,
cancellation
and so on.
The series won't be about me or about us. We'll make sure it's factual and we invite sources with additional information of relevance to contact us discreetly. 6 years ago we dealt with secrecy at the European Patent Office (
EPO
), where staff representatives -- sometimes even judges -- were attacked and fellow examiners were threatened to prevent 'leakage' to the media.
"Transparency isn't so scary a thing when what you're up to isn't at all nefarious."Now, we don't encourage leaking anything. But as people now know (it's common knowledge), there's a degree of secrecy at Debian (secret mailing lists and whispering -- akin to secret agencies) and the FSF has a policy -- imposed on people at the top (Brad Kuhn spoke about it last year as he departed) -- preventing communication with media. This, in my view, is contrary to the values of the FSF. We need facts, not NDAs/embargoes/sanctions. Transparency isn't so scary a thing when what you're up to isn't at all nefarious.

We'll keep it polite and even cordial. We love GNU, we love the FSF, but some elements inside today's FSF aren't there for free speech and maybe not for software freedom, either. ⬆