They Came, They Saw, He Died
Dr. Roy Schestowitz

2020-05-29 13:56:26 UTC
Modified: 2020-05-29 13:56:26 UTC
"Beigi claims the "core mechanics, terminology, the manifest format and structure, even the package repository's folder structure" of Microsoft's winget are all heavily inspired by AppGet. Microsoft only briefly mentions AppGet once in its announcement, in a throwaway line that lists other Windows package managers. "What was copied with no credit is the foundation of the project. How it actually works," explains Beigi in a separate Reddit post. "And I don't mean the general concept of package / app managers... WinGet works pretty much identical to the way AppGet works.""
--
Microsoft copied its new Windows Package Manager from rival AppGet, claims developer
"I'm no longer going to be developing AppGet. The client and backend services will go into maintenance mode immediately until August 1st, 2020, at which point they'll be shut down permanently."
--
The Day AppGet Died.
"The NTC initially claimed he died from injuries sustained in a firefight when loyalist forces attempted to free him, although a graphic video of his last moments show rebel fighters beating him and one of them sodomizing him with a bayonet..."
--
Wikipedia on Death of Muammar Gaddafi
"We came, we saw, he died [bursts in laughter]"
--
Hillary Clinton on Gaddafi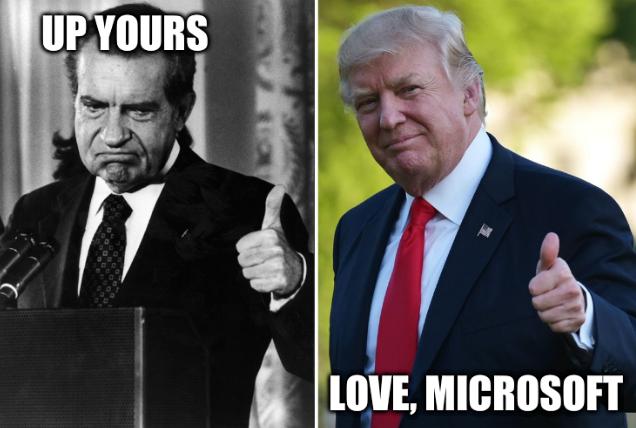 Summary: Microsoft is an inherently sociopathic company; today's story of AppGet is an important reminder that Microsoft has not changed and isn't changing (Maui is another week-old example of trademark-hijacking tactics by Microsoft)
Recent Techrights' Posts
IRC logs for Thursday, December 07, 2023
The failure of the media to properly and independently explain what's happening will continue to doom the media
The video of today talks about the site's (and capsule's plan) for the future
Reprinted with permission from Ryan Farmer
turning Linux into Microsoft Windows
If nobody even mentions it anymore, does it still exist?
Links for the day
IRC logs for Wednesday, December 06, 2023
Google can do Googlebombing too (the term is even named after it)
Windows Has Fallen
nobody speaks better for projects and for licences than their own founders
If the rumour is true, we'll be hearing barely anything from the mainstream media next week
Links for the day
Ted Ts'o, Jan Kara, Linus Torvalds last month
Could Google not pick a name that's already "taken"?
Links for the day
GNU/Linux news
We seem to live in a world where accountability for the rich and well-connected barely exists anymore
Self-fulfilling prophecies as a tactic?
Links for the day
IRC logs for Tuesday, December 05, 2023
Once upon a time, serious audio users like musicians and audio engineers had real trouble with Linux
Right now it even picks Windows over Linux in some cases