TechBytes Episode 90: "Big Brother That Would Give Mr Orwell Nightmares."
Dr. Roy Schestowitz

2021-05-02 15:11:03 UTC
Modified: 2021-05-02 22:18:10 UTC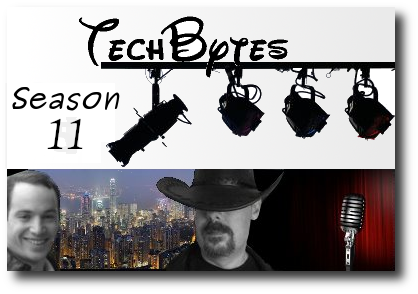 Direct download as Ogg (1:51:13, 55.5 MB) | High-quality MP3 (73.0 MB)
Summary: An episode which focuses on the impact of COVID, privacy implications, games, and so-called 'cancel culture'
In this episode
: Roy and Tim (TechBytes hosts)
Show notes 02/05/2021 (by Tim)
---
1. Welcome back - summary of years since TechBytes last aired. Goals and intentions of future shows.
Tim elaborates on the last few years including his move of 260 miles to the North East of the UK.
2. Police, Crime, Sentencing and Courts Bill 2021 - Why you should be concerned.
What is it?
We look at the reasons why the bill is being introduced (according to the Government) and ask the question of why it's needed in light of previous protests in UK history.



What powers does it give police?
We consider the ambiguity of the wording used and briefly look at who is in control of these powers and the implications. Use of wording is highlighted, meaning that scope of interpretation is vast.



Why is it being implemented?
Is this legislation required? Recent events are highlighted and its questioned as to "Why now?"



Why should we be concerned?
Roy and myself look at what could come from this bill and the fact that it will not be removed, merely added to in the years to come.
3. YouTube - Big brother that would give Mr Orwell nightmares.
The state of YouTube today for those earning a living from its platform.
How things in YouTube have changed, including the prevalence of self-censorship.



What YouTube seems to want to promote.
The de-listing of content creators in favour of sponsorship-supported media.



Brief discussion over YouTube victims and alternatives.
How YouTube can effectively hold creators to ransom with threat of de-monetising and removal from the platform.
4. Microsoft Gamepass - future implications.
A great idea with a Microsoft sting in the tail.
Microsoft purchases and the Gamepass platform - you never own the downloads or streamed content.



Implications for gamers.
What this could mean for gamers - we already see evidence of other console platforms being left out of titles. Could Microsoft be playing the long game in an effect to bring the majority to their platform?
5. Appeal to listeners for contribution/comment and intention to bring guests onto the platform
We would love to hear from listeners and would welcome contributions to the show.
We explain what we hope to include in future shows and the general direction of the show.
We hope you will join us for future shows and
consider subscribing to the show via the RSS feed
. You can also visit
our archives
for past shows.
As embedded (HTML5)
:
Download
:


(There is also an MP3 version)