LibreOffice: Pay Us to be Quoted, Be Promoted in Social Control Media, and Get a Keynote Speech Slot
Dr. Roy Schestowitz

2023-05-09 08:08:13 UTC
Modified: 2023-05-09 08:08:13 UTC
Published, then deleted, two years ago:
Deleted Post: "LibreOffice is Becoming Dominated by a Bunch of Corporates, and Has no Place for the Enthusiastic Amateur."
See the screenshot below. This will have a negative impact on neutrality (those with deeper pockets are prioritised).
LibreOffice Conference Sponsor Packages
, published
hours
ago: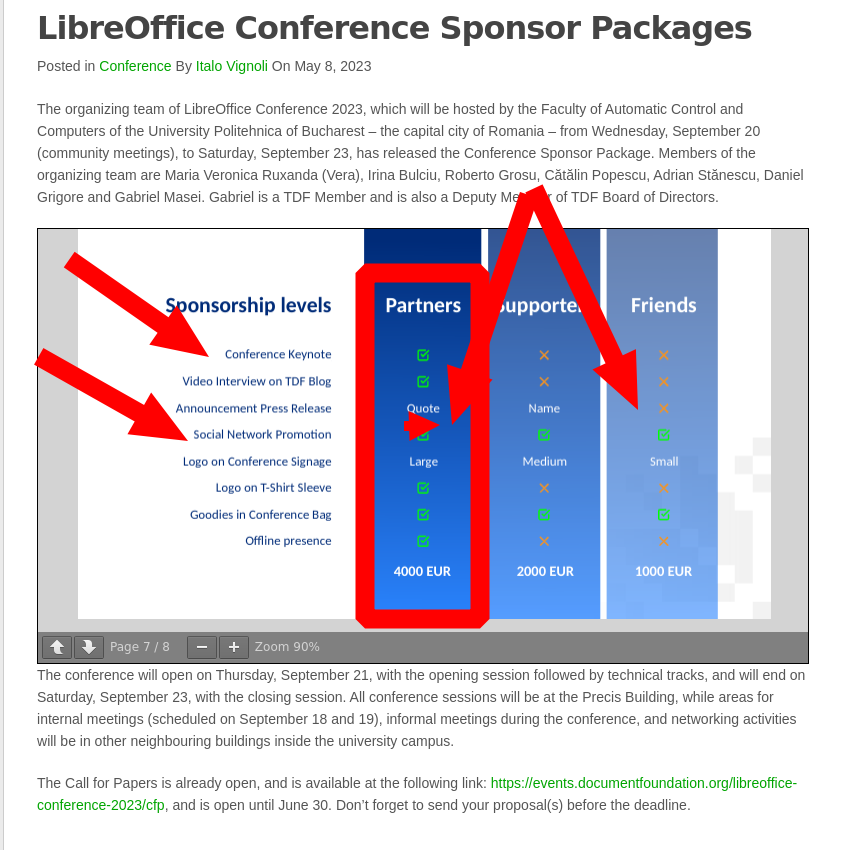 This event is to take place in Romania, where salaries are low; so if all you can afford to pay is 1,000 euros, you won't be mentioned in the press release. It's easier if you are German.
Summary: Conferences that advocate and present developments around Free software must prioritise top contributions, as measured in terms like effort (e.g. code) rather than money; for the third consecutive year LibreOffice (or TDF) gives a 'fast lane' reserved for corporations (deep pockets a prerequisite) and even turns its Twitter account into a marketing vessel