03.05.08
Gemini version available ♊︎
We are pleased to see that significant regulatory progress is finally being made. Europe's probe into the abuse had already begun and not only did Microsoft get grilled, but individual nations also. Mind the timely inclusion of Tim Bray's "unadulterated bullsh*t" remark [1, 2, 3, 4, 5, 6] in this article from the Financial Times:
The European Commission is investigating the process under which a key Microsoft document format could be adopted as an industry standard – a move that would carry significant commercial benefits for the software company.

Officials at the European Commission's competition directorate have written to members of the International Organisation for Standardisation, asking how they prepared for votes in September and later this month on acceptance of Microsoft's OOXML document format as a worldwide standard. Without ISO acceptance, Microsoft could stand to lose business, particularly with government clients, some of which are becoming increasingly keen to use only ISO-certified software.

The ISO process has been widely criticised, however, with some members of national standards' bodies accusing Microsoft and its rivals of attempting to influence the vote.

Tim Bray, a member of the Canadian national standards body, called the procedure "complete, utter, unadulterated bullshit" in a recent blog posting.

[...]

In addition, in several countries, a large number of Microsoft partners joined the national standards organisations just ahead of a vote on the issue in September.

[...]

Microsoft said it openly encouraged its partners to participate in the ISO process, but was not funding any third parties doing so. The company said it would cooperate with the European Commission's inquiry.
About 4 days ago, a fellow forum participant asked whether Europe should investigate or sue ECMA as well. For those who are unaware of ECMA's role in this fiasco, a quick exploration of our "Ecma" category is certainly worthwhile. Additionally, here is a new reminder from an IBM employee:
So, why is it [OOXML] rushed? Well, let's see.

The only ones really pushing for this to happen faster rather than carefully are Microsoft and Ecma.

In the case of Ecma it is easy to see why. Ecma is nothing more than a rubber stamping organization for hire with no soul, which is pushing for OOXML to go through as fast as possible and with as little change as possible simply because this is what it is paid to do. This is what their "value proposition" is all about: 'timely publication of international standards […] "fast track" […] minimize risk of change'.
Whatever ECMA's role has been in this disaster, its reputation — if any was ever earned at all — ought to be nullified. In attempt to defend the cash cow, Microsoft, its partners and ECMA broke just about every rule in the book. In several countries we saw and documented briberies, in several countries we saw people pressured out of their jobs and smear campaigns were part of this game also. It might just be an inherent behavioral thing. It's attitudinal. █
"I'd be glad to help tilt lotus into into the death spiral. I could do it Friday afternoon but not Saturday. I could do it pretty much any time the following week."
–Brad Silverberg, Microsoft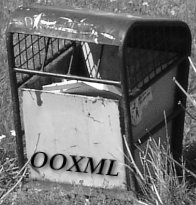 Permalink

Send this to a friend