04.19.13
Gemini version available ♊︎
Free lunch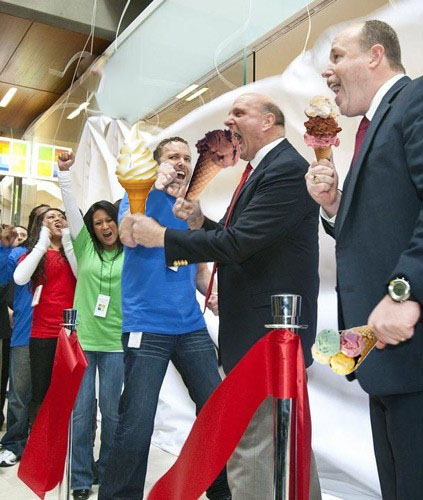 Summary: The resemblance between Microsoft's strategy against free Linux phones (Android) and against free GNU/Linux servers, two areas of FOSS domination
Microsoft is frantically trying to stop GNU/Linux by robbing it in the development sense. On the server side, the de facto operating system is not Windows and Microsoft would love to change that by striking deals with companies like BitNami. Here is the latest press release about it. Microsoft has been using a "man in the middle" style of attack against real FOSS (i.e. FOSS that is not tied to a proprietary stack) and the latest openwashing about it can be found here. It says: [hat tip: iophk]
Last week, Microsoft Open Technologies, Inc. quietly turned one year old. The birthday passed without fanfare, but next week, Microsoft plans to host a birthday party at its Silicon Valley campus.
More PR nonsense. It is not even news. All this thing should be considered to be is an attack on free systems like GNU/Linux and *BSD. Here we see, in another new press release, the Microsoft-sponsored SUSE. playing along. SUSE pays Microsoft for GNU/Linux and so does this new product from Amazon. Dell, which Microsoft is taking control of these days, favours Microsoft's SUSE as well now.
Canonical, which has been aiding Microsoft as of late, does this too with Dell. To quote:
Dell's (NASDAQ: DELL) not the only big-name channel partner with which Canonical, the company that develops Ubuntu Linux, has been forging closer ties lately. On Tuesday, as Microsoft (NASDAQ: MSFT) announced the general availability of Windows Azure Infrastructure Services, Canonical was also playing up Ubuntu's seamless integration into the Azure cloud platform—a move that makes much more sense than it might at first seem.
All we are seeing here is Microsoft's attempts to tax GNU/Linux servers, making them more expensive while offering the same applications under Windows. The same strategy is being used against Android. This is not some far-fetched theory. Microsoft has been very clear about that. █
"I would love to see all open source innovation happen on top of Windows."
–Steve Ballmer, Microsoft CEO
Permalink

Send this to a friend