07.13.14
Gemini version available ♊︎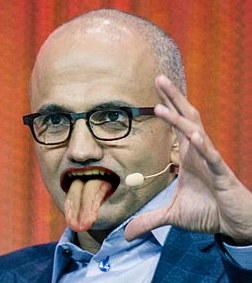 Satya Ballmer
Summary: The rogue media (misinformation) campaign of Microsoft benefits from networks which have been paid by Microsoft over the years
TECHRIGHTS has been disturbed to find some of the corporate media actively participating in Microsoft PR campaigns such as 'Scroogled', paralleling a campaign to portray Microsoft as a privacy and Open Source champion. We have already named some of the networks which routinely do this, such as CNET (part of CBS), whose chief editor Charles Cooper seems to have become a Microsoft mouthpiece by proxy (see another recently-covered example from him).
Other Microsoft-paid networks whitewash Microsoft and play along with the perception management which comes with the alleged change of leadership (Microsoft's real leaders are behind the scenes and they have hardly changed; neither has the strategy). These "useful idiots" of Microsoft — people who are willingly being bamboozled by the PR campaign — continue to cause great damage that pundits can only try to counter. The Nadella PR is just about as lame as the NSA's PR, e.g. dressing up the new NSA chief in whites (white knight?) — not blacks — as some kind of a branding strategy which dissociates him from Keith Alexander et al. (men in dark suits),
"…some of the Microsoft-linked media is trying to indoctrinate the public and make as many people as possible love or respect Microsoft."The PR offensive sometimes makes in into decent sites like Phoronix, which gets it wrong on occasions (see the comments on [1], an article which was published only days ago). Last week an article titled "Open-Source Software: Bad For Non-Profit Organizations?" [article now removed for being an entrapment/marketing] got published by Michael Larabel, only to be slammed in the site forums, where subscribers expressed disappointment. Larabel got bamboozled by a proprietary software pusher who argued that FOSS is bad for charities. As Larabel put it: "For non-profit organizations, open-source/free software might not actually be the best solution according to a director at a non-profit software solution provider."
This is the type of lie we hear from Microsoft when it imposes proprietary spyware on all sorts of NGOs, which it would later extort for licensing fees, limiting their capacity for activism and spying on them (we covered this in past years and gave numerous examples).
In summary, some of the Microsoft-linked media is trying to indoctrinate the public and make as many people as possible love or respect Microsoft. It's a shame that some of the spin leaks into Linux-friendly sites (Google hostility, software licence FUD, 'death' of GNU/Linux), so we probably need to highlight the existence of the misinformation campaigns. █
Related/contextual items from the news:
It seems all of the Manjaro Linux developers might have parted way with the distribution's development except for the project leader.
Permalink

Send this to a friend